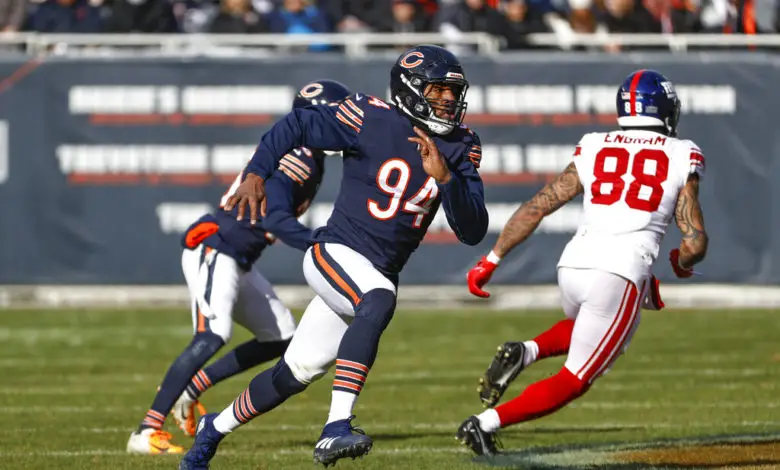 Teams Calling Bears About Robert Quinn
Bears end Robert Quinn was honored as the team's Defensive Player of the Year after breaking the season sack record previously held by Richard Dent. Now the soon-to-be 32-year-old veteran could be looking at a future with another team. It has been reported by ESPN, CBS Sports, and other outlets that a number of teams have been calling the Bears about Quinn's availability.
Interesting. Robert Quinn was in Chicago today meeting the new staff and spending time with #Bears coach Matt Eberflus. But teams are sniffing around on him for a possible trade. One of several veteran names being discussed. https://t.co/pXvlZlr1oF

— Ian Rapoport (@RapSheet) April 26, 2022
The defensive standout understands that Chicago is rebuilding, and with a dearth of draft picks, trade rumors come with the territory. When it comes to draft week rumors, there's usually almost as much fire as there is smoke, but Quinn indicated he's like to remain put.
"At the end of the day, it's a business," Quinn said on Tuesday, via Brad Biggs of the Chicago Tribune. "Again, you see Khalil Mack getting traded. I mean, you probably gotta — again, it's just a business. Don't dwell on it … too crazy.
"I didn't expect to go anywhere, or want to go anywhere, but again, this is a crazy business. … If something's going to happen it's going to happen, but again, it is what it is."
When Poles talked to the press today, he said in no uncertain terms that the Bears are not rebuilding this year. He fully expects Chicago to be competitive this year, and though many fans aren't happy with his lack of aggressiveness in free agency, he's sticking to his plan.
"The 'rebuild' thing is, like, super-sensitive," Poles said. You might have to redo some countertops over here, some fresh paint over there. Some rooms are good. You don't need to touch them. So that's kind of the thought process there. That's not a rebuild.
"We're constructing a very good football team. Regardless [of] how you use whatever term that is, we just continue to add talent. And young talent, older talent, whatever it takes to make the best team possible."
Quinn is certainly convinced, and at his age, he probably wouldn't want to be part of a team that is tearing it down to the studs when winning a Super Bowl before he retires is probably his biggest goal. He's only played on two postseason teams: the 2020 Bears and the 2017 Rams.
"I don't think [a rebuild] is the right way we should phrase it because the guys in the building are professionals and I think everyone carries themselves to high expectations," Quinn said. "I believe – me personally – no player is better than me, and I believe everyone else should carry themselves the same way. So to say, '[it's] a rebuild' is, I guess, a funny word. I think it's just getting guys to believe who they truly are, and perform at their high level."
When the Bears moved Mack to the Chargers they left a hole that they have yet to fill. Trading Quinn would leave them in a similar situation, and unless they can get multiple picks this year for the defensive end, it might not be worth creating another opening that needs to be filled with the six picks Poles does have.
The Packers are still the team to beat in the NFC North, but they were decimated in free agency and were pillaged to the tune of their top offensive assistant coaches, so it's not impossible that Chicago can close the gap.  A lot will depend on the progress that Justin Fields makes this year.
New offensive coordinator Luke Getsy was employed by Green Bay last year. The Bears also grabbed offensive lineman Lucas Patrick from the Packers in free agency. Those two will go a long way toward making Fields the elite quarterback that Poles, Matt Eberflus, and the rest of the organization envisions. Trading Quinn would seem like a step backward, though I also said the same thing a few days before Mack was traded.
Poles plays things close to the vest so it's hard to see his vision. Trading Quinn will make that just a little more cloudy to Bears fans. Yes, Chicago needs the picks, but at what price? It is looking increasingly like Poles is hedging his bets more on 2023 than this season. Perhaps the goal is to improve the offense while winning enough games to sneak into the postseason, with or without their reigning defensive player of the year.