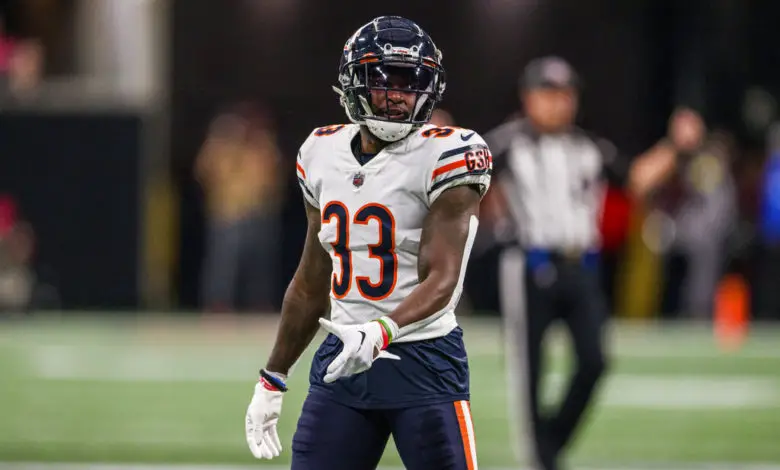 Jaylon Johnson Claps Back at Aaron Rodgers
'He's a shit talker'
The news that Justin Fields may get to play against the Packers has cornerback Jaylon Johnson fired up. According to Matt Zahn of CBS2 in Chicago, Johnson and his teammates are fired up to avenge a Week 2 loss to Green Bay. They'll need Fields to have any chance of winning, and Jonson said Fields looked good in practice on Thursday.
"For me, it's no surprise," Johnson said. "He's a soldier. He's going to be out there whenever he can. He looks good being back to himself. Looking forward to him and '12' going at it."
Johnson echoed that sentiment when talking about Aaron Rodgers.
"I mean, I never had a doubt he wasn't going to play," Johnson said about Rodgers. "I mean he's that type of guy. He's always going to find a way to get in there and play, especially a game like this, on a rivalry game. I mean for me, I didn't expect nothing of it. I'm used to playing against him at this point."
Jack Sanborn and Justin Jones are also fired up to face and possibly derail Rodgers. Jones has been one of Chicago's bright spots on defense, and Sanborn has played very well since taking over for Roquan Smith.
"You can't play this game against Green Bay and not have that type of anger for him, "Jones said. "And I didn't really get it [before] Week 2, but after that game, I feel it now.
"You just gotta remember what it was like, taking the 'L' back in Lambeau Field. You've got to remember what that feeling was when we were walking off the field going into our locker room and what the fans were saying and chanting and laughing at us. You have to remember that. I don't forget it. I feel like we owe them something."
The Bears are 15-47 against Green Bay since 1992, and 5-23 against Aaron Rodgers since he became a starter. Fields, you may recall, promised that a day was coming -and soon – that the Bears would retake control of the rivalry between the two teams. In fact, it was right about this time last year.
"Just know it'll be back on our side very soon – sooner than later, for sure," Fields said on 670 The Score's Parkins & Spiegel Show a year ago regarding the balance of power potentially tilting back to Chicago in the Bears-Packers rivalry.
The Packers were a top-five scoring defense when they met the Bears last December. This year, they are not. Green Bay is allowing 29.8 points per game. Coincidentally, Chicago has averaged 29.5 points per game on offense in Fields' previous five starts. Chicago lost to the Packers earlier this year. Fields ran for one touchdown, but a controversial challenge that may have changed the outcome of the game denied him of another.
Justin Fields comes out HOT. @justnfields

📺: #CHIvsGB on NBC
📱: Stream on NFL+ https://t.co/OZNdRHH6Rv pic.twitter.com/vskiE4pwdz

— NFL (@NFL) September 19, 2022
This year, it isn't Fields who is verbally challenging Rodgers and the Packers. It's Johnson. The third-year defensive back isn't going to let Rodgers kick sand in the faces of his teammates anymore. Rodgers, as you probably know, is on record as saying he "owns Chicago."
"He's a shit talker," Johnson said. "Last time he came [to Soldier Field], he was saying he owns us and talking to the fans. He's just a real fierce competitor. We gotta find a way to get that taste out of our mouths. And we got to put it into action to stop a talker like that."
The Bears need Johnson to step up against wide receivers Christian Watson, Allen Lazard, and Romeo Doubs. Eddie Jackson is out for the year, and Kyler Gordon and Jaquan Brisker spent last Sunday in concussion protocol.
"I mean, it's a lot harder, especially like for me," Johnson said. "It's like having those guys I was comfortable with being gone, so now I'm kind of having to fill that (leader) role and really fill that role with some young guys. So, I mean, it's not like we're getting new veterans in.
"We're still trying to get guys to develop and learn the defense and things like that so it definitely makes communicating [Sunday[] more important, just makes the little things, like, more vital in a situation like this."