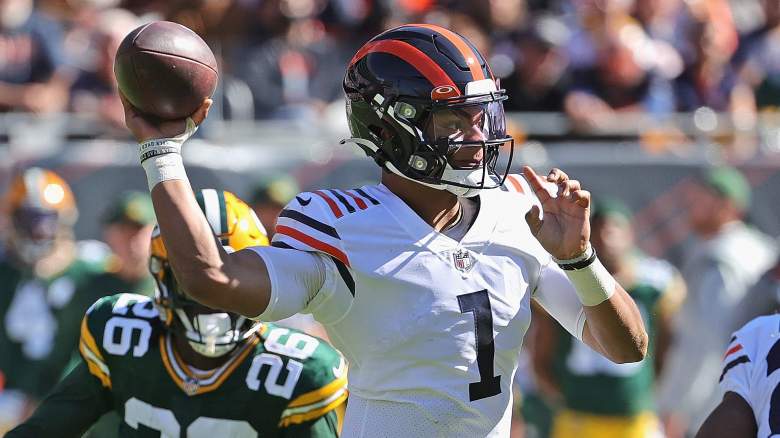 Justin Fields Adds Some Fire to Bears-Packers Rivalry
Heading into the 1992 season, the Bears had an all-time record of 80-57-6 against their bitter rivals north of the state line. In the 60 games since the Bears are 15-45 against the Packers (including two playoff games), and even worse, 5-22 in games in which Aaron Rodgers has started. Justin Fields intends to change that and added a little fire to the rivalry this week.
"Just know it'll be back on our side very soon – sooner than later, for sure," Fields said on 670 The Score's Parkins & Spiegel Show yesterday regarding the balance of power potentially tilting back to Chicago in the Bears-Packers rivalry.
Bold words for a rookie, but you have to love the swagger.
Justin Fields. Electric.

📺: #CHIvsPIT on ESPN
📱: https://t.co/leKnrGxv9H pic.twitter.com/fAaZmy6WGq

— NFL (@NFL) November 9, 2021
Throughout the interview, Fields was both bold and candid, confident and respectful. He admitted he's driven by his detractors, but was more specific with what is revving his motor more recently.
"We've had a couple of rough games this year," Fields said. "Just hearing everybody's mouth that talks bad about us, that's just a little bit of motivation for myself and our teammates."
Included in those bad games was a 24-14 loss to Green Bay at Soldier Field on October 17, a game that was decided on a touchdown run by Rodgers, who immediately reminded Bears fans that he still and always has "owned them." Fields offered his blunt reply when Parkins noted the Packers' 30-year dominance over the Bears.
"I just like proving people wrong," Fields said. "I like proving myself right. Just the stuff that I'm able to do, I just think my competitive spirit just allows me to keep pushing and keep thriving to be great every day. So I think it's all of those really just into one thing, just proving people wrong, proving myself right, and also wanting to be great and wanting to expand my potential."
Confidence and bulletin board material aside, Fields is making strides toward becoming the franchise quarterback Chicago hasn't seen since Sid Luckman retired in 1950. In his last two starts, the rookie has 466 passing yards, 146 rushing yards, and three TDs with just two interceptions. He's earned the respect of the team's fan base, the Bears coaches, and more importantly, his veteran teammates.  That's especially important, as Fields is still developing his on-field chemistry with WR Allen Robinson and TE Cole Kmet.
"That's kind of been my plan and what I've been doing since I got [here]," he added. "Just trying to show my teammates, show my coaches how much I want to win and how great I want to be."
If the rookie can back up what he believes and exact a little revenge over Rodgers with a win over Green Bay on December 12, it will still be a little too early to say he owns the Packers, but Fields will definitely be the toast of Chicago.