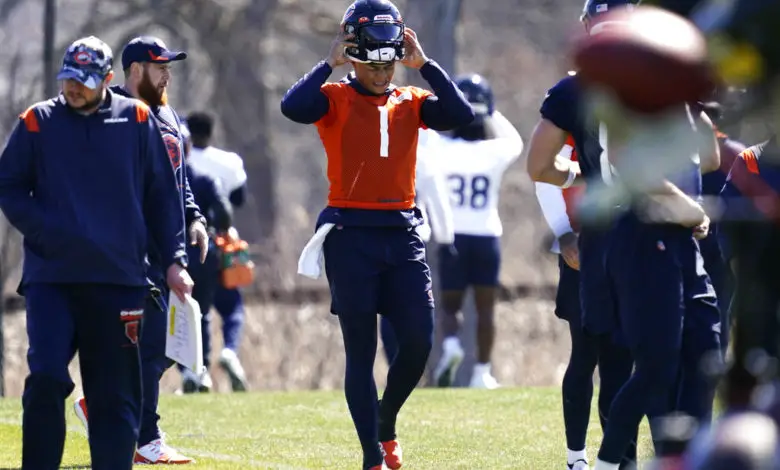 Justin Fields Upgraded After Full Participation Practice
It's looking more likely that Justin Fields will be ready to play Sunday against the Packers at Soldier Field. The second-year quarterback was a full participant at practice on Thursday. Fields separated his shoulder in a Week 11 loss to the Falcons, but it appears he's a little more comfortable.
Justin Fields was a full participant in practice today for the first time since injuring his shoulder against the Falconshttps://t.co/gvAvxNW4wc

— Chicago Bears (@ChicagoBears) December 1, 2022
Chicago is in the midst of a five-game losing streak, the third straight year they've reached that level of futility. But, they averaged 29.5 points per game in the five contests before Sunday's 31-10 loss to the Jets. The obvious difference with Fields out is the Bears' pedestrian running attack. Chicago was limited to 125 rushing yards in New York after averaging 200+ per game entering Sunday's game. They also failed to put the ball in the endzone with any regularity.
The Bears signed backup Tim Boyle to the 53-man roster off the Lions practice squad Wednesday, a precaution with Trevor Siemian missing a second consecutive practice with his oblique injury. Nathan Peterman is an option to start but remains on the practice squad. As long as Fields looks good again Friday, it would be surprising if he didn't return to face the Packers.
Head coach Matt Eberflus set three conditions for Fields' return:
The team medical staff must clear him all the way into that [game-ready] status;
Fields has to feel he is 100% ready to go out and perform; and
The second-year quarterback needs clearance from Eberflus and GM Ryan Poles.
A full participation practice on consecutive days would go a long way toward meeting objectives one and two. After that, the decision lies in the hands of Poles and Eberflus. Friday is usually a key practice day for determining player eligibility as it is. Additionally, Chicago's offense immediately goes from dormant to dominant with the emerging star behind the center.
"That's been the focus all year, right, just that we continue to get better," OC Luke Getsy said. "The film-room sessions have been really good. He was locked in last week. He did a great job with that. He's locked in again. We've just got to make sure we continue to progress and he's got to continue to develop, continue to get these experiences so that we can continue to learn from them, he can grow.
"That's the biggest thing, these opportunities. It stinks that he wasn't able to be out there because he needs as many opportunities, and experiences as he can [get], but obviously, we're not going to risk it for just anything."
Chase Claypool sounds like he's ready to get back to work with Fields. The veteran wide receiver had a mini-breakout against the Jets on Sunday. Claypool caught two of five targets for 51 yards, including a nifty 31-yard pass from Siemian. He also drew coverage away from Byron Pringle on a 2nd quarter touchdown pass.
"It's always nice having a guy like that back," Claypool said. "He's a playmaker, right? So we're excited when he's back. It gets the juices going."
Not that he needs any extra incentive, but Fields could be licking his chops to play against a flailing Packers defense. The Eagles rushed for 363 yards against the Packers on Sunday, the third-most they ever have allowed. Philadelphia quarterback Jalen Hurts accounted for 157 of those rushing yards against the league's 31st-ranked rushing defense, which is allowing 154.8 yards per game. Hurts had over 100 rushing yards in the 1st quarter alone.
"Regardless of what was going on, [we] can't wait to always have Justin out there," Getsy said. "Philly does a really nice job running the football a bunch of different ways, and we've shown that a lot throughout the year, a bunch of different ways. We hope to be able to have some of that success too."
The Bears have lost seven straight to Green Bay. They've also lost 11 of their last 12 against their longtime rivals. That said, a high-scoring game definitely favors the Packers. Still, Chicago is a lot more fun to watch when they're scoring at will, too.