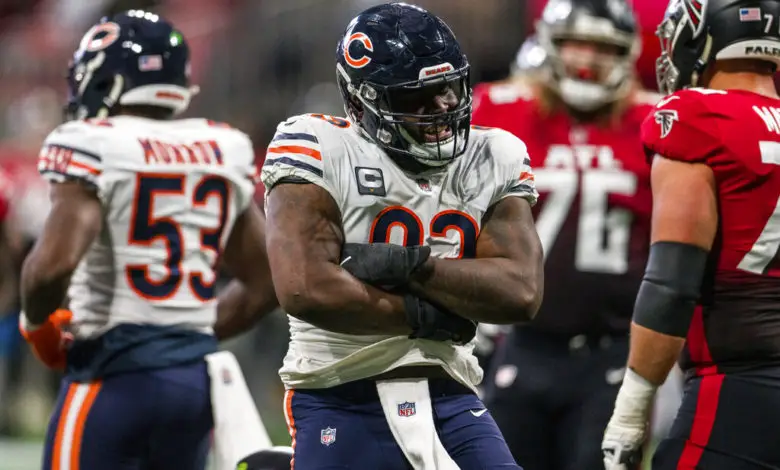 First & Long: Justin Jones Bright Spot of Awful Defense, Fields Questionable, Rams Redefine Championship Hangover
The Bears have had one of the scariest defenses in the NFL since Halloween, but not in a good way. Chicago has allowed 183 points in six games since trading Robert Quinn and Roquan Smith. That's 23 touchdowns if you're keeping score at home. Things are so bad that fans are no longer talking about elite receivers and franchise tackles when it comes to the 2023 NFL Draft. Most of us want GM Ryan Poles and head coach Matt Eberfus to rebuild the defense, starting with everybody on the front seven except Dominique Robinson and Jack Sanborn.
One Bear who has had a quietly good season is three-technique Justin Jones. The fifth-year veteran has 36 tackles, two sacks, and eight TFLs. He's remarkably defended four passes, which means he has actually tipped four throws. Jones isn't defending running backs and tight ends one-on-one.
He's also been the squad's leader since the departures of Quinn and Smith. As a team captain, Jones knows his approach matters and his words must resonate.
"Winning is an extrinsic motivation," he said, "You have to have something in you to play this game, to go through the ups and downs and still be able to work hard and still be able to come to work with a smile on your face. There has to be some kind of intrinsic motivation to why you play this game."
The Bears had a winless November and the team's porous defense is a big reason why. In the three games preceding the loss to the Jets, Chicago lost all of them by a grand total of seven points. In fact, the Bears have lost six games by one score, and they're 0-5 when they need a defensive stop or offensive score with two minutes or less remaining in the game. The offense has done its fair share. That's not something Bears fans are used to. One extra stop in those six games would mean the Bears are 9-3 instead of 3-9. That rips the heart right out of your chest.
Chicago faces the Packers on Sunday, and they're riding a seven-game losing streak against Green Bay. They've also lost 11 of their last 12 contests against the reigning NFC North champions. The Packers are having a forgettable season, but that doesn't matter. We're talking about the league's oldest rivalry. This Bears could pull the plug on Green Bay's fading playoff hopes with a win.
Chicago isn't tanking, and they're not angling to hold the No. 2 pick in the draft. Eberfkus won't let them, and the players have too much pride to throw the fight.
"One of your morals as a man is you have to finish what you started," Jones said. "Whether things are going your way or they're not, you have to finish what you started. For every man in this room, that's the challenge going forward. Finish what you started. Put the best tape you can on film, make as many plays as you can and have fun doing it."
Chicago hasn't won since October 24. Beating the Packers would be the highlight of the 2022-23 season.
Bears News & Notes
There's a Flag…On the Play
The real reason the Bears signed quarterback Tim Boyle.
UPDATE: Tim Boyle gets his revenge on Aaron Rodgers. pic.twitter.com/0fGF6QBaLB

— Olivia Reiner (@ReinerOlivia) September 3, 2020
Scout Team
Film Room
I was a little surprised that Siemian didn't get Cole Kmet more involved last week.
Just nasty 🫢 pic.twitter.com/IXszOkWWq1

— Chicago Bears (@ChicagoBears) November 22, 2022
Northern Exposure
NFL News & Notes
Trent Dilfer has been hired by the University of Alabama-Birmingham to be the school's new head football coach.
The NFL showed a little mercy on football fans and flexed the Broncos out of Sunday night's primetime game. The Chargers and Dolphins will instead take over the nationally televised slot.
Russell Wilson has been named the league's "most disappointing" quarterback.
Former NFL star wide receiver Terrell Owens reportedly punched a man outside a CVS, claiming self-defense.
Jimmy Garoppolo will be a free agent (again) after this season, and the 49ers, Jets, and Saints are potential destinations for the veteran quarterback.
The NFL's best young quarterback matchup is Joe Burrow vs. Patrick Mahomes.
The Rams are on pace for the worst Super Bowl hangover in league history.
One player agent thinks the NFL has been colluding against fully guaranteed contracts.
Three Yards and a Cloud of Dust
Rodgers leading the NFC in TD passes while the Packers have only averaged around 20 points per game is one of the wildest stats in the NFL this season.
Cowboys QB Dak Prescott pushed the ball downfield in Week 12 more than any other NFL quarterback, averaging 12.1 air yards per pass attempt, according to Next Gen Stats. He also completed 70% of his 30 passes. Flats and slants, baby.
How close have NFL games been this season? The favorites are 111-68-1 straight up but 76-100-4 against the spread.
From the Podium
"I think we're going to have to spread the ball around. Obviously, Mooney is a dynamic player. He's had good chemistry with Justin [Fields] and the rest of the quarterbacks, and I think we've got to do it by committee, using all of them the best way we can, based on their skillsets." – Eberflus
"I'm excited to build that connection more with other receivers on the team. I think it's going to be fun finding out what different guys can do because in our offense we usually game plan on certain routes what Darnell could do. But it's going to be fun figuring out what other guys can do out there and just getting together with them." – Fields
Running Out the Clock
In memory of the great Christine McVie.