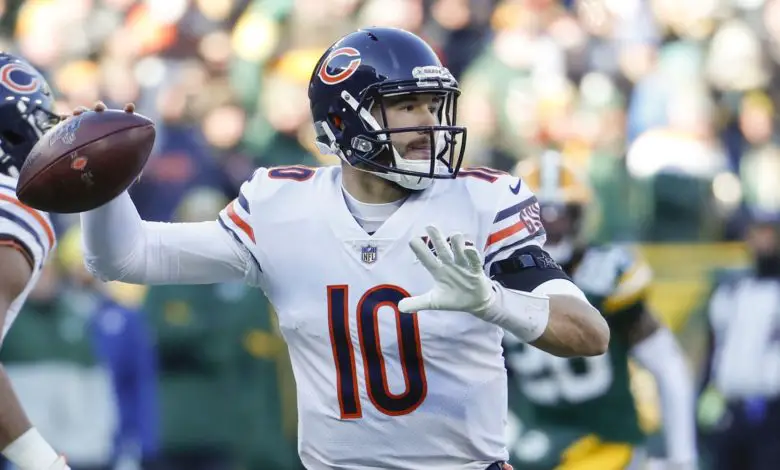 Is Mitch Trubisky an Option at QB2?
Before I get started I want to say that I have no intention to create something that could be construed as clickbait. But, after reading a recent ESPN NFL Nation article about the annual revolving door of NFL quarterbacks, I suppose it's a question worth asking. Is Mitch Trubisky an option at QB2 under head coach Matt Eberflus and offensive coordinator Luke Getsy? It's a fair question and not without at least a tiny bit of merit.
Mitch Trubisky (38 starts under Nagy)
57 TDs, 30 INTs, 65.1% completion, 8,419 passing yards, 1 PB, 2 playoff games, 89.8 rating.

Daniel Jones (38 career starts)
45 TDs, 29 INTs, 62.8% completion, 8,398 passing yards, no PBs, no playoff games, 84.3 rating.#Giants #BillsMafia pic.twitter.com/NMiyxrZZvq

— Ryan Fedrau (@the_fed_23) January 30, 2022
It's absurd to pair Trubisky with the Bears for a number of reasons, not the least of which is that most Chicagoans basically ran him out of town on a rail last year. Still, a lot of fans miss Mitch the Kid and view him as a better option to lead this team than Justin Fields. For a city that loves its backup quarterbacks more than most, that might put undue pressure on Trubisky's heir apparent. There's also a growing number of analysts who believe the 2017 No. 2 overall draft pick deserves a shot to start next season, with the Giants specifically mentioned more often than not as the team most likely to sign him.
A move to the Meadowlands makes sense for the five-year veteran. After all, Trubisky played in Buffalo under the tutelage of offensive coordinator Brian Daboll, who was recently named the new head coach in New York. Trubisky served as the backup to Josh Allen on a Bills team that was an offensive powerhouse in 2021. He knows Daboll's offensive system, and the new Giants' head coach speaks highly of Trubisky whenever he's asked about him. Buffalo general manager Brandon Beane does, too.
"If anybody calls me about Mitch on another team, I'm going to give him a great recommendation," Beane recently told The Buffalo News. "And I've told him and his agent, if he doesn't get what he wants, we've got a spot for him. I'd love to have Mitchell back."
Getting back to the ESPN article, it lists the expected changes in this year's quarterback carousel, and places about a dozen signal-callers with new teams. Trubisky is not named as a potential starter, including with teams where there is a clear need, such as the Steelers, Buccaneers, Commanders, and a few others. Quarterbacks are placed by a simulation program engineered by ESPN.
Of more significance is that the simulation predicts Daniel Jones will stay with the Giants, which is probably Trubisky's best chance at finding a starting gig next season.
"The Giants have made it abundantly clear that they want to give Jones at least one more season to prove he can be their franchise quarterback," ESPN's Jordan Raanan wrote. "Jones' injury history does warrant some competition regardless, whether it comes in free agency or the first few rounds of the draft."
Looking at it from Trubisky's point of view, he probably wants to go to a team where he can at least compete for a starting job. That opportunity will not present itself in Chicago. Clearly, the Bears are so committed to Fields that his future as a potential franchise quarterback played a significant role in the hiring processes for the team's new head coach and general manager. Chicago currently lists Nick Foles at QB2, but with a $10 million cap hit he could be cut or traded. Foles is also entirely dissimilar to Fields, so Getsy will probably need a separate offense to accommodate Foles if Fields gets hurts.
Trubisky, on the other hand, is a mobile quarterback, an effective runner, and plays better outside the pocket, much like Fields. Former head coach Matt Nagy built some RPO into his offense for Trubisky and in Buffalo, Daboll ran an offense similar to what Getsy will implement with the Bears. The ex-Chicago quarterback is projected to earn $7.5 million on a one-year deal, so GM Ryan Poles has plenty of cap room to sign him, especially if Foles is moved. Though Fields is the better starting option, an offense built around his strengths would be a nice fit for Trubisky, too.
Chicago famously traded picks No. 3, No. 67, and No. 111 in 2017 plus a third-round pick in 2018 to the 49ers to move up one spot to take Trubisky with the second pick in the 2017 draft. It was the same draft that produced Patrick Mahomes (No. 10 overall to the Chiefs) and Deshaun Watson (No. 12 to the Texans) and became a PR train wreck the minute Mahomes became Kansas City's full-time starter in 2018. The dismissal of Nagy and former GM Ryan Pace at the end of this year somewhat vindicated Trubisky.
"Dear Mitchell Trubisky," Ryan Clark of ESPN Chicago said on camera in September after Fields was destroyed by the Browns in his first career NFL start. "I was wrong. I sat up here and said you were a bust. … Yet sir, it was not your fault. It was Matthew Nagy's fault."
The 27-year-old ex-Bear finally spoke up after this season ended.
https://twitter.com/BFRMedia/status/1482021446155218951
Despite all of that, the possibility that the Bears might sign Trubisky still seems a little too far-fetched. Cleveland seems like a better fit. Rumors persist that the Browns aren't necessarily married to Baker Mayfield, and though Case Keenum remains on the roster as Mayfield's backup, there is a potential out. Keenum carries a $7.8 million cap hit next season.
As far as any potential opening for a backup in Chicago, it's doubtful Trubisky would even want to return to the Bears in any capacity.
"It's never exactly how it seems, right?," Trubisky said when asked about apologies from the Chicago media. "Like there's a lot of things that go on behind the scenes, that people don't know or people don't see.
"So to hear those apologies, I didn't really know what to think of it. Besides, it was … it was a little too late. Like it was already over for me. It's already in the past. So there's really no point for me to think about it or stress about it anymore."