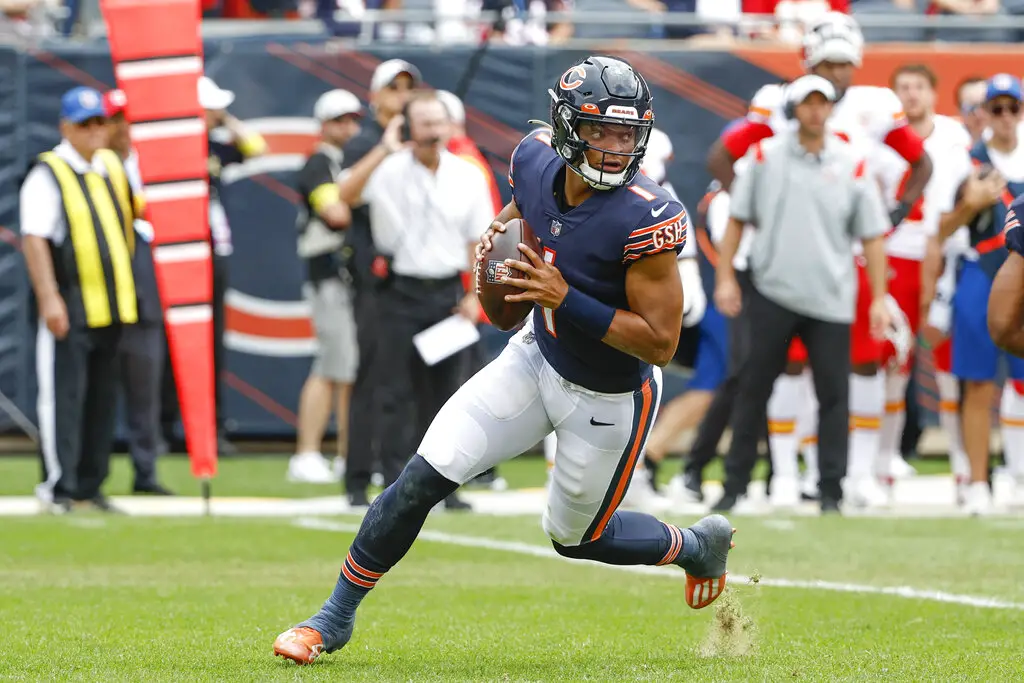 Getting to Bears Final 53-Man: Quarterbacks and Special Teams
Matt Eberflus and Ryan Poles have a few short hours to cut down the Chicago Bears roster to 53. At 3:00 pm today, each team is required to have their final roster submitted. Three Bears players got cut on Monday with a boatload more to come today. Chicago has the sixth position on the waiver wire and could add to the team, too. That will put some players on the bubble who may have thought they had locked up a spot on this year's roster.  
QUARTERBACKS
This is Justin Fields' team, full stop. Since day one, Poles has said he is all in on the second-year quarterback. He has followed through on that sentiment by making certain to consider the young quarterback's strengths as he built the offensive line and receiver groups. Generally speaking, Fields has been the story of the summer at Halas Hall. 
"[Fields] operated the offense [well]," the head coach said. "The ball was out on time. Justin is growing every single day. What's great about a second-year quarterback in learning a new offense is you watch him grow, and you see him mature in the position, and man, that's good to see. And the answers that he has in the meetings, with understanding what he's doing when he's delivering the ball. That's exciting. It really is."
Fields finished the preseason by going 23-of-30 for 243 yards with three touchdowns. He also ran the ball four times for 22 yards. Even better, he did not commit a single turnover. The Bears struggled early to put points on the board, but the offense consistently showed an upward trajectory. Eberflus and Luke Getsy tinkered with the starting unit each week but quickly set the offensive line's rotation. Fields' three touchdowns in the Browns game represented a coming-out party of sorts, albeit against a depleted Cleveland defense. 
Matt Nagy had a complex but inefficient offense last year. Multiple players struggled to learn its nuances. In fact, Fields carried a cheat sheet for assistance in several games. The new offensive scheme has been designed to accentuate Fields' strengths. It will also be more player-friendly. The former Ohio State star has an opportunity to bounce back significantly this year. 
14-for-16
156 yards
3 TDs

Plenty of momentum for @justnfields to carry into the regular season. 🎯 pic.twitter.com/eu6n5VfsLb

— NFL (@NFL) August 28, 2022
Trevor Siemian will be the team's backup. He compliments Fields well and also possesses physical characteristics similar to the starter. Siemian was signed for exactly those reasons. If Fields stays healthy, Siemian will serve more as a mentor, helping chart defenses and recognizing leverageable situations for the offense. 
"I think I'm a good compliment to Justin in the sense that that's all I have [timing in the pocket]," said Siemian after the Chiefs game. "Where he has that ability… I'll never know what that's like right?
"Having that ability to do some fun things off script or off schedule. There's a balance, but at the same time, Justin's going to make a lot of plays in his career doing exactly what he does and trusting his instincts. I don't think you ever want to take that away from him."
THE SPECIAL TEAMS
Cairo Santos is the Bears' best kicker since Robbie Gould. In fact, he's so good Chicago opted to not roster a competitor. He's accurate and consistent. The 10-year veteran played in all 17 games in 2021, making 26 of his 30 field goal attempts. He hit 27 of 28 on extra points as well.
Santos' only "competition" is the poor field conditions at his home stadium. Soldier Field is one of the worst manicured fields in the league. The field gets as much press annually as the team itself. 
"Especially Week 1, our first game of the season — I've seen better," Santos said after Chicago's first preseason game. "It's just what we have to deal with. The less of a problem you make it in your mind, it helps you overcome it and just go."
The wind is another notorious foe for kickers in Chicago and something all kickers are cognizant of when playing at Soldier Field. Few kickers have had the success that Santos has had, giving the Bears' special teams a home-field advantage.
Trenton Gill has made Bears fans forget about Pat O'Donnell. Gill has impressed since he arrived at camp after his selection in the seventh round of this year's draft. His leg strength is better than his draft profile suggested and his accuracy has been phenomenal. Gill placed eight of his 20 punts inside the 20-yard line in three preseason contests. His distance improved each week, too, progressing from 42.6 yards per game to 48.6. The Bears are counting on Gill to control field position.
Patrick Scales will be Chicago's long snapper once again. Scales enters his seventh year with the Bears. Long snapping isn't flashy, but it's not easy. Scales is a specialist that can be counted on. That gives Eberflus and special teams coordinator Richard Hightower one less thing to worry about. Chicago will field an excellent unit in 2022.
HOW THE ROSTER IS SHAPING UP
Obviously, the Bears will keep two quarterbacks and three specialists, just as they do every season. Look for the team to cut third stringer Nathan Peterman and find a scout team quarterback for the practice squad on the waiver wire.