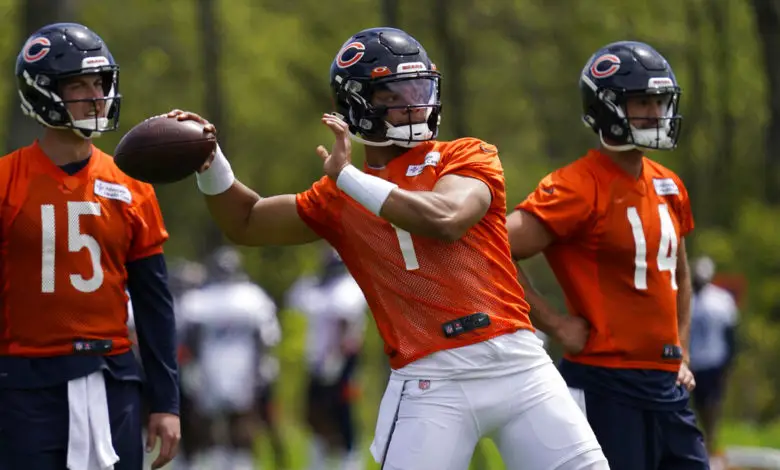 GM Ryan Poles is 'All In' on Justin Fields in Case You Forgot
It's amazing and almost embarrassing that I have to publish this post but I've grown quite concerned with a small fraction of Bears fans who think that Justin Fields is a transitional quarterback. The logic behind that argument is that Fields was a failure as a rookie and was forced upon GM Ryan Poles when he took the job in February. Nothing can be further from the truth, and in fact, the first-year GM is "all in" on Fields.
During two interviews back in May, Poles, who accepted the job partially because of his affinity for Fields, reiterated his commitment to the second-year quarterback.
"My level of belief [in Fields] is sky high," Poles said on the Mully & Haugh Show on 670 The Score at the time. "The way this guy is moving around the building right now is he is locked on, he is focused, he wants to be great. He's a first-in last-out guy and he's pulling this team together. And you can tell the effect he has on other people. All these guys, they're showing up, they're going to work, they're doing extra with him."
Justin Fields tight window throws and deep passes are a stuff of beauty. He's gonna be so special. pic.twitter.com/p8jiZXAy79

— Pranav Sriraman (@PranavSriraman) February 5, 2022
If that wasn't enough, Poles doubled down when asked about Fields later that day on the Kap and J. Hood Show for ESPN 1000.
"We're all in on Justin," Poles said. "I believe in Justin. Our staff believes in Justin. And like I've said from the beginning, we're going to set this up for him to succeed. I've gotten a lot of questions: 'But what about wide receiver?' We're going to do the best we can with the roster. We're going to improve the roster as well, but we're also going to [focus on] the scheme, the technique.
"Our coaches are hard at work, and so is Justin. Justin is grinding right now. He's putting in the time. The leadership is coming out of him, so I'm excited. I'm excited about him and what he's going to become here."
That's all fine and good, but those same detractors will tell you that Poles whiffed at wide receiver and offensive line in the draft purposely and specifically to set Fields up to fail. I'm sure the one thing the McCaskeys were looking for in a lead executive is a guy who wants to sabotage the team. It doesn't matter to the meatball fans that Poles and Fields watched tape on potential picks in the days before the draft. Poles believes that type of synergy will go a long way in Fields' year two development.
''I want to be able to communicate with my quarterback, so he understands [the] kind of the direction we are going in and what we are looking at,'' Poles said in April. ''He's the trigger man — like, he has the ball in his hands. He should be a part of that.''
Velus Jones Jr. is a Bear because he was on the quarterback's preferred list of draft-eligible wide receivers. Poles will undoubtedly look at veteran receivers who are cut during training camp, and if there's a fit, he won't hesitate to bring that player to Halas Hall.
When it comes to building an offense, Poles was more concerned with putting his starting quarterback in the best position to succeed. That meant choosing the right offensive coordinator to build a scheme that played to Fields's strengths. Enter Luke Getsy.
"He's going to be put in a situation [by Getsy] where he's going to be comfortable,'' Poles said. ''And allowing him to do what he does best is going to allow him to grow. I want to give him everything I possibly can, but you still have to construct an entire team. . . . The timing and the talent level and the cap situation — all of those are going to dictate when we can [spend] and when we can't. What we've done so far is at least establish a little bit of growth in the roster, plus the scheme [and] coaching. I see him getting better even from what we did right now."
Finding the right players was not a sole priority because Fields generates sufficient offense once he is allowed to play outside the pocket. This Twitter thread by SharpClarkeNFL offers an astounding analysis of the quarterback's strengths and weaknesses, and it's worth your time to get through the entire thread.
The upside case for Justin Fields: a thread on why I can't join the masses fading the Bears after watching every snap of his rookie season.

In short, he doesn't need a strong supporting cast if the coaches play it right.

Here's why:

[1/16]

— SharpClarke 🔪 (@SharpClarkeNFL) July 18, 2022
While it's true the Bears have a lot of players whose contracts expire at the end of the 2022-23 season, Chicago is banking on rookies like Jones and offensive linemen Braxton Jones, Zachary Thomas, Doug Kramer, and Ja'Tyre Carter. Braxton was so impressive during Chicago's summer workouts that he'll report to camp this weekend as the favorite to start at left tackle.
In the meantime, Poles is excited to see the progress Fields has made once the players put their pads on. Darnell Mooney, who will enter the season as Chicago's No. 1 wide receiver, has also been impressed with the growth Fields has shown since last season.
"He wants to take over the league," Mooney said. "He's already Justin Fields. He wants to be the best quarterback in the league. He's taken the stride to be there. I got unbelievable faith that he will be there, and his success is my success. So, as long as he's doing good, I'm doing good, we're all doing good."
Tight end Cole Kmet has been equally impressed.
"You just feel him in the huddle," Kmet said. "He's not just repeating the play, he's telling you the play, and there's a difference in that. That gives me confidence as a player out on the field. He's talking to each guy. It's not just a repeat-a-play, he's telling us the play, which is a difference."
If Fields has any detractors at this point, none of them clock in at Halas Hall. Perhaps fans should give the young man a chance and stop writing him off after a rookie season that featured an incompetent coaching staff, a predictable offense, and little if any continuity.