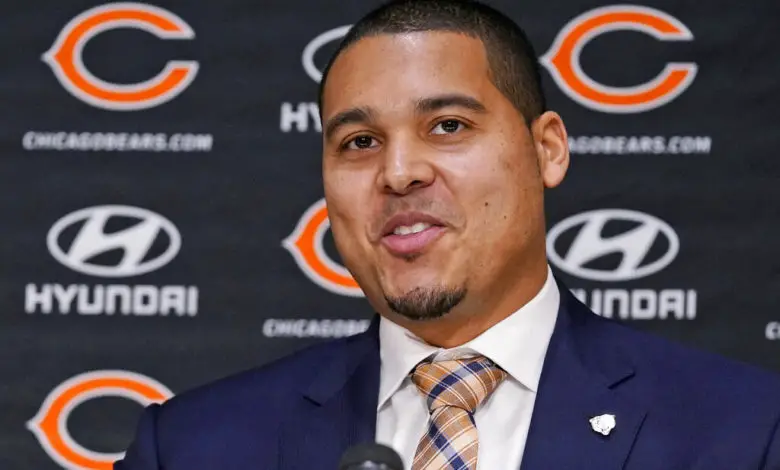 First & Long: Poles Has Big Week, Bears Hold First 2022 Practice, Jones Jr. Torches Gordon, Rodgers Owns Nick Cage
I don't usually start this section of this column with news about an opponent, but Packers quarterback Aaron Rodgers did his best to look like a complete tool when he arrived at camp.
Aaron Rodgers really showed up to training camp as Nick Cage from Con Air 🤣

(via @packers) pic.twitter.com/zr8OYdfCWn

— SportsCenter (@SportsCenter) July 26, 2022
If you vomited just a little, you're not alone. I live in Milwaukee, and Packers fans thought it was a little too cheesy for their tastes, too. "Con Air" is an apt description for the oversized contract Green Bay gave Rodgers this year. Do you think that GM Brian Gutekunst knows just how bad the Packers will be without their four-time MVP? It's rare that any one player has that kind of leverage over his front office. That's why Rodgers got paid and his best weapon, looking at you Davante Adams, was shipped out of town.
In that light, let's give a small round of applause to Ryan Poles. First and foremost, the Bears' first-year GM avoided potential camp-opening holdouts with safety Jaquan Brisker and Robert Quinn. He's also handling the Roquan Smith "hold-in" better than can be expected. The Bears placed Smith on the PUP list so the linebacker can't be fined for skipping practices. Talk about your goodwill gestures.
Smith also strengthened the team's roster in the last week by signing two veteran offensive linemen and trading for wide receiver N'Keal Harry, a former first-round pick by the Patriots. That's a helluva seven days for a guy who has been one of the more polarizing individuals of the Bears' offseason.
Do you know what else Poles did this week? He took a ton of pressure off of quarterback Justin Fields. By countering every jab with a deft sidestep or powerful left hook, he's almost made Fields an afterthought. While all eyes could and should be on the progress of the second-year starter, Poles has been the guy who's handled the initial charge of the media while downplaying all distractions. Today was the team's first practice of the year, and all everybody wanted to know was the statuses of Smith and defensive end Robert Quinn.
That will change, Fields will soon become "the story," and Poles will step up again and again as needed. Keeping the pressure off of his young stars will go a long way toward preparing them for the upcoming season. Rodgers may be the entire focus of Green Bay's camp, even if it's overstated and self-serving. The Bears are just here to work. That's the best way to start off on the right foot.
Bears News & Notes
There's a Flag…On the Play
Way cooler than Rodgers' display, but still a little what-the-hell-ish.
Big dudes on little bikes 🚲@amfam | #DreamDrive pic.twitter.com/LteFDW6QGd

— Green Bay Packers (@packers) July 28, 2022
Northern Exposure
Green Bay: Allen Lazard is the odds-on favorite to be the new WR1 for the Packers, replacing Adams.
Detroit: USA Today made a bold prediction by declaring that the Lions will finish in second place in the NFC North. Before you get too worked up, the author said Detroit will do so with an 8-9 record. Don't ask where they placed the Bears. Chicago has at least eight gimmies on their schedule, don't they?
Minnesota: Justin Jefferson will be eligible for a contract extension after next season, but right now the Vikings star is focused on winning a title and being the best wide receiver in the game.
NFL News & Notes
Steelers captain Cameron Heyward took exception to a recent assertion by Ben Roethlisberger that too many current NFL players have "a me-type attitude," saying his former teammate's comments "rub me the wrong way."
The NFL is launching its own streaming service for the first time, called NFL+, which retails for $4.99 per month. It is only available on mobile devices and will include all out-of-market preseason games.
Seattle linebacker K.J. Wright has announced his retirement after 11 NFL seasons.
Free agent wide receiver Julio Jones and the Buccaneers reached an agreement on a one-year deal worth $6 million.
Odell Beckham Jr. said his main focus this offseason has been getting healthy after tearing his ACL during Super Bowl LVI. Beckham is not expected to be ready to play until midseason but could try to sign a contract before the season starts.
Bengals quarterback Joe Burrow had emergency surgery to remove his appendix.
On Wednesday, Panthers head coach Matt Rhule revealed that both Baker Mayfield and Sam Darnold will alternate days as the No. 1 to open camp, suggesting it'll "be a long working process" toward the final decision about which player gets the starting gig on Opening Day.
Titans general manager Jon Robinson said rookie wide receiver Treylon Burks did well on his conditioning test after missing minicamp last month because he was dealing with issues related to his asthma/conditioning.
Seven wide receivers are among the preseason favorites to win this year's Offensive Rookie of the Year Award.
Sunday is the sixth-month mark since former Dolphins head coach Brian Flores filed a racial discrimination lawsuit against the NFL. It doesn't look like a resolution is coming anytime soon.
The NFL Finance Committee has recommended that the league owners unanimously approve the sale of the Broncos to a group headed by Walmart heir Rob Walton.
This is worth the read: "The NFL Offseason Story as Told by Social Media"
Bear Down
The Bears dropped their latest episode of 1920 Football Drive and it's a good one.
Three Yards and a Cloud of Dust
Since 2018, Shaquille Leonard is the only player in the

NFL

with 10+ INTs and 15+ forced fumbles.

WR Danny Amendola is retiring from the

NFL

after 14 seasons in the league. He ends his career as a two-time Super Bowl champ, with 6,212 receiving yards, 5,450 return yards, and 26 TDs;

Uh…football is back, baby!
Offensive Pass Interference
If you are a Cubs fan, you'll want to follow us at Cubs Insider for all of the trades and trade rumors surrounding the iconic National League franchise. The MLB trade deadline is August 3, and Chicago is expected to be very active. Willson Contreras and Ian Happ have probably played their final games at Wrigley Field wearing the blue pinstripes.
From the Podium
"In all honesty, this defense, knowing the type of defense we're running, I'm very familiar with it.  Knock on wood, I plan to be successful for my personal self. I guess I know what I'm coming into, and that takes the weight off my shoulders. You're not coming into the building not knowing what's about to happen. So I'm walking in here knowing exactly what they want from me, exactly what they expect from me, and what I need to do. Again, that makes life a whole lot easier when you're not walking in confused." – Quinn
"[Kyler Gordon] is a heck of an athlete. He's uber smart. I mean, he's so smart. And he's able to move in and out. He can play any position. I think the guy could play three positions if we'd let him, but we're not going to do that. But he's doing a great job." – Eberflus
"This is a golden opportunity for all of us. It's just who's going to grab it? For me to capitalize off this … I just have to show how dominant I am, and I just need to be that big, strong wide receiver." – Harry
Running Out the Clock
It's finally football season. Can't wait to watch it all unfold.