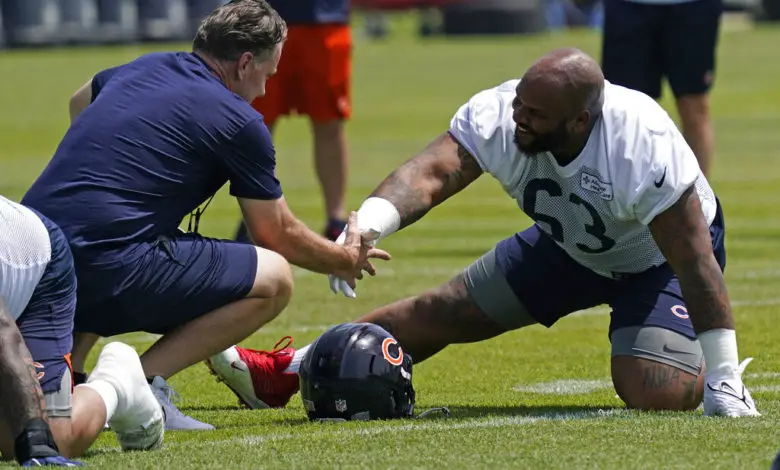 Camp Notes: Questions Surround Smith and Quinn, Poles Adds OL Depth, Eberflus Anxious to Get Started
Robert Quinn and Roquan Smith both reported to Halas Hall, avoiding CBA-mandated fines for holding out or reporting late. That's the good news. On the flip side, Smith may not practice. Here are your training camp bullets for Wednesday morning.
Questions surround Chicago's two defensive stars. It's possible that each reported just to avoid some very heavy financial penalties. After the new CBA was ratified by the NFL and the players' association in 2020, teams are required to fine players on rookie contracts $40,000 per day of missed training camp. Smith is in the final year of his rookie deal. By refusing to participate in practices, Smith is technically "holding in." Vikings running back Dalvin Cook did the same thing in 2020 before signing a five-year, $63 million extension the day before Minnesota's season opener after being present but not participating in training camp. T.J. Watt did the same last season en route to a four-year, $112 million extension with the Steelers.
Bears CB Jaylon Johnson asked by @CEmma670 what they'll miss if Roquan Smith isn't practicing: "Shit, our leader. We all know who Roquan is and what he means to the team."

— Kevin Fishbain (@kfishbain) July 26, 2022
"Holding-in" has become the post-CBA trend for players upset with their contracts. The player will show up to camp but won't participate in anything on-field. It's not as creepy as it sounds though. The Bears have scheduled their first practice for Wednesday morning, and head coach Matt Eberflus will address it then. "I'll cross that bridge when we come to it," Eberflus said Tuesday. "But really, you just want to get the max out of them. Whatever they can do, they can do."
Smith is entering the last year of his rookie contract and is scheduled to make $9.73 million under the fifth-year option. According to Pro Football Focus, the league-wide belief has been that Smith will push to become the first-ever $20 million per year off-ball linebacker.
The fact that Smith is not working with a registered agent could complicate things further. Negotiations tend to be more personal in those situations.
Quinn may still want the Bears to trade him, but he'll reportedly participate in practices. As a veteran with 11 years of experience, he was subject to $50,000 per day in fines. Let's face it, the latest CBA has destroyed the practice of holding out. The 32-year-old did not attend the mandatory minicamp in June.
When asked about the subject of Quinn's intentions, Poles said, "I haven't had that [conversation] with him. I would hope that he wants to be here, but nothing's changed on that part."
I expect Quinn to be the veteran presence Chicago needs, but he is definitely an in-season trade candidate. This year's deadline is November 1.
Amid an uncertain future with the organization, #Bears star edge rusher Robert Quinn reports for training camp after previously skipping mandatory minicamp https://t.co/eDRYL0MIV8 pic.twitter.com/9Us0zBP8LO

— 670 The Score (@670TheScore) July 26, 2022
Five Things
Poles finally spoke about the offseason arrests of Pringle, David Moore, and Matthew Adams. It bothered the rookie GM that those things happened on his watch in his first year at the helm. Poles accepted responsibility and that's a good thing, but I'd rather see the players step up and admit they screwed up. The team made no mention of any internal disciplinary actions against the three, though Adams and Moore may be in danger of losing roster spots.
Eberflus mentioned in yesterday's presser that he's really excited to get onto the practice field. Expect the head coach and his assistants to do plenty of tinkering in the first few weeks of practices. "We want to see guys compete," Eberflus said. "We have a lot of spots on the roster that are in flux right now and we're just trying to find the best combination of players."
While addressing the media on Tuesday, Poles mentioned that Quinn has not requested a trade. It's entirely possible that the defensive end wanted to train on his own this summer and it's otherwise business as usual. Quinn certainly earned that right based on his monstrous 2021 season, and if he is okay with paying the fines, that's his prerogative. Nobody in the organization seems to think it was as egregious as the media made it out to be. It will become an issue if Quinn is out of shape and falls behind in practice. That's highly unlikely, though.
Jaquan Brisker was a threat to holdout, but he's in camp, and nobody is happier than his GM. "I gave him a big hug when I saw him," Poles said on Tuesday. "He's headed in the right direction and I'm excited to see what he does this training camp."
Mayor Lori Lightfoot has tried desperately to keep the Bears in Chicago, but the Arlington Heights property provides something Lightfoot cannot: The McCaskeys would have sole ownership of the new stadium. That could be worth a billion or more to the team's financial value. There is nothing proprietary about leasing Soldier Field. The Bears are the league's oldest franchise and they have never owned their own stadium unless you count Staley Field (1919-20).
Camp Quotes
"I don't know what [Smith's] intentions are. I know he checked in and we're gonna take it from there and gather information and take it one step at a time. That's all I can do." – Poles
"You kind of want to see how the business is done, considering that this is a new staff. I mean definitely, it is a start to kind of see what the business is going to look like around here. But at the end of the day, everybody's situation is different." – Jaylon Johnson
"We have a lot of spots on the roster that are in flux right now and we're just trying to find the best combination of players. [If it's the] offensive line… moving guys from outside to inside, and if it's the defensive line, moving a guy around for pass rush purposes, inside or outside. We're going to do that all across the roster. Moving a corner from outside to inside, moving a receiver from outside to inside, we're going to do all those different things to find out the best combination." – Eberflus