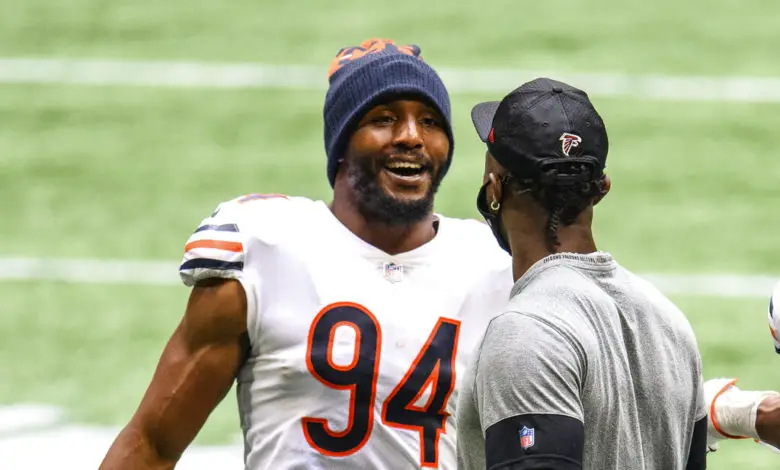 Robert Quinn Said He Prefers to Stay With the Bears
Robert Quinn addressed the media today, said he prefers to stay with the Bears, and there was absolutely no ambiguity in his comments. That puts to rest the rumors that started back in May. In fact, let's just put the whole thing behind us.
"This defense, knowing the type of [scheme] we're running, I'm very familiar with it," Quinn said. "Knock on wood, I plan to be successful for my personal self. I guess I know what I'm coming into, and that takes [the] weight off my shoulders. You're not coming into the building not knowing what's about to happen. So I'm walking in here knowing exactly what they want from me, exactly what they expect from me, and what I need to do. Again, that makes life a whole lot easier when you're not walking in confused."
Quinn understands this is a business, and that things remain fluid when you're playing for a rebuilding franchise. But the veteran defensive end prefers to stay put. He's comfortable here, and he's excited to play in the new defense.
"There [are] a lot of if-ifs. The only thing I can control is myself. Whether I'm in this building or another building, all I can do is bring the best version of myself and keep the positive energy around. If you think about all the what-ifs, honestly, you're going to start bringing some negative energy into the building. I've seen it before and it's not a good thing."
GM Ryan Poles said yesterday that Quinn has not asked to be traded. He preferred to train on his own this summer, period, end of story. The defensive end knows what he has to do to prepare for each season. It would have been nice if he attended the summer workouts and Chicago's mandatory minicamp, but it wasn't necessary. Quinn said he spent the offseason taking care of himself. His absence from mandatory minicamp was unexcused, but the edge rusher said he is comfortable paying the fines that came with missing the June practices.
"It's my 12th year," Quinn noted. "I kind of knew what to expect from that. More just getting myself right mentally, physically."
Quinn has three years remaining on his contract, which comes with a $12.8 million base salary this season. Wednesday marked the first day Quinn has practiced with the Bears this season. Nevertheless, questions about Quinn's future continued.
"I thought I did a good job last year, but I guess I'll just continue to try to reprove myself. I thought last year gave me a little comfortability to stay in the building, but again, I'm just gonna do my part, bring a smile, work as hard as I can, and just let everything take its course after that."
Quinn broke the team's single-season record with 18.5 sacks last year, surpassing Richard Dent. Head coach Matt Eberflus expects him to lead the defense this year. Quinn will anchor a front four that includes Trevis Gipson, Khyiris Tonga, and Justin Jones. Al-Quadin Muhammad will be a situational end in sets when Gipson moves to linebacker. Nicholas Morrow will play middle linebacker, and Roquan Smith is going to play the WILL once he returns. That's not a bad front seven, though Quinn is a candidate for regression.
For now, all that matters is that Quinn is content to play for the Bears. Disaster averted, even if one never really existed.