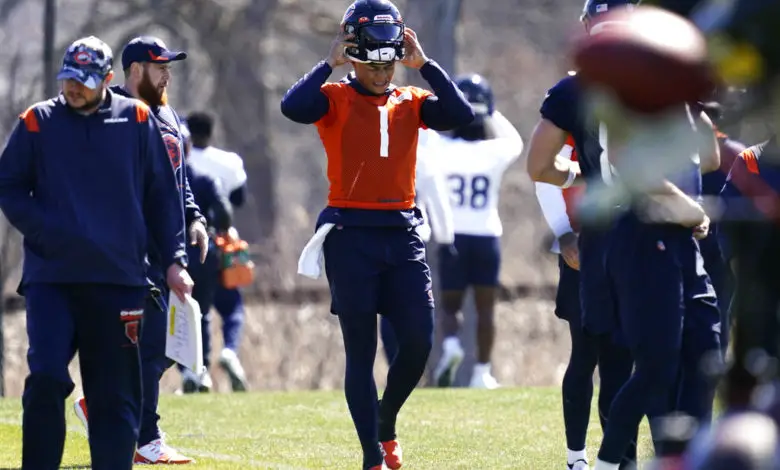 Justin Fields Is Priority One at Halas Hall
Ryan Poles has had a busy week. The freshly-minted GM averted potential holdouts by Jaquan Brisker and Robert Quinn, and at the very least, Roquan Smith is at Halas Hall and claiming he hoods no grudges.  Poles also signed two offensive linemen in the last two days. Both have a real shot at starting, but the front office is more concerned with depth and competition. To hear the executive tell it, he hopes those linemen will beat the crap out of each other and the team can roll with the last five standing. But through all of that, one thing is perfectly clear, and that's that Justin Fields is priority one at Halas Hall.
A lot of fans were frustrated because the front office did little to surround Fields with the elite talent that most felt was needed to help the second-year quarterback progress to the next level, however that's defined. Sure he drafted speedy wideout Velus Jones Jr., but that was after he selected two defensive backs. Poles didn't address the offensive line until he bartered his way into five extra Day 3 picks. Until two days ago, the now departed Willie Wright was listed as the starting guard on the team's depth chart.
To say the anger of the fanbase was palpable would be a huge understatement. With Fields entering a critical year in his development, some crackpot bloggers were saying that Poles was setting his quarterback up to fail. That's not even close to the truth. The Bears may struggle this year, but Poles gains nothing if he has to enter the 2023 draft looking for another franchise quarterback.
"I'm going to work until we get that Super Bowl championship. As long as I'm here, I'm going to work to help us win games, and help us get better each and every day. Failure pushes me to go harder." — Justin FIelds

— Josh Schrock (@Schrock_And_Awe) July 26, 2022
The quarterback certainly has the attention of head coach Matt Eberflus and offensive coordinator Luke Getsy. Eberflus was astonished at the young man's ability to throw a deep ball with pinpoint accuracy. Getsy believes that Fields will be elite with better footwork and a quicker release. Last year, Fields got into trouble by holding the ball too long. In a precision passing attack, a fraction of a second is almost forever.
At times, Fields looked a little lost in last year's offense. He was more successful when he was able to move out of the pocket and adlib some. That doesn't exemplify the type of leadership that Getsy and Eberflus are seeking. They want the second-year starter to play to his strengths, but in a controlled way. No one is saying Fields can't be a mobile rocket launcher in 2022-23 as long as he does it within the framework of the offense.
"I would say that his leadership and his grasp of the offense was outstanding," Eberflus told members of the media Tuesday when asked what he learned about Fields from workouts. "The way he learned and the way he grew. And we talked about his footwork and his fundamentals, that's through the roof [and] going in a positive way too. So he's doing a great job right now. We're excited about having him grow every single day and he is too. He's not where he needs to be, but this is why we have training camp. He's just going to keep getting better and better and better all the way to the first game."
Fields has shown a remarkable ability to tune out the noise and distance himself from his diminishing number of detractors.
"That doesn't filter into me at all," Fields said Tuesday. "I'm not really worried about showing the league anything. I'm just worried about winning games [and] not trying to prove myself to anybody. Not trying to do this and that, take opinions into account."
"I just want to be great," Fields added. "This is my life. This is what I want to do for as long as I can. It's my job. It's my life. I don't know anything else. I've been doing this since I was, what, six years old. When you've been doing something so long, you start to love it more and more. I love everything that comes with it because I know at the end of the day that as long as I give my best, I know what I can do and I know that once we reach our full potential what [the offense] will be able to do."
Give Poles credit for keeping some of his cap allotment in reserve for the late additions. Last week he traded for wide receiver N'Keal Harry, a former first-round draft pick who has been stuck in neutral through three seasons with the Patriots. On Monday, the Bears agreed to terms with Michael Schofield, and he's the favorite to start at right guard when Chicago kicks off its season against the 49ers on September 11.
Poles added OT Riley Reiff today and he, Teven Jenkins, Larry Borom, and rookie Braxton Jones will be competing for the two starting tackle positions. In two days, the Bears' offensive line has gone from much less than ordinary to deep and highly competitive. It's still a work in progress, but the unit is much stronger today than it was last week.
Still, the focus is on Fields, and rightly so. He's the future of this franchise.
"[Fields] is going to have to continue to grow based on what he sees and [what] the defense throws at him," Poles said. "And I think one of the most important pieces is that command. Continue to bring that command and that leadership, and I [believe] you saw that as we were finishing up the offseason as well."
That hardly sounds like a man who has set up his quarterback to fail.