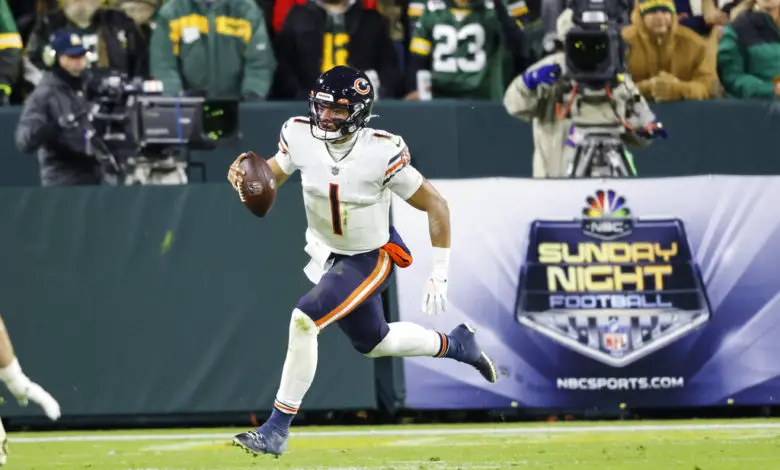 First & Long: Poles Already Hard at Work, Eberflus No Quarterback Savior, NFL Still Buzzing Over Bills-Chiefs Game
To quote the late John Lennon, "It's been a hard day's night, and I've been working like a dog." That's how I feel about the past 72 hours with all of the speculation and news coming from Halas Hall. That's probably how new GM Ryan Poles feels after his first 48-hours on the job as well. Do work, son.
New #Bears GM Ryan Poles already at work today on a beautiful -8 degree morning. (via @ChicagoBears) pic.twitter.com/4KMdzRzJZO

— Adam Hoge (@AdamHoge) January 26, 2022
Just when it seemed the Bears would never be able to choose from a stable of 10 potential GMs and at least twice as many head coaching candidates, Chicago became the first organization with two openings to fill them both. Are they done yet? Perhaps Omar Khan will be joining Poles and Matt Eberflus in Chicago, pushing Ted Phillips out of football operations and over to the Arlington Heights stadium project.
Let's not get too ahead of ourselves with wishful thinking. It may only lead to a letdown after what has been a very exciting week for Bears fans.
The Bears have yet to hold a press conference for either of their new hires, though each has released a statement. Once Poles and Ebeflus meet the media, we'll have a better indication of the future of the franchise. In the meantime, it is the accolades of the peers of both men that are driving all the excitement in Chicago.
Poles and Ebeflus are excited and ready to get started. It appears the new head coach is already working on his staff, with rumors that Dan Bagnozi, Alan Williams, and possibly interim Raiders head coach Rich Bisaccia will be coming to Chicago to work under Eberflus.
Speculation also exists that Eberflus will hire an offensive coordinator from the Kyle Shanahan tree of coaches. The Bears have struggled a great deal against offenses similar to Shanahan's so that's a double win. Not only will the Bears be looking to add more firepower, but their defense will get to practice against it every day. In case you're wondering, Eberflus will likely install a 4-3 defense very similar to the Tampa-2 that Lovie Smith ran when he coached the Bears from 2004-12.
Even better, it appears Phillips and George McCaskey are going to let Poles run the football side of the organization as he sees fit. Whether that's true or not remains to be seen, but Eberflus was not the first choice of McCaskey, Phillips, or executive consultant Bill Polian. In fact, though the new head coach was recommended by the 79-year-old consultant, it almost seems like Poles and McCaskey took Polian's advice strictly to stay away from his preferred candidates. Sometimes you have to be cruel to be kind, I suppose.
Bears News & Notes
There's a Flag…On the Play
Thankfully, McCaskey and Polian chose not to scour Twitter for the team's next GM.
This is amazing! https://t.co/wQfCBj28Kt

— Brad Robinson (@bradrobinson8) January 28, 2022
Northern Exposure
Green Bay offensive coordinator Nathaniel Hackett has agreed to become the next head coach of the Denver Broncos.
Former Packers executive Andrew Brandt says it's the end of the line for Aaron Rodgers in Green Bay.
Now that the Vikings have hired Kwesi Adofo-Mensah to be their new GM, a possibility exists that Minnesota could swap quarterbacks with Cleveland, sending Kirk Cousins to the Browns for Baker Mayfield.
Matthew Stafford is playing in the NFC Championship Game this weekend, yet Lions fans want to know what he thinks about Detroit's failures to make the playoffs. I know the answer to that, and it's probably NSFW.
NFL News & Notes
The Divisional Round games on Saturday and Sunday represented the NFL's greatest playoff weekend ever.
It seems almost unfathomable that Bucs QB Tom Brady would retire, but it may happen sooner than you think.
Teammate Rob Gronkowski indicated he would retire if he was forced to make that decision today.
In the latest mock draft from CBS Sports, the Packers would trade Rodgers to the Broncos for the No. 9 pick, and then select explosive WR Garrett Wilson of Ohio State.
Tony Romo is the NFL's biggest fan, and he's not afraid to show it.
Rams defensive lineman Aaron Donald might be the game's dirtiest player, but the league and its television networks seem to ignore it.
By this time next week, the Washington Football Team will officially have a new nickname. Most believe the team will choose "Admirals," but "Defenders" is the most popular among fans.
Sean Payton has left the NFL coaching ranks, but he doesn't want anyone to think he has retired.
Four 2022 playoff teams are among the likeliest to play sub-.500 football next year, including the Packers and Buccaneers.
Conference Championship Schedules
Three Yards and a Cloud of Dust
Chiefs wide receiver Tyreek Hill has 5 games of 150+ receiving yards over the past 2 seasons, the most in the NFL.
Andy Reid is the first head coach in NFL history to take 2 different teams to the Conference Championship game for 4 straight years. He did it with the Eagles in 2001 through '04.
Under the current rules, teams that win the OT coin toss have won 56% of non-tie outcomes (10-1 in the playoffs), and about a fifth of overtimes have ended on an opening drive TD (7-of-11 in the postseason).
Sudden Death Redux
Could this weekend's Chiefs-Bengals contest be more thrilling than Kansas City's overtime win against the Bills last weekend?
In Week 17, the @Bengals defeated the Chiefs 34-31 at the last second.

After the game, Patrick Mahomes told Joe Burrow, "See y'all in the playoffs."

Here we are.

AFC Championship | Sun. 3 pm ET | CBS & @paramountplus pic.twitter.com/Iez2gMEW5x

— NFL on CBS 🏈 (@NFLonCBS) January 25, 2022
From the Podium
"I would like to thank Ryan [Poles] and the McCaskey family for this once-in-a-lifetime opportunity to lead the Chicago Bears, one of the most storied franchises in all of sports in one of the greatest cities in the world. I am truly humbled and honored to be named your head coach and together we will do everything in our power to bring a Super Bowl championship back to Chicago." – Eberflus
"Matt [Eberflus] impressed me when detailing his vision and plan for our team. We look forward to getting to work and assembling a top-notch staff and roster that will help us consistently compete for championships." – Poles