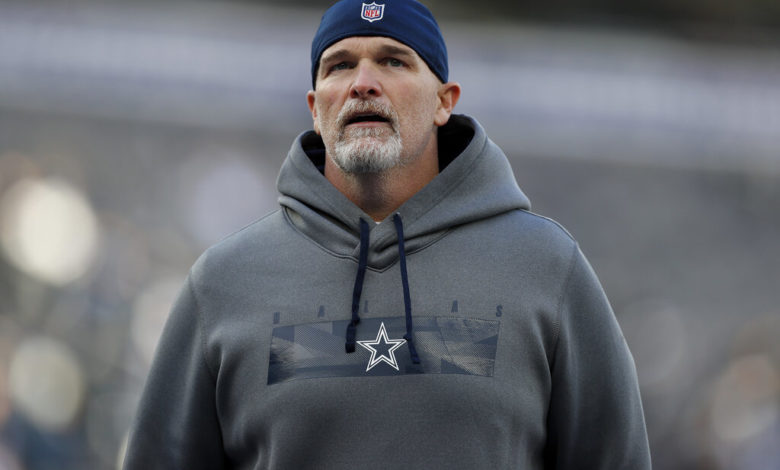 Source: Following Poles Hire, Bears Leaning Toward Quinn as Head Coach, Khan as Executive of Football Operations
Now that Ryan Poles has been confirmed as Chicago's new GM, the next step is to hire a head coach. Most analysts were expecting the Bears to make a move to fill their openings at head coach and general manager sometime this week and, per a source, the team appears to be leaning toward Dan Quinn.
It's also looking like George McCaskey might announce Omar Khan as an executive of football operations, giving Chicago a front office that is more football-oriented and one that rivals most other NFL organizations.
McCaskey is seeking synergy between his GM and head coaching candidates. Some of the potential pairings currently work for the same organization, such as Matt Eberflus and Morocco Brown with the Colts. Others have worked together previously for other teams, or have previous third-party ties to coordinators. For instance, Quinn once worked with Packers head coach Matt Lafleur, who currently employs Nathaniel Hackett as his offensive coordinator.
Matt Spiegel of The Score 670 posted something interesting on Twitter this morning that could indicate such an approach.
Have heard that the Bears will absolutely hire a GM first, before a head coach. And the GM will be involved in picking the coaching finalists, and eventual coach. Some GM candidates and coaching candidates are getting the opportunity to talk to each other in the process.

— M@ (@MattSpiegel670) January 25, 2022
Khan met with Chicago's brass yesterday. Quinn met with the Bears over the weekend and is also scheduled for a second interview, which may come as soon as today or tomorrow.
While a second round is taking shape, the Bears still have their first interview with Saints defensive coordinator Dennis Allen on tap for Tuesday. Colts defensive coordinator Matt Eberflus also has a second interview scheduled with the Bears.
Quinn was the head coach of the Falcons from 2015 through Week 5 of the 2020 season. He had a regular-season record of 43-42 and a playoff record of 3-2, including an NFC championship in his second season of 2016. That year the Falcons had a 28-9 lead on the New England Patriots in the second half of the Super Bowl and lost 34-28 in overtime. He also served as defensive coordinator for the Seahawks during the 2013 season, when Seattle's defense rivaled the legendary 1985 Bears defense.
Quinn is also reportedly a finalist for the Broncos job, as is Hackett, and he has also interviewed with the Vikings and Dolphins. Jim Caldwell is being heavily considered too, and it looks like Mccaskey will choose between him and Quinn, obviously with considerable input from his new GM
Per a source, both Poles and McCaskey want to bring Quinn in as the Bears' next head coach.
Khan is a bit of a wildcard. He has very little experience at evaluating talent but is regarded as one of the best in the league when it comes to cap management. Giving him an executive position with the team would allow McCaskey to move Ted Philips to the business side of the organization, where he can focus on the stadium project in Arlington Heights.
The Bears haven't officially released a list of head coach finalists but bringing Quinn back for a second interview means they are obviously impressed with him. The fact that McCaskey hired Poles so quickly could mean a head coach announcement is coming soon.