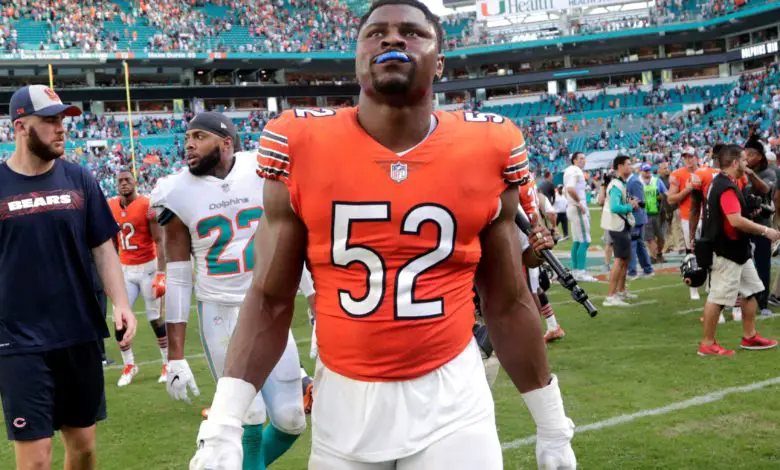 First & Long: NFL Executives Weigh In On Bears Coaching Vacancy, Mack Could Be Trade Candidate, Underdogs Rule Divisional Round
The Bears' head coaching vacancy may not be as enticing as some of the NFL's others, and it may affect the organization's ability to identify the right person to replace Matt Nagy. Brad Biggs of the Chicago Tribune asked 19 executives across the league to weigh in on the attractiveness of the team's opening and some of the responses were telling.
"I like Justin Fields," one scout said. "He has upside if he is coached right, and there are some pieces on defense. They need to address the offensive line and they severely lack offensive weapons. They've got to make a lot of moves on offense so Fields is in a better position to win."
One national scout said the city of Chicago and a dedicated fanbase are more attractive than Fields.
"It's a developmental quarterback in Chicago," he said, per Briggs. "The city and fans make [the job] attractive."
There's no doubt the Bears have a lot of roster holes, and Fields has no real weapons outside of David Montgomery and Darnell Mooney. Additionally, their offensive line is a wreck. Montgomery managed just 3.8 yards per carry this season, and Fields was sacked 36 times, including the nine times he was dropped for a loss in his first start against the Browns. Chicago also needs help in the secondary and could use another linebacker.
The Bears also have 24 unrestricted free agents, about $40 million in cap space, and their next GM will almost immediately have to decide what to do with Khalil Mack. The outside linebacker turns 31 next season and missed most of this season due to a foot injury. He still has three years left on his contract with a $30.15 million 2022 cap hit, though none of the remaining money is guaranteed. A post-June 1st cut or trade of Mack would result in a $17.7 million cap savings but would also bring on $12.4 million in dead money. A pre-June 1st cut or trade would result in $27 million in dead money and only a $3.1 million savings.
Believe it or not, Mack's contract is very tradeable, and in fact, the Raiders asked about his availability before this season. Moving the veteran linebacker would create $5-6 million in cap space and take him off the books the following year. Meanwhile, a team trading for Mack would only be acquiring his base salaries and roster bonuses, which are non-guaranteed. That means a team would still have to pay a reasonable price of about $17.5 million for Mack's services in 2022, but would not be on the hook for the remaining two years of his contract if things don't work out.
The Bears are in a very similar situation with defensive end Robert Quinn. A pre-June 1st cut or trade results in $12.4 million of dead money, and a cap savings of $4.4 million. Cutting either player would be a big move, especially after the Bears named Quinn this season's defensive MVP.
"[The Bears have] a top-10 defense with some pieces there," said one director of pro personnel. "Fields is either going to be a plus or a minus. You can sort of ride him, and it's not your fault if it doesn't work out. That buys you some time if nothing else. The roster needs work, though."
McCaskey declared last week that the new GM would report directly to him and would have "the ultimate football authority and oversight over the entire football operation." If that means that president and CEO Ted Phillips will stay out of personnel decisions once someone is hired,  the head coach opening becomes much more attractive. No coach wants to be caught in a situation where his GM makes a decision only to have it vetoed by Phillips.
"From the outside, it looks like ownership has provided everything football operations could ask for, and that's always a piece of the equation," one college scouting director told Briggs. "It's not that way everywhere."
Bears News & Notes
There's a Flag on the Play
Mark today as the day that the devil magic Tom Brady has had in his hip pocket for 22 seasons finally failed him.
The @RamsNFL are the first team in NFL history to lose 4+ fumbles and also lose a 20+ point lead and yet still manage to win the game (regular season or postseason).

— OptaSTATS (@OptaSTATS) January 24, 2022
This Weekend's Playoff MVPs
Northern Exposure
Despite a first-ballot Hall of Fame resume, Aaron Rodgers should have won more than one Super Bowl after 17 seasons in Green Bay. Nevertheless, he became the first quarterback in NFL history to be knocked out of the playoffs four times by the same opponent.
If Rodgers leaves the Packers, the Broncos, Steelers, and Browns are the early favorites to land the 38-year-old quarterback.
A first-quarter taunting penalty on Ndamukong Suh helped Matthew Stafford drive the Rams to their first touchdown yesterday. The two were once teammates on the Lions.
The Vikings interviewed 49ers defensive coordinator Demeco Ryans for their vacant head coach opening.
NFL News & Notes
It was a great weekend for last-second victories, the NFL's underdogs, and their placekickers.
The Chiefs and Bills combined for 25 points in the last two minutes of regulation to send their game into overtime, which Kansas City won 42-36. It was a true Oh-my-God game.
Tom Brady did not want to discuss a potential retirement after Sunday's loss to the Rams.
Brady drew the first unsportsmanlike conduct penalty of his career for clapping back at a referee after he was hit in the face.
Burrow is quietly becoming one of the league's most marketable players.
Troy Aikman trashed the Cowboys this week, comparing Dallas to the Jets and Jaguars.
There may be a GM opening in Pittsburgh. Kevin Colbert is reportedly stepping down after the NFL draft in April. He's run things for the Steelers for the last 20 seasons.
Billionaire Robert F. Smith may make a bid for the Broncos if the team is put up for sale. If successful, he would be the NFL's first Black owner.
Three Yards and a Cloud of Dust
With 12 100-yard receiving games this season, Kupp tied the single-season record (including playoffs) previously held by Michael Irvin. He'll have at least one more opportunity to break it.
Packers placekicker Mason Crosby had nine unsuccessful field goal attempts this year, most in the NF: this season. Three of his misses were the result of blocked kicks.
The last time three underdogs won a divisional playoff to advance to the conference championship was in 2008. The only other time that has happened was in 1971.
Home Field Advantage
It wouldn't be a surprising move if the Bears simply promoted Champ Kelly to GM. It may not be an inspiring hire to the fanbase, but the players love him.
Chicago Bears players like Khalil Mack and Tarik Cohen have been very vocal about who they want as their next GM.

That person is Graceville alum Champ Kelly, who interviewed with the Bears last week and will interview for the Raiders open GM position tomorrow. pic.twitter.com/exOPuf7lVQ

— Courtney Mims (@MimsCourtney) January 20, 2022
From the Podium
"You know, it's a great opportunity and a great blessing to be able to play behind [Mack and Quinn], two gold jackets soon to be. I couldn't ask for anything else, a lot of guys [say], 'I want to play. I want to do this, this, and that.' But I'm literally behind two pass rushers that probably are top five in the league. There's technique, film. I get to watch their steps every day, from sun-up to sun-down. I'm in a great position and I honestly couldn't be more appreciative." – Gipson