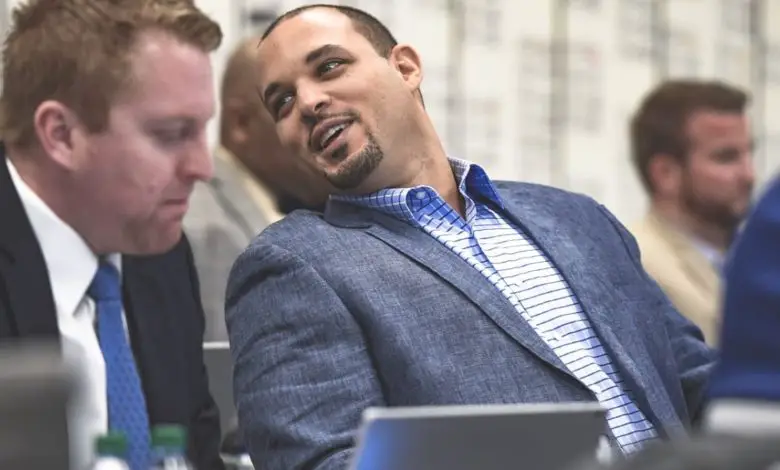 Polian Pushing for Matt Eberflus, Morocco Brown as Bears Head Coach, GM
Matt Eberflus and Morocco Brown could be hired as coach and GM of the Chicago Bears if recent rumors are true.
The Bears have cast a wide net in their search for a new head coach and GM, but only one man has been asked to interview twice, and that's Eberflus. That could be because hired gun Bill Polian would like the Bears to hire Eberflus and Brown. That should make each the top candidate for the two vacancies.
The 79-year-old Polian was hired as a consultant by George McCaskey to help conduct the search. It is Polian's experience more than his age that attracted the team chairman to the former Colts executive.
"Yes, we are not exactly spring chickens," McCaskey said last week. "But Bill [Polian] has been around the game a long time, he knows the game very well. I recall, George Halas was in his 80's when he made a then very controversial but ultimately successful selection for a head coach [in Mike Ditka] and Bill is much younger than that."
Naturally, individuals to ties with the Indianapolis organization would and should be at the top of Polian's candidacy list, and Eberflus and Brown are exactly that. Mike Garafolo of the NFL Network leaked the rumor.
There's a lot of talk Bill Polian was pushing for a Matt Eberflus/Morocco Brown combo for the #Bears but Ryan Poles has absolutely impressed them. He's firmly in the mix. https://t.co/tKnQ6IT5Eu

— Mike Garafolo (@MikeGarafolo) January 22, 2022
Ryan Poles is an interesting name, too. He was a finalist for the Giants GM opening but lost out to Joe Schoen, who was one of the first candidates interviewed at Halas Hall. Poles, the director of player personnel with the Chiefs, is the first known GM candidate to get a second interview with Chicago. The 36-year-old scout is also a finalist for the opening in Minnesota.
Poles has been with Kansas City for the last 13 years, working his way up through multiple GMs and head coaches. He was part of the scouting staff when the Chiefs drafted quarterback Patrick Mahomes in 2017. He also played on the offensive line at Boston College, and signed as an undrafted free agent with the Bears in 2008, though he never played in the NFL.
Brown has worked for the Colts since 2016. He comes from a strong scouting background as well, with experience scouting both NFL and college talent. Under his watch, Indianapolis has drafted running back Jonathan Taylor, guard Quenton Nelson, linebacker Darius Leonard, wide receiver Michael Pittman, Jr., and right tackle Braden Smith. He's also familiar with the Ted Phillips and the McCaskey family. Brown was the Bears' assistant director of pro personnel from 2001-07 under Jerry Angelo and has worked for the Browns and the Washington Football team since leaving Chicago.
"You look at the Colts drafts over the last four years, like 2018, " said Colts.com reporter J.J. Stankevitz. "Just look at the一 Leonard and Nelson have been All-Pro six times since they came into the NFL, combined. Smith is one of the highest-paid right tackles in the NFL. Nyheim Hines just got a contract extension. 2020,; Taylor, All-Pro this year, a guy who we here in Indy were pumping up for MVP quite a bit, and deservedly so. Pittman [is a] 1,000-yard receiver. His process of identifying guys is so good."
It's worth noting that Brown works for Ed Dodds, who withdrew his name from consideration for the Bears post, reportedly because he was not a believer in QB Justin Fields. No one is saying that Dodds and Brown would be on the same page regarding the rookie signal-caller, just that's it possible they are of the same mindset. One would think that Fields would have to be a priority for the next regime.
The #Bears are scheduling a second interview with #Colts DC Matt Eberflus next week, per source.

So Eberflus is now a finalist for two jobs: Jacksonville and Chicago. His Indy defense has been top-10 in many categories the past four years.

— Tom Pelissero (@TomPelissero) January 19, 2022
Eberflus began his NFL career with the Browns as a linebackers coach (2009-10). He then spent seven seasons with the Cowboys as their linebackers coach (2011-17) and added passing game coordinator to his duties in 2016-17 before accepting a position with Indianapolis. With the Colts, he inherited a defense that ranked 30th in the NFL in both scoring and total yards in 2017. Eberflus helped the unit improve to 10th in scoring and 11th in yards in his first year in 2018.
Indianapolis has finished in the top 10 in scoring defense three times four seasons under Eberflus, and in the top half of the NFL in total yards allowed all four years, though it would be a stretch to call his defenses elite.
In NFL circles, a second interview typically means a candidate is a finalist for the position, and that's how Garafalo characterized Eberflus' candidacy. The same could be said about Poles. Though Brown has had just one interview, at least as far as anybody knows, he is widely respected throughout the league and by most accounts, ready to run his own franchise.
Neither Brown nor Ebefrlus are the types of cutting-edge candidates that the Bears should hire, but if they insist on taking the safe route, both are highly qualified and excellent candidates. Poles is the wildcard. I would assume he'd bring in his own head coach if hired, and even with a high recommendation from Polian, it may not necessarily be Eberflus. Poles might lean toward Eric Bieniemy, Jr., or one of the many other available assistants throughout the league.