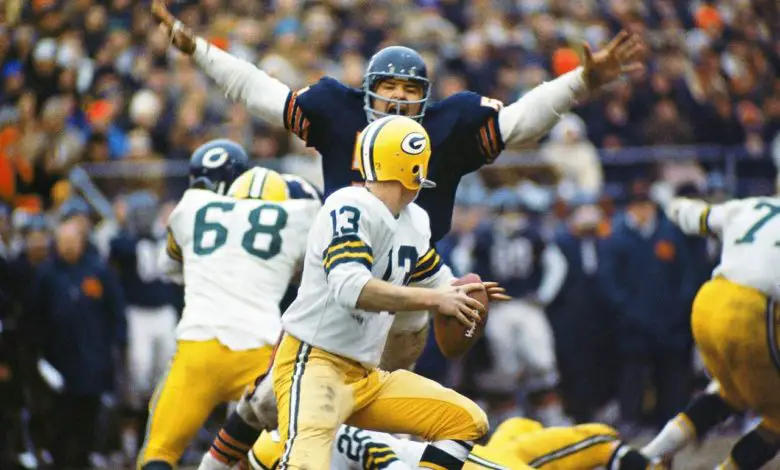 Dick Butkus Still Sacking Packers Quarterbacks
Hall of Fame Linebacker Dick Butkus is still sacking Packers quarterbacks, and his current target is Aaron Rodgers. The retired middle linebacker finally got verified on Twitter and asked to exercise his veto power to knock the Packers signal-caller off the social platform. Butkus may need to work on his punctuation, though nobody expects a man known for terrorizing his opponents to be concerned with such trivial matters.
now that i have the blue mark i can kick people off of the platfrom right

you hear me @AaronRodgers12

— Dick Butkus (@thedickbutkus) January 21, 2022
Butkus, 79, joined Twitter in October but got his "blue mark" Friday. Regarded as one of the hardest-hitting players the NFL has ever known, Butkus took a shot not only at Rodgers but at Green Bay's fans too.
also sorry to disappoint some of you packers fans now that im trendy its not becuase im dead

— Dick Butkus (@thedickbutkus) January 21, 2022
Despite a lack of proper punctuation, Butkus has a knack for amping up the Bears-Packers rivalry, even though the two teams won't meet again until the fall. The Hall of Fame linebacker also asked when Twitter would start sending some of its profits his way, and wondered aloud how many comped dinners he will receive now that he's been officially verified. Alas, he missed the influencer perks era by a year or two.
The Bears-Packers rivalry is among the oldest in professional football, going back 101 years. Green Bay dominated the season series up until about 1992. That's when Chicago fired Mike Ditka and the McCaskeys family, along with Ted Phillips. assumed the role of hiring head coaches and front office personnel. Perhaps Butkus is directing his wrath at the wrong people. Heading into the '92 season, the Bears had an all-time record of 80-57-6 against their bitter rivals. In the 59 games the two teams have played since Chicago is 14-45 and last year suffered their 100th overall loss in the series, prompting Rodgers to exclaim he owns Chicago after a Week 6 24-14 Packers victory.
While Chicago didn't make the 2022 playoffs, Green Bay plays the 49ers tonight in a highly anticipated postseason matchup. Expect Butkus to provide plenty of online commentary throughout the game. As he did in his playing career, the 79-year-old former defensive standout will take a quick and direct path toward the enemy. It's always no holds barred when it comes to the Packers, and Butkus, a one-time NFL broadcaster, seems to have hit his stride on Twitter.
He has amassed nearly 80,000 followers and is not shy about interacting with Bears fans. When asked how long a modern-day quarterback would have lasted in his era, Butkus, who played from 1965 to 1973 and made the Pro-Bowl eight times, estimated the shelf life for today's signal-callers would be about 30 minutes.
Another fan seemingly joked the defensive star once killed his grandfather on the football field.
"Probably deserved it," said No. 51.
He then tanked Bears fans for their support in helping to persuade Twitter to verify him.
In addition to terrorizing Rodgers, Butkus is using Twitter to promote The Butkus Award.
Per the middle linebacker's website, "When a player receives the Butkus Award he will know two things. First, he is recognized as the best of the best linebackers in America. Second, and in the long run most important, he will understand that this recognition brings a responsibility to serve others by giving back."
Instituted in 1985, The Butkus Award® is one of the elite individual honors in football. In 2008, The Butkus Foundation, a 501c3 non-profit organization, took stewardship of the award to fully realize the original purpose of honoring athletic achievement and service to the community while honoring the nation's best high school, college, and professional linebackers. An independent Butkus Award Selection Committee comprised of 51 experts, including professional, college, and high school scouts, and prominent sports journalists, conduct the selection process.
This year's winners were Nakobe Dean of Georgia University and Sean Murphy of Unity Reed High School. Butkus also awards professional players, and though this year's winner has yet to be announced, Wisconsin product T.J. Watt of the Steelers won it last season.