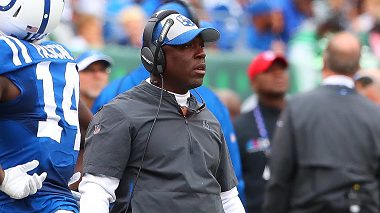 Bears Name Alan Williams Defensive Coordinator
Matt Eberflus has opted for his assistant coaches from Indianapolis to fill out his defensive staff on the Bears. Chicago announced the hiring of Colts safeties coach Alan Williams as defensive coordinator on Wednesday.
We have hired Alan Williams as our Defensive Coordinator.

Welcome to Chicago, Coach Williams! 🐻⬇️ pic.twitter.com/emsbuQYdbV

— Chicago Bears (@ChicagoBears) February 2, 2022
Williams got his start in 2001 as a secondary coach under Tony Dungy in Tampa and followed him to Indianapolis. He served as a defensive coordinator under Leslie Frazier in Minnesota in 2012 before returning to a role as a secondary coach in Detroit and back with the Colts under Matt Eberflus.
The Bears also hired the Colts linebackers coach Dave Borgonzi for the same position. Eberflus, who will likely call the plays on defense, appears to be aiming for continuity from 2021. Indianapolis had a unit that emphasized turnovers and was able to achieve a top-10 scoring defense with a bend-but-don't-break mentality.
While Indianapolis led the NFL in positive turnover margin Chicago was second to last. Changing that stat could make a very good Bears defense great. It also may be a big help to young quarterback Justin Fields and a hopefully new-look offense.
With the coaching staff taking shape the next agenda item will be free agency and the draft. A chance for the Bears to really start molding the team into the new braintrusts image. If early returns are accurate, it appears that image will include numerous former Indianapolis Colts.