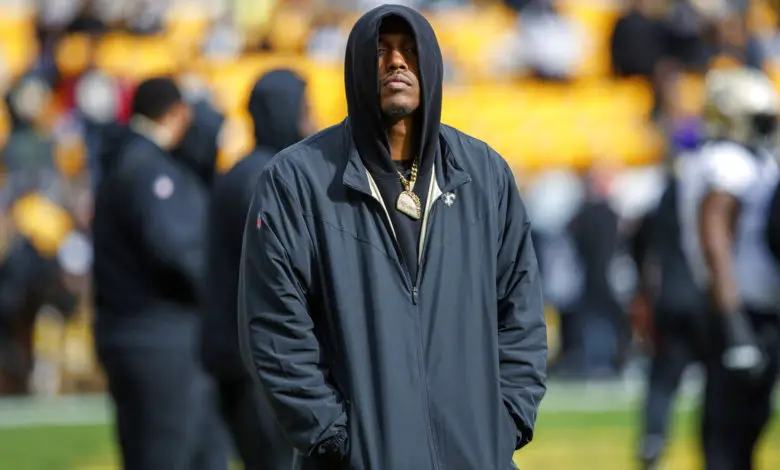 Nothing Ventured, Nothing Gained. What Can We Expect From Taco Charlton?
The Chicago Bears have an underachieving defense, so they dipped into the Saints' practice roster to sign underachieving defensive end Taco Charlton. The 28-year-old is a former first-round draft pick who has 11.5 career sacks and 22 QB hits on his resume. That nearly matches the career production of the relatively non-performing Al-Quadin Muhammad.
The Bears signed the Michigan product late Monday night, and the move was made official Wednesday. Charlton practiced with the Bears this afternoon at Halas Hall. The edge rusher is familiar with Bears head coach Matt Eberflus, who coached the linebackers for the Cowboys during Charlton's rookie season. The Bears are also Charlton's sixth team in five years. He carries a chip on his shoulder and a determination to find his spot in the NFL. If this season has taught us anything, it's that GM Ryan Poles loves those types of players.
New #Bears DE Taco Charlton was drafted No. 28th overall in the 2017 Draft. In 55 games, Charlton has 11.5 sacks and 92 total tackles.

His most productive game was vs. the LAC in 2019: 6 comb tackles, 2 QB hits, 1 sack

Here are good back-to-back plays from Charlton (No. 96). pic.twitter.com/omwQ7nj2cR

— Nicholas Moreano (@NicholasMoreano) November 16, 2022
"Sometimes, it was my decision to leave], and other times their decision," Charlton said about bouncing around the league. "That's why I don't hold on to it too much because sometimes I was the one to ask…to leave, that I wanted to go to some of these other places. In other places, it was the other way around. Like I said, every experience I had I take it as a learning experience. I take it on the chin, and I keep on rolling.
"Obviously, I don't lose confidence in who I am as a player, so I still feel like I can definitely play well and make some great plays and play this game at a high level. So I'm excited to show that here in Chicago."
The Bears have struggled to rush the quarterback all season. In recent games, they've made Jared Goff, Tua Tagovailoa, Dak Prescott, and Kirk Cousins look like league MVPs. Chicago entered play on Sunday with the league's fourth-worst run defense and second-worst pass defense. The Bears have also surrendered 16 touchdowns in their last three games. Perhaps that's why Poles is leaving no stone unturned in his search for more able hands on deck.
Charlton talks the talk of a budding star, something that belies his NFL résumé.
"Wherever you put me, I'll be good to go, especially on passing downs," Charlton said. "On passing downs, I can rush anywhere. I can rush inside, outside, I can rush. I feel like that's one thing they brought me here for is to get to the quarterback and I feel like I can do that at a high level."
But what exactly does Charlton bring to a defense that's well past its breaking point, other than fresh blood? The 6-foot-6, 270-pound end was known as a dangerous pass rusher when he left Michigan in 2017. The Cowboys selected Charlton No. 28 overall that year, and he played 16 nondescript games for Dallas as a rookie. He started seven games in his second season before moving on to the Dolphins, Chiefs, and Steelers. His best season was 2019 when he registered five sacks and two forced fumbles in five starts for Miami.
Charlton was a bit of a reach for the Cowboys in '17. He was a rotational edge rusher during his senior season but showed dominance in the regular season finale against Ohio State. Charlton followed that up with a career game in a 33-32 loss to Florida State in the Capital One Orange Bowl. He finished the game with 5 tackles, a sack, two TFLs, and two QB hits, drawing comparisons to Jabrill Peppers while shooting up the draft boards.
I asked new #Bears DE Taco Charlton about Matt Eberflus' H.I.T.S principles. pic.twitter.com/tual3xjXzp

— Nicholas Moreano (@NicholasMoreano) November 16, 2022
Few doubt Charlton's talent and physical gifts, but he's yet to break out as a professional. Many scouts question his toughness, and he has a very laid-back personality. The well-traveled edge rusher may find Eberflus' HITS philosophy a challenging endeavor. Were he to reach his potential, Charlton possesses similar abilities and the physical attributes of Carlos Dunlap of the Chiefs. Charlton fits best as a base end in a 4-3 defense and is versatile enough to drop back into pass coverage. He just needs to put it all together on game day.
"I'm very happy to be back in that defense where I just get off the ball and just go," Charlton said Wednesday. "I'm trying to make some plays, help this defense, help win some games. That's really what I'm trying to do. Not really personal stuff, but really just help this team win, try to make some key plays to help this defense make some big turnovers."
He's a placeholder at the very least until the offseason when the Bears are expected to overhaul their defense in the draft and in free agency. If Charlton can finally reach his potential, credit Poles with the steal.