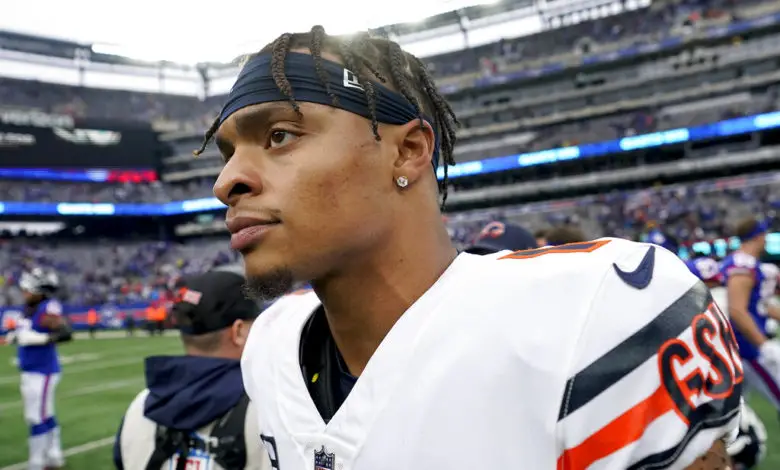 Fields Status for Packers Game Remains Unchanged
Justin Fields is still throwing lightly, just as he did before Sunday's 31-10 loss to the Jets. His injury is in his non-throwing shoulder, but it is painful enough that it still causes significant damage when the young quarterback tries to let it loses. He was a limited participant in Wednesday's practice, and his status remains unchanged. Fields is currently listed as questionable on the team's injury report.
#Bears quarterback Justin Fields throwing some passes in Wednesday's practice. pic.twitter.com/iYSYEHaQPW

— Nicholas Moreano (@NicholasMoreano) November 30, 2022
Head coach Matt Eberlus said Fields has to pass three benchmarks before he will clear the starter to play:
The team medical staff must clear him all the way into that [game-ready] status;
Fields has to feel he is 100% ready to go out and perform; and
The second-year quarterback needs clearance from Eberflus and GM Ryan Poles.
If Fields is unable to play, Chicago may have to start third-string quarterback Nathan Peterman. The Bears signed former Packers quarterback Tim Boyle to the active roster due to the uncertainty surrounding Fields and regular backup Trevor Siemian. Boyle has spent the season as a member of the Lions practice squad. Peterman almost started against the Jets because Siemian is dealing with an oblique injury.
Chicago's offense struggled badly against the Jets without Fields. The Bears have little chance of winning if neither he nor Siemian can play this Sunday.
The Packers originally signed Boyle in 2018 as a UDFA from Eastern Kentucky, and he was with the Packers through the 2020 season, so he has worked with offensive coordinator Luke Getsy. He's been in Detroit's organization since 2021. Boyle appeared in five games for the Lions last season, completing 64.9% of his passes for 526 yards. He threw three touchdowns, and six interceptions, and has a passer rating of 63.5.
Eberflus said that his preference is that Fields will play if "he's 100 percent ready." While the Bears have their bye week following Sunday's game vs. the Packers, both Eberflus and Fields said that is a non-factor when determining the quarterback's game status.
"If he feels really comfortable and feels great and his mobility and strength's back for the medical staff," Eberflus told reporters. "And then as a GM and head coach, we look at it and say `hey, green light,' then it's a green light. So we'll see it during the course of the week. But this is on a one-week thing, day to day for this week."
Fields indicated that he might have a little more wiggle room by Sunday. Everybody wants to beat the Packers, but the health and safety of the emerging star are more important. The second-year quarterback won't put himself in a position that hurts the team, either.
"What is it, Week [13] right now? I mean, there are a few people in this league that are quote-unquote a hundred percent," Fields said. "So, I'm just going to go out there and if I feel like I can help my team win, help my team score, score points and put points on the board, then I'm going to go out there and play. So again, we'll just see how practice goes today and see how I feel."