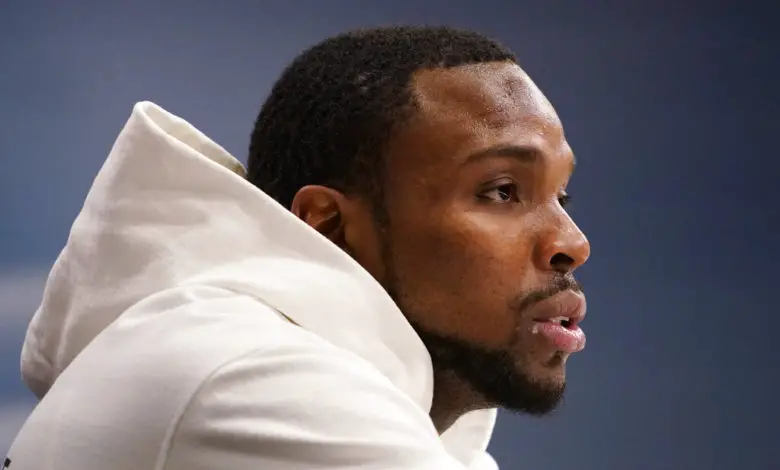 Reported Non-Contact Lisfranc Injury Ends Jackson's Resurgent Season
Safety Another Possible Victim of Slit-Film Artificial Turf
The Bears' season just went from bad to worse. Safety Eddie Jackson has reportedly been diagnosed with a Lisfranc injury. The middle-foot injury puts an end to what has been a resurgent year for the six-year veteran. The Bears announced today that Jackson will join wide receiver Darnell Mooney on injured reserve.
Jackson suffered a non-contact left foot injury in the second quarter of a 31-10 loss to the Jets on a rainy Sunday in New Jersey. He hurt his foot on a 54-yard touchdown pass from Mike White to Garrett Wilson. Jackson was backpedaling when he slipped with nobody near him. He limped off the field without putting weight on his leg. The injury provides more ammunition for the NFLPA as the union advocates for stadiums to switch to all-natural turf in all stadiums.
Eddie Jackson is the latest in what is getting to be a long list of non-contact injuries at MetLife Stadium. Ironic for a building named after insurance. The NFL needs to address this or the NFLPA needs to sue.

— Ross Read (@RossRead) November 29, 2022
Jackson will miss a minimum of four games. The safety is still seeking medical opinions, but he is out indefinitely with an injury that normally takes months to heal. The team initially reported Jackson had sprained the foot and has yet to update his status. The Lisfranc injury was initially reported earlier today by Mike Garafolo of the NFL Network.
"A simple Lisfranc injury can be easily mistaken for a sprain, especially if the injury is a result of a straightforward twist and fall. However, injury to the Lisfranc joint is not a simple sprain that should be "walked off" or expected to heal quickly. Even a simple Lisfranc injury is a severe injury that may take many months to heal and may require surgery to treat.
"A low-energy Lisfranc injury can happen with a simple twist and fall. It is also commonly seen in football and soccer players when one player lands on the back of another player's foot while the foot is flexed downward in the push-off position."
Jackson is believed to have suffered a significant Lisfranc injury with damage to the bones and/or tendons in the middle of the foot. That means a recovery timeline of several months. Head coach Matt Eberflus said on Monday that Mooney is expected to have season-ending ankle surgery.
The most important thing is that Jackson will heal, recover, and be able to play football again. But even in a best-case scenario, his season is over. Jackson, who will be 29 in December, is having his most productive season since 2018. He has four interceptions, six passes defended, two forced fumbles, and 80 tackles in 12 games.
"When you lose the production of those guys, number one, that always hurts," Eberflus said. "And also the leadership part of it. [Mooney and Jackson] have been great in the locker room. They are great teammates. They really are encouraging to others and really model the behavior we wish to see."
Jackson has yet to speak to reporters. So, it's unclear whether he slipped in the rainy conditions or if his injury was a result of MetLife Stadium's turf. Players Association President JC Tretter called for the replacement and ban of slit-film turf fields to help prevent non-contact injuries. MetLife is one of six fields that uses a questionable playing surface. The stadium has had several complaints over the years, including from the Ravens earlier this year. Former Bears cornerback Kyle Fuller tore his ACL in a Week 1 game against the Jets.
Eberflus said player safety is "very important" to the Bears and the NFL.
"We've got to make sure that we take care of the players," the head coach said. "And if that's adjusting surfaces throughout the league, that's a good idea. If it's changing the rules to make sure the players' safety is good — helmet-to-helmet contacts, blindside blocks, all the things that we've changed — that's always a positive. Because it's a players' game, right? We've got to keep good players in the game."
The Bears also announced that they signed veteran safety Adrian Colbert to the practice squad Tuesday. Colbert has played in 39 games (22 starts) over five seasons with five teams. He hasn't played in a game this year. DeAndre Houston-Carson will replace Jackson. Jaquan Brisker is Chicago's other starting safety. Brisker is in concussion protocol. He will likely be available Sunday. Rookie Elijah Hicks will start if Brisker remains out.
"Eddie is in my opinion the best in the game," Houston-Carson said. "A great teammate. Obviously, it hurts us, but we just have to find a way to try to find that production from other [players]."
The Bears have been relatively healthy since the start of the season. Jackson, Mooney, Lucas Patrick, and Khalil Herbert are among the regulars who are now lost for the season. Chicago traded Robert Quinn and Roquan Smith. Justin Fields is hurt and his status is still unknown. He's dealing with a soft tissue injury in his non-throwing shoulder.
The Bears are 3-9 on the season and have lost five straight games. Chicago has also lost seven straight to the Packers and 11 of 12.