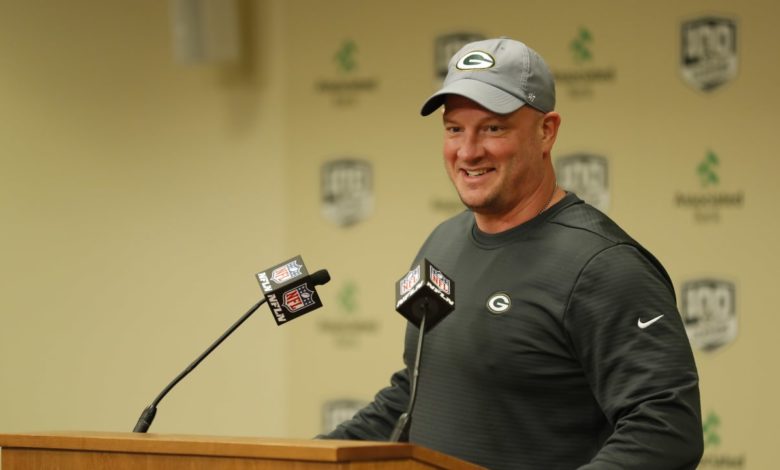 First & Long: Circus Continues After Tumultuous Week, Several Candidates Vying to Replace Nagy, Cowboys Battling COVID Outbreak
The only thing worse than being a lame-duck head coach is filling that role with the Chicago Bears. The team that did almost nothing to quell rumors that Matt Nagy would be fired after the Thanksgiving Day win against the Lions is reportedly working behind the scenes to find his successor. Chicago's list of potential replacements is by no means short and includes several offensive coordinators and two NCAA coaches.
According to CBS Sports' Jason LaCanfora, the Bears are expected to consider one of Byron Leftwich, Josh McDaniels, or Brian Daboll, all NFL offensive coordinators, as Nagy's replacement starting next season. Another report, this one from Alex Shapiro of NBC Sports, named Packers assistant coach Nathaniel Hackett as the team's top choice to coach the Bears once the McCaskey family and team president Ted Phillips make Nagy's dismissal official.
The media has joined the circus surrounding the currently nonexistent opening in Chicago, too.
Lee Corso already predicting Ryan Day is going to bolt #OhioState for the NFL. Keyshawn Johnson speculating Day will go to the #Bears to coach Justin Fields…
🤦‍♂️
Don't see that happening while he continues be dominant in college. Everything I hear Day & his family love Columbus.

— John Sabol (@John_Sabol) November 27, 2021
Chicago's beleaguered coach says it's business as usual as the team prepares for Sunday's contest with the Cardinals. What else would he say after the most bizarre week in his tenure with the NFL's oldest franchise? I suppose Hackett makes the most sense if Ryan Pace (or whoever replaces him if he's let go) wants to chase WR Davante Adams in free agency. I suspect Adams will follow Aaron Rodgers wherever he goes next season, and it's unlikely to be via the Amtrak Hiawatha Express from Milwaukee to Chicago.
In case you're wondering if the Bears' organization is an attractive destination for potential head coaches, especially after 30 years of ownership mismanagement that still may have a ways to go before completely cratering, the answer is yes. According to CBS Sports NFL insider Jonathan Jones, the Bears' future head coaching vacancy — and potential general manager job — are expected to be the most attractive jobs on the market.
I suspect the chance to coach Justin Fields is driving the appeal to come to Chicago. The downside is that Ted Phillips should never wield the power that comes with supply-side hirings because it gives him all the more incentive to hire the one with the least demands, both financially and when it comes to making roster decisions. Yes, only the Bears are capable of mucking up what could be a frenzy of top assistants begging to mentor the young quarterback.
Worse for Nagy, a new NFL rule this season allows teams to start interviewing candidates two weeks before the end of the regular season, that is if the head coach that started the season has already been fired. That means that if Phillips identifies Nagy's successor, or wants to get a jump on negotiating with the best candidates, he may have to fire his head coach and GM right before the final two games of the season. That really puts the lame in lame-duck, doesn't it? It's like that rule was created with Bears' ownership in mind.
If the Bears are interested in a college coach, like Pat Fitzgerald of Northwestern, for instance, that new rule could help them reach an agreement two weeks before many other jobs open up. Fitzgerald's name has been linked to the Bears job for a while, even before Nagy was hired for the gig, and last season when it looked like Pace or Phillips might make a change coming into this year. Fitzgerald immediately signaled his intention to stay with his alma mater, but the Bears didn't have Fields last season.
Yes, things could get interesting again in a couple of weeks, and nowhere outside of Chicago will the circus be quite as big.
Bears News & Notes
There's a Flag…On the Play
Rumble young man, rumble!
OMG! Blocked PAT that turned into two!!

(via @NFL)pic.twitter.com/ifXUXEahP2

— FOX Sports: NFL (@NFLonFOX) November 30, 2021
Northern Exposure
The Packers have a bye on Sunday, but Rodgers is not going to use the extra week of rest to have his bothersome toe surgically repaired.
Vikings running back Dalvin Cook is expected to miss the next two games with a torn labrum but could rejoin the team for a Week 15 tilt against the Bears in Chicago.
Lions head coach Dan Campbell wants his team to play spoiler over the final six games of the season. Five of Detroit's final six opponents are the playoff mix.
Pick Six
This week's top NFL performers.
NFL News & Notes
FedEx Field, home of the Washington Football Team, has an ongoing plumbing issue.
Video replays showed that Rams DT Aaron Donald grabbed Packers guard Lucas Patrick around the throat and tried to choke-slam him during Sunday's game.
The Cowboys are going through a COVID-19 outbreak and will be without head coach Mike McCarthy Thursday night. Assistant coach Dan Quinn will stand in for McCarthy.
Tom Brady threw some shade at the Colts and their horseshoe logo. "It turns out that horseshoe on their helmet isn't as lucky as it seems," he said.
Panthers RB Christian McCaffrey injured his ankle on Sunday and will miss the remainder of the season.
Three Yards and a Cloud of Dust
In 10 games this season, Cordarrelle Patterson of the Falcons has 911 yards from scrimmage and 9 TDs, both career highs.
The Cardinals are now 6-0 on the road, with all those wins coming by double digits. Arizona travels to Chicago on Sunday.
The Lions are winless in 18-consecutive games (0-17-1) in which Matthew Stafford does not start at QB (last win 2010 Week 17).
From the Podium
"When there are distractions, which is in every sport, in all facets of life — there's always going to be distractions. It's how you handle them. And again, we got the win today, and it could've [gone] a lot of different ways. But the reason why we got the win [in Detroit] is because of how they handled the distractions, you know? That's where to me when you're in this business and you lead people, it's my job to make sure of honest and open communication. That's where, for me, I just can't tell you how much this win means today to me because of what they did." – Nagy
"Regardless of what's being reported, regardless of what's going on in the outside and stuff, there's still a lot of [the] season left. For us, the focus is on winning games. I think that's the biggest thing for us is just doing everything we can to put our best foot forward and to make the most of the next one, and that was today, and we did that." – Dalton