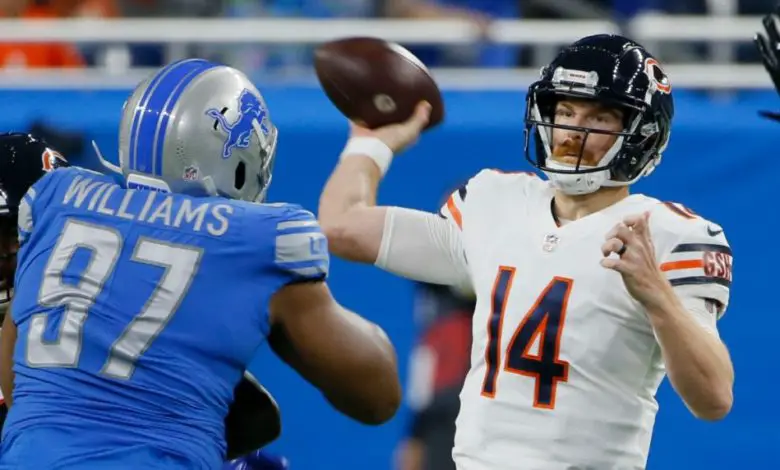 Chicago Bears Score and Recap (Week 12): Bears 16, Lions 14 – Bears Win a Turkey of a Game on Thanksgiving
The Bears and the Lions met for what could generously be called an NFL football game on Thanksgiving day. Two bad teams with limited offenses scrambled to earn every yard they could in a contest that came down to a last second field goal. Chicago got the win in the end, but it hardly felt like an achievement.
Detroit quarterback Jared Goff returned from injury and led his team to a touchdown on their opening drive. Goff hit former Rams teammate Josh Reynolds on a 39-yard touchdown pass to put his team ahead 7-0.
Andy Dalton got hot in the passing game, going on two consecutive scoring drives, a field goal and then a touchdown. A 52-yard Darnell Mooney reception set up the 17-yard touchdown pass to Jimmy Graham and a 10-7 edge.
Cairo Santos made another field goal as the first half expired to make it a 13-7 game. The Bears could not add on to their lead in the second half and Detroit was able to hang around. The Lions eventually moved ahead 14-13 on a Goff TD pass to T.J. Hockenson in the third quarter.
Chicago would close out the game on an epic 18-play drive that took the final 8:30 off the clock. Santos would kick the game-winning 28-yard field goal as time expired and the Bears had an ugly win. (Box score)
Why the Bears Won
Dalton had a good day throwing the ball and the Bears defense was just good enough to top a very sloppy Lions team.
Key Moment
The Bears faced a 3rd and 9 on the Detroit 16 with 1:54 left in the fourth quarter. The Lions hoped to force Chicago to kick the go-ahead field goal with time still on the clock for a response. After calling a timeout to stop the clock the home team inexplicably took a second timeout before the snap. That is a 5-yard penalty for delay of game and the Bears took advantage, picking up the first down on the 3rd and 4 and running out the clock for the walk-off kick.
Stats That Matter
Dalton threw for 317 yards in addition to the touchdown. Justin Fields should be OK for next weeks game, it's going to be interesting to see who Matt Nagy starts (hopefully Fields).
Mooney had 123 yards receiving as he continues to break out of late. With all due respect to Allen Robinson, it's pretty clear Darnell Mooney is the Bears number one receiver.
Robert Quinn had another sack giving him 10 for the season.
Bottom Line
I guess if you were a cockeyed optimist you could say this game keeps the Bears playoff hopes alive. Back on Earth, a win is always nice even if it was a gift from the worst team in the NFL. Avoiding an embarrassing defeat on national TV likely means Nagy will be able to finish the season before any coaching changes are made. Hopefully, watching this game did not ruin your appetite and all of you have a good Thanksgiving.
Next Up
Chicago welcomes the first-place Arizona Cardinals to Soldier Field on Sunday, December 5 at 12:00pm CT on FOX.