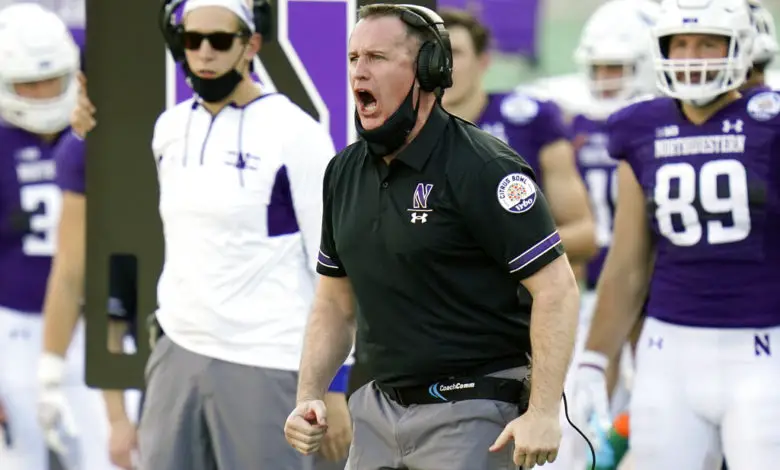 Pat Fitzgerald Reportedly Open to Taking NFL Head Coaching Interviews
It's long been rumored that should the Chicago Bears find themselves in need of a new head football coach one of the first calls they'd make is to Northwestern's head coach, Pat Fitzgerald. However, there's never been a reason to believe that Fitzgerald would be open to moving on from Northwestern, until now.
Per Adam Schefter, Fitzgerald is open to taking NFL head coaching interviews, which is a pretty interesting development, whether it leads to the Bears actually contacting him or not.
B1G coaching update…

Northwestern HC Pat Fitzgerald is open to taking NFL HC interviews; Ohio State HC Ryan Day is not, per sources.

— Adam Schefter (@AdamSchefter) January 3, 2021
Earlier in the season, when the Bears had lost six straight games, it looked like a near-lock that the team would be in the market for new front office management, including the possibility of a new head coach. Matt Nagy managed to right the ship and the Bears are at least playing for a postseason bid IF they can beat the Packers.
It's not clear what will happen to Nagy once the season ends, but it is believed that by salvaging the season and getting the Bears into position to get into the postseason, he may have saved both him and Ryan Pace from getting fired.
Of course, with the outcome of the Packers game still very much up in the air, it's possible that Nagy could find himself on the chopping block with a loss. It's even more likely that an embarrassing loss, combined with the news of Fitzgerald's willingness to at least consider leaving Northwestern, could very well be enough for George McCaskey to swing the axe.
Don't get me wrong, I'm not hoping for a Bears loss to Green Bay. But, given the middling position the team has been in for years now, a change like this could be best for the team in the long run.