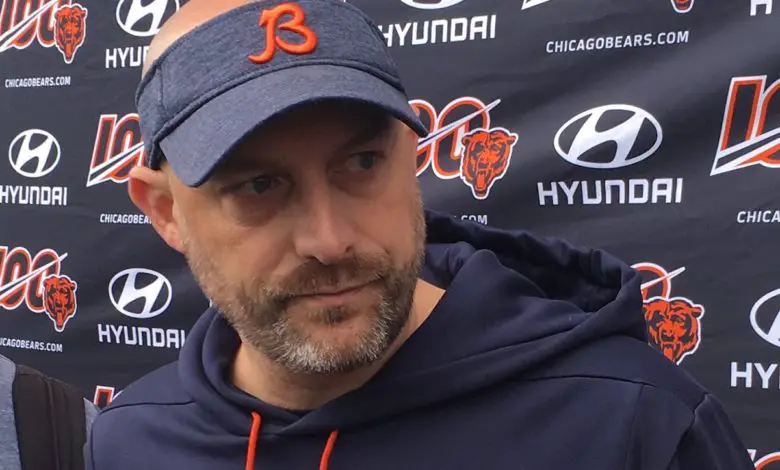 First & Long: McCaskeys Leave Nagy Twisting in Wind After Bizarre Media Day, Dalton Will Start Tomorrow, Watt Steps Up for Waukesha
"Welcome back my friends to the show that never ends, we're so glad you could attend, come inside, come inside. There behind the glass stands a real blade of grass, be careful as you pass, move along, move along." – Karn Evil 9, 1st Impression Part 2, Emerson, Lake & Palmer.
The Chicago Bears organization has had more than its fair share of head-scratching press conferences in the last decade or two, but yesterday's was one for the books. Just about three hours before the team's regularly scheduled midweek update, a rumor leaked that Matt Nagy would be coaching his last game with the Bears on Thursday in Detroit. Of course, social media erupted with all kinds of scenarios and even more questions.
Matt Nagy will coach his last @ChicagoBears game on Thanksgiving in Detroit, a top source tells Patch. https://t.co/algfPc5nHg

— Mark Konkol (@Konkolskorner) November 23, 2021
Why would the Bears fire Nagy and then let him coach one more game? Did he possibly resign, and agree to coach the team on a short week of practice before riding off into the autumn sunset? Has the head coach really lost the locker room? Was the presser scheduled to announce a change had been made? Why would the head coach announce his own dismissal?
The source of the rumor was Mark Konkol, an award-winning journalist who writes for The Patch. The statement above is a pretty confident tweet from a guy with a solid reputation. Konkol has never covered the Bears but claimed he had a source that was nearly 100% reliable.
The author of the tweet was a guest on ESPN 1000 radio a little later to talk about what appeared to be a gigantic breaking story.
"I'm not like you guys," Konkol said. "I'm not in the mix every day. But I'm just going to tell you I've got a really good source on this, and I'm pretty confident this is going to be his last game. … He's lost the locker room. He's lost five games in a row. I kind of was surprised this morning when I got a call about it. It looks like this is going to happen."
There are two huge things to unpack here. First, the Bears still haven't refuted that Nagy will be fired after Thursday's game, and second, though Nagy specifically said "the report is not accurate," he refused to discuss anything beyond the Lions game, tap-dancing around the question before reporters moved on to other topics.
It's worth noting the Bears have never fired a coach mid-season in 101 years since the franchise was chartered. Still, Chicago has lost 15 of its last 21 games going back to last season, and there have been numerous reports that Nagy has been tuned out by his team. Defensive back Jaylon Jonson said as much after practice on Monday.
"Coming in here and saying 'we have to figure out a way [to win],' to me, it's BS.," Johnson said. "Like, we aren't going to keep talking. We have to find ways to win, we just have to get it done. Whatever it is…We've had five weeks of rah-rah speeches. I don't think that talking is anything we need to be doing."
After refuting the report, Nagy also sidestepped several questions about whether Ted Phillips or Ryan Pace have told him he will coach through the end of the season, saying "that is not my focus at the moment."
In other words, this was all much ado about nothing, or maybe it wasn't, which is par for the course when it comes to the league's oldest franchise. Have you ever seen HBO's "Grey Gardens?" That's a reasonable facsimile of the ongoing dysfunction at Halas Hall. The Bears run their organization like it's 1963, they believe that they're still the model NFL franchise, and have never let the media dictate what they will or will not do.
And there's the rub. Konkol really hung his reputation on the line and he caught some shrapnel when Nagy denied his report. The guy won a Pulitzer in 2011 for covering Chicago crime, he likely has legitimate sources, and probably wouldn't stick his neck out like he did if he wasn't 100% comfortable doing so. It sounds to me like the McCaskeys slammed the brakes on a story that they did not want to be leaked to the masses, and forced Nagy to answer to the report during what had been a regularly scheduled midweek update. Now they've left the embattled coach to twist in the wind for a few more days.
If anything, Chicago's front office showed just how out of touch they are for not realizing the power of social media and the velocity with which real-time breaking news spreads. Though they've probably identified the source that leaked the information to Konkol, the NFL's first family is probably clueless as to how to proceed now that their cover has been blown.
If anything, they've made Nagy a bit of a martyr, while feeding into the out-of-touch mentality that has consumed the team since George Halas died on Halloween Day in 1983. At least Coach Nagy will have his Tony D'Amato moment before Thursday's game. This story is by no means over, so stay tuned.
Bears News & Notes
There's a Flag…On the Play
Adam Hoge is right. This is uncalled for.
Let's be perfectly clear about something: Fans have a right to boo and chant whatever they want. And Matt Nagy knows it comes with the territory.

But doing this at his son's playoff game is absolute BS. Be better. https://t.co/yrLf2TU1OJ

— Adam Hoge (@AdamHoge) November 23, 2021
Northern Exposure
The Packers raised $36.7 million in two days by selling 110,00 shares of stock in the team's sixth securities sale. As the NFL's only publicly-owned franchise, Green Bay is offering 300,000 shares in the team at $300 per share plus a $35 handling fee until Feb. 25, or until they run out of shares.
No matter how bad they are, and no matter how poor the ratings, the Lions deserve to host the annual Thanksgiving Day classic.
A win over the 49ers on Sunday would increase the Vikings' chances of reaching the playoffs from 55 to 82 percent.
NFL News & Notes
Wisconsin native J.J. Watt is covering the funeral expenses for those who lost their lives Sunday when a man drove his truck through a Waukesha Christmas parade. So far five adults and one child have perished in the incident.
Odell Beckham Jr. has requested to receive his salary in Bitcoin, and will give away $1 million of the digital currency to fans.
Steelers running back Najee Harris could be the favorite to win the Rookie of the Year award.
The Titans have waived running back Adrian Peterson but they may bring him back.
The tradition of Thanksgiving Day football goes all the way back to 1876 when Yale defeated Princeton 2-0. The NFL copied the tradition starting in 1920, and the Lions became annual hosts in 1934.
Three Yards and a Cloud of Dust
The Bears have actually made one mid-season coaching change. Halas actually coached the Bears for 39 1/2 seasons, as he left 5 games into the 1942 season to fight in WWII in the Navy.
Halas' full coaching record with the Bears is 497 regular-season games coached with a record of 318–148–31 and a winning percentage of .682. He is also 6–3 in 9 playoff games with seven NFL championships. If you're wondering how he could have seven championships with just six playoff wins, it's because the NFL did not play postseason games until 1932. Halas win his first championship in 1921.
Entering the 2019 season, Nagy was the reigning NFL Coach of the Year.
From the Podium
"Coach Nagy is our head coach. I want to work for this guy now. OK? Love him to death. And he's the head football coach of the Chicago Bears. And he's going to help lead us to a win on Thursday. I believe that deep down in my heart. So to me, there's no story at all. Fair enough?" – Chris Tabor