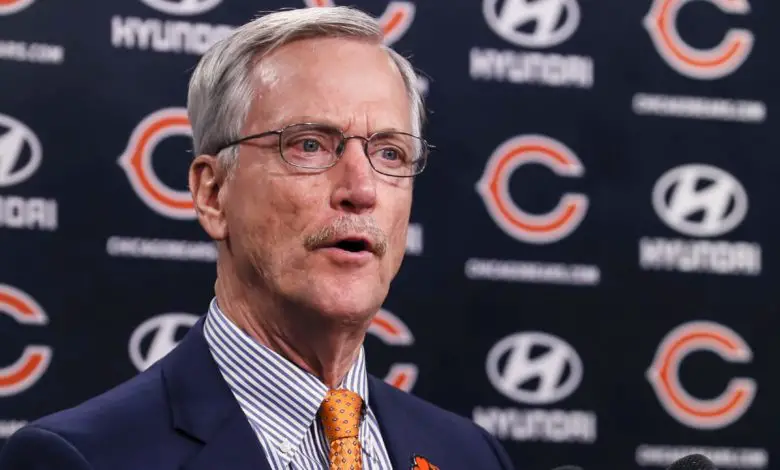 Report: Nagy Won't Be Fired After Tomorrow's Game
Bears team chairman George McCaskey addressed the team today and reportedly told the players and coaches that Matt Nagy will not be fired after tomorrow's Bears-Lions game in Detroit, per ESPN, though The Athletic was first to report it. As fans, we are now spared more soap opera shenanigans until the end of the season. With a 1% chance of making the playoffs going into their tilt tomorrow, Chicago is virtually assured of missing out on this year's run to the Super Bowl. Because Nagy's contract expires after this season, his future will be addressed then.
"This goes beyond Matt Nagy… The suits need to be held accountable"@WillieMcGinest is not holding back on the Bears 😬 pic.twitter.com/PihI3KAORa

— NFL Total Access (@NFLTotalAccess) November 24, 2021
It doesn't say a lot about the McCaskeys, Ted Phillips, or Ryan Pace that they left Nagy twisting in the wind for a little more than 24 hours, but we've come to expect that type of mismanagement from Chicago's executive team. Today's Bears are a far cry from when George Halas ran things, and the league's founder would never have let Nagy address the press after the bomb that Mark Konkol dropped yesterday morning. In fact, 31 of 32 franchises would have immediately refuted a rumor like that, but nobody in the Bears' front office felt any urgency to step up until today.
Nagy denied the report yesterday, though he sidestepped all questions regarding his future after tomorrow's Thanksgiving Day contest, leading to speculation that a change may still have been in the works.
"My focus is on these players and Detroit, and that's it," Nagy said at yesterday's midday presser. "That's my job as a head coach and a leader, is to do that. These players have been amazing. They've been great. You have this quick turnaround after a loss like [Sunday's to the Ravens], and here you go. The only thing we can do is focus on the now and do everything we can. Thursday is going to be here quickly."
When the beleaguered head coach canceled all post-practice meetings yesterday, that fueled further speculation. After McCaskey's announcement today, it's safe to say the Bears will stay the course until Nagy's contract expires after Chicago's game in Minnesota on January 9.
It's probably going to be difficult for the Bears to do much to save their head coach. Losers of five straight, Chicago is ripe for a Thanksgiving Day upset. Andy Dalton will get the start at quarterback so that Justin Fields can nurse his bruised ribs, and the Bears will be missing OLB Khalil Mack (foot surgery) and DT Akiem Hicks (ankle). Wide receiver Allen Robinson (hamstring) is listed as doubtful on the team's final injury report, and safety Eddie Jackson (hamstring) is listed as questionable and his availability will be a gameday decision. Mack is out for the season after being placed on Injured Reserve last week.
Compounding matters, the Bears rank near the bottom of the league in most offensive categories, a running theme since 2019 under Nagy, who was originally hired based on his extensive experience in Andy Reid's offense with the Eagles and Chiefs.
With that in mind, the end seems near for Nagy. Chicago's playoff chances won't improve much even if they beat the 0-9-1 Lions. The 3-7 Bears are currently tied with the Seahawks at No.14 of 16 teams in the NFC.