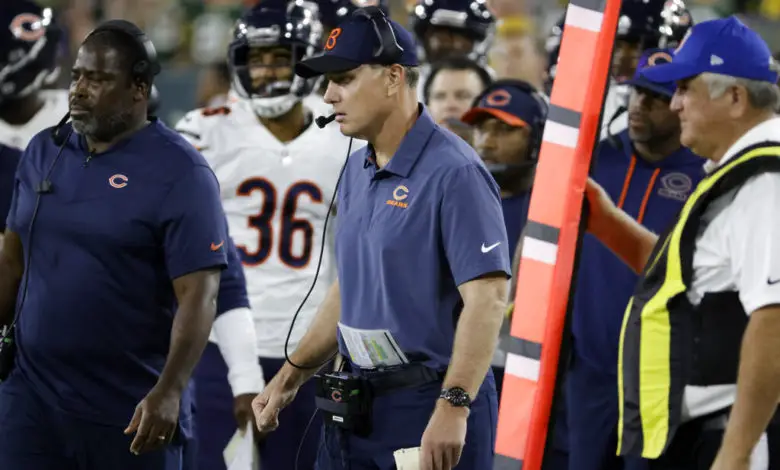 First & Long: Bears 'Tirelessly' Correcting Tackling Issues, Patrick Practices at Center, Helping Mongo, Fields Apologizes to Fans
Sunday's loss to the Packers was a big emotional letdown, no doubt, and not just for the fans. Bears players wanted to perform better in the nationally televised contest and unfortunately, showed no improvement over their more recent tilts with Green Bay. The loss was the first ever for first-year head coach Matt Eberflus, who invoked his 24-hour rule after the game.
In his post-game press conference, Eberflus said he wanted his players to sit with the loss under his timeout policy, just like he wanted them to enjoy the good vibes coming off the Week 1 win for a full day.
"When this happens and you have adversity, it stings and it hurts. You have to soak that in," Eberflus said, according to Chris Emma of Audacy. "We have to reset our minds now."
"We have to look at performance for what it is," the head coach added. "The tricky thing about football is that there's emotion involved in it. There's intensity involved in it. So you have to have that. You cannot be a robot. We have to have passion and emotion inside the game."
It's not just a matter of getting their minds right. There's physical work that needs to be done. too. Chicago missed a lot of tackles on Sunday night. Players blew assignments. Kyler Gordon was picked on all night, a trend that is likely to continue. Jaylon Johnson, who plays opposite Gordon, had his second consecutive game without a pass defended. There was also a breakdown in fundamentals, a rarity to this point under Eberflus.
The head coach decided to go full O.G. on Wednesday. That's putting the past behind and focusing on the task at hand.
Matt Eberflus today, presented without context or comment: "It's real simple. If you take a person's legs away, they can't run."

— Dan Wiederer (@danwiederer) September 21, 2022
Thus endeth the lesson.
If the team can get back to playing mistake-free football, they should bounce back against the Texans on Sunday. It won't come easy in what is expected to be a run-heavy clash of defensive-minded football teams.
Bears News & Notes
There's a Flag…On the Play
If you haven't heard, Bears legend Steve McMichael is battling ALS, and it's the biggest challenge of his life. Our friends at Obvious Shirts are selling TEAM MONGO t-shirts with proceeds going to help McMichael and his wife Misty cover medical expenses. Please consider buying one, or making a donation here.
Members of the 1985 Bears team, including Dan Hampton, Richard Dent, and Mike Hartenstine, among others, visited Mongo in the hospital on Wednesday. Legendary wrestler Rick Flair has visited McMichael, as have Jim McMahon and Jimbo Covert.
Just bought the TEAM MONGO shirt from @obvious_shirts — proceeds go to Bears legend Steve McMichael and his wife. No. 76 is fighting ALS these days. Please consider buying one if you're a @ChicagoBears fan.https://t.co/PxDGdGSXyk

— Michael Canter of Cubs Insider ✨ (@MEdwardCanter) September 20, 2022
Scout Team 
Film Room 
It's going to be a long Sunday for Texans cornerback Derek Stingley if he covers Mooney or Equanimeous St. Brown like this.
Houston Texans vs Chicago Bears Week 3 Preview:#Bears Kyler Gordon has allowed 13 receptions, most in NFL.#Texans Derek Stingley has given up 12, 2nd most.

Stingley looked lost & got completely embarrassed on this route by #Broncos Courtland Sutton… pic.twitter.com/JPoenAVuxP

— Eric Bryan Reinholtz (@ericjerseyvill) September 20, 2022
Northern Exposure
Green Bay: Offensive lineman David Bakhtiari returned to practice this week, but the Packers were down four wide receivers on Thursday. Randall Cobb (illness), Allen Lazard (ankle), Christian Watson (hamstring), and Sammy Watkins (hamstring) are all DNPs.
Minnesota: Quarterback Kirk Cousins is being labeled as the King of Cowardly Checkdowns after a poor performance against the Eagles in Week 2.
Detroit: The Lions have the second-highest scoring offense in the NFL, and they're still not clicking on all cylinders.
NFL News & Notes
Cowboys owner Jerry Jones said he would welcome a quarterback controversy surrounding incumbent starter  Dak Prescott because it would mean fill-in QB Cooper Rush is thriving.
In the latest 2023 mock draft from CBS Sports, the Falcons will select C.J. Stroud of Ohio State with the first pick. Northwestern offensive lineman Peter Skoronski goes to the Bears at No. 5 overall.
The NFL sent a warning letter to Buccaneers' executive Bruce Arians for his sideline behavior in a game against the Saints last Sunday.
Sean Payton said he would be interested in a return to coaching as soon as next season if the right opportunity presents itself.
NFL Survivor pools have claimed nearly two-thirds of their contestants through the first two weeks of the season.
Free agent wide receiver Antonio Brown is becoming a legitimate, independent rap star.
Steelers quarterback Mitchell Trubisky is reportedly being evaluated on a week-to-week basis.
Three Yards and a Cloud of Dust
The Steelers had gone 30 straight games without multiple rushing TDs, which was the longest active streak in the NFL entering this week's games.
The Bears have blitzed on only 1.6 percent of dropbacks this season, per TruMedia. The next-lowest rate is the Bills at 3.9 percent. The Texans are in the middle of the pack at 23.6 percent.
Since the start of last season, the Bills have 3 games with 40 points and at least four forced turnovers. That's as many as the rest of the NFL teams combined.
That's How You Ball
Remember when everybody, including me, wanted the Bears to select WR George Pickens in this year's draft?
Catch of the year. pic.twitter.com/LEBhLGICbC

— NFL Stats (@NFL_Stats) September 23, 2022
From the Podium
"It's Week 2, so don't need to worry about it too much. The team believes in me. Players believe in me, so whenever my opportunity will be there, I'll take advantage of it. I mean, the first drive we were rolling. Threw the ball two times and then we scored. So continuously do that and just play our game plan. Don't worry about anybody else and just do us." – Mooney
"You've got to remember, I thought we ran the ball really well on Sunday, despite the score. And you have to keep in mind, that first game was still a monsoon. So remaining optimistic with this all. And we're remaining optimistic with the pass game stuff. We're going to get this figured out." – Kmet
"Yeah, I was mad after the [Packers] game. I'd like to address this now to get everything cleared up. There was a thing I said on Sunday after the game where I said the fans don't put in work. First off, I was frustrated after the game. Number one, I didn't want to talk to [reporters]. I wasn't in the mood to come and talk to you guys. So, I should've done a better job of explaining what I meant by that. What I meant by that is I'm talking about work regarding the game on Sunday, winning the game. I don't know any fans. I don't know what they're doing in their personal lives. I respect every fan that we have. I'm glad that we have fans. I would never disrespect anybody [for] what they do or what they love to do. It came off like that. Some social media outlets quoted my quote and got a big buzz out of it. So, of course, they did a great job doing that. Of course, social media is going to do that. But I just wanted to clear that up." – Fields
Running Out the Clock
For some reason, this song always reminds me of McMichael. Here's hoping that man beats ALS.