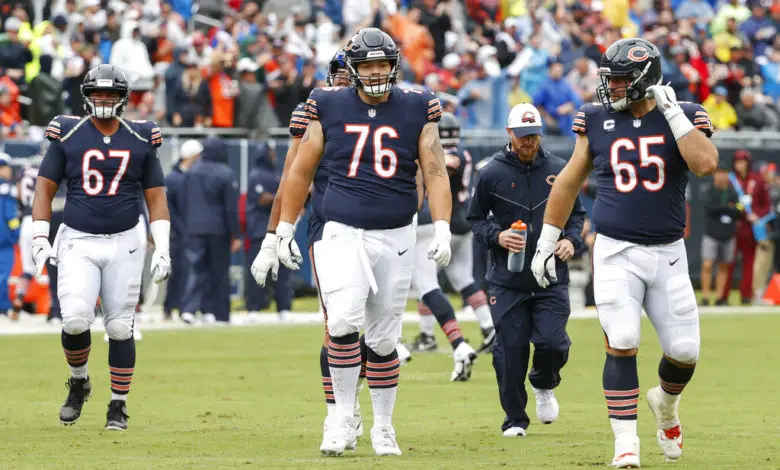 Reader Q&A: Why Are Jenkins & Patrick Splitting Snaps?
I've received a number of questions in my DMs on Twitter and on Facebook so I thought I'd publish the answers for all of our readers. If you have a question of your own, find me on Twitter and drop it in my inbox. I'm there more frequently than on any other social media site.
Why is Jenkins and Patrick splitting snaps? Jenkins is our best lineman so far and has been a beast since moving to guard. – C. Ellsworth
Teven Jenkins introduces himself to Nick Bosa… pic.twitter.com/xrriNLeD3l

— Adam Hoge (@AdamHoge) September 13, 2022
The answer is simple, and it's that Lucas Patrick, who will be Chicago's starting center at some point, needs to be on the field and he can't snap the ball until his thumb injury has fully healed. Let's face it, Sam Mustipher is not the answer, and he proved that last season. Teven Jenkins has had his moments, but Patrick is very good, too. In fact, he scored higher grades in pass and run blocking than Jenkins on Sunday night. Let's take a look at the offensive line's final grades from Pro Football Focus:
The left side of the line is in very good shape with Whitehair and Jones. Jenkins makes the highlight plays, but he was pitiful against the Packers' pass rush. That said, Mustipher is the weakest link on the line. Once Patrick is healthy enough to slide to the left, Mustipher will become a swing guard, and frankly, that's where he is best suited.
Why is Gordon starting? Is he capable of defending anybody? – High Neighbors (lol)
.@ChicagoBears @kyler_gordon has talent and instincts! Can't coach either of those. Just getting more experienced! First trip to Lambeau is a big deal for any Bear. #dabears #BaldysBreakdowns pic.twitter.com/bIUvXHNk2C

— Brian Baldinger (@BaldyNFL) September 20, 2022
Kyler Gordon is a future cornerstone of the Bears' secondary. He was their first draft choice and he was selected because he has the potential to be an impact cornerback. There will be growing pains, and Sunday night was a great example. Green Bay receivers caught 10 of 13 targets against him for 160+ yards and a late touchdown. But Gordon broke up a potential scoring pass to Allen Lazard in the first quarter. The rookie lost coverage but flashed enough speed to defend the pass.
Additionally, the Bears aren't expected to win the division this season, so Matt Eberflus and defensive coordinator Alan Williams are willing to let Gordon take his lumps if it will make him a better player beyond this season. The rookie cornerback will have to learn from his mistakes, and Eberflus said so today. The coaching staff is playing the long game with Gordon as they should.
"Everything I say to every young player that I've ever played that's gone through these moments, there's going to be ebb and flow over the course of a rookie season, and that's the way it is," the head coach said. "It doesn't matter if you're dealing with a guy that's rookie of the year or not; there's going to be those things. And what you tell them is: Hey, take one experience at a time and put it in your file. You have to learn from that. So go back and look at all the plays that you made, all the plays that you want to correct, and then put them in a file, OK, and say, 'What would I have done?' — and put those to memory.
"And [it's] making sure you study those things and visualize those things as you go during the course of this week coming up so you can make those corrections. Because a good pro doesn't make the same mistake twice. They get better and they improve, and that's how they become a better pro in Year 4, Year 5, and then become an All-Pro."
Are [GM Ryan] Poles, [offensive coordinator Luke] Getsy, and Eberflus setting Fields up to fail? Why would he get his number called a dozen or so times?  – E. Hendricks
What do your eyes tell you when watching the game. Exhibit A…

1. Good grief Mustipher… dang Patrick.

2. Justin took the hit & delivered a pass on the money.

3. Cole Kmet dropped it.

For those of you blaming Justin Fields, why are you ignoring this?#DaBears 👑👑👑 🐻⬇️ pic.twitter.com/Unvy4OewuN

— Danikin (@Danikin_DG3) September 19, 2022
Nothing could be further from the truth. Getsy is going to speak to the media on Thursday. I'm sure he'll discuss his failed game plan and his propensity to run the ball against the Packers. But Fields already answered part of your question.
"Luke [Getsy] said before the game that we were going to run it down their throat," Fields said. "[David Montgomery] was running the ball [like] crazy. The O-line did a great job blocking and he did a great job running. My job isn't to call the plays; my job is to execute the play that is given to me the best I can."
As far as setting Fields up to fail, why would a first-year GM, his first-year head coach, and his first-year coordinator jeopardize their jobs just to draft another quarterback next year? Poles is intent on moving this team forward, and believe me, Fields is fully part of that plan. Eberflus and Getsy are completely on board, too. Fields is a special talent and nobody is purposely trying to stunt his growth and progress.
That said, Eberflus said the failure of Chicago's passing attack needs to be addressed.
"It is a concern," Eberflus said Monday. "We want to get better there. We want to improve. All of those things are being looked at. But we trust [Fields], for sure."
What's wrong with Roquan? – Uncle Red
I'm certainly no expert, but Roquan Smith looks like a guy who is trying not to get hurt, and he has about 100 million reasons to play that way. He also missed all of training camp. Poles deserves much of the blame. The GM won the battle but he hurt his star linebacker. Smith really needs to get an agent, however, so he's almost as much to blame. If the All-Pro linebacker wasn't representing himself, he'd be signed by now. I have no doubt.
That's really my Uncle Red, by the way.
You don't know much about football, and your gig here is affecting your baseball writing. – Name Withheld
I'll break it down into two parts for you. You're correct, there are smarter analysts and better Bears bloggers, but I'm still learning. Give me some time, and I'll be among the best. My work at Cubs Insider is proof of my capabilities, and there's the answer to the second part.
I'm looking forward to answering your questions after the Texans game. I hope we can make this a regular Tuesday night feature all season.