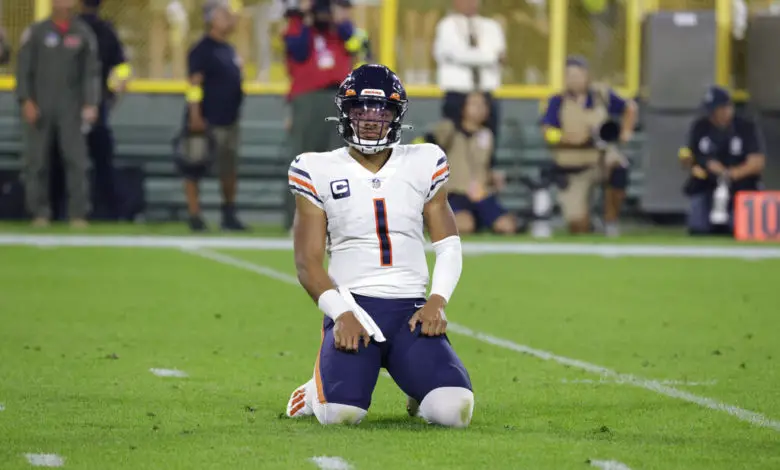 Five Ways the Bears Can Improve Their Passing Attack
The Bears' passing attack has hit rock bottom, but the good news is that things can only get better. Before I get into that, here are some eye-opening stats for those who haven't paid much attention.
Justin Fields has completed 15 passes for 191 yards and two touchdowns in two games. His two-game QBR is 23.9.
The second-year quarterback is on pace to be sacked 43 times, which is downright frightening since he's only averaging 14 pass attempts per game.
Darnell Mooney has five targets with two catches for four yards for the 1-1 Bears.
Cole Kmet has two targets and has yet to catch a pass.
David Montgomery and Khalil Herbert have a combined seven receptions for 39 yards.
Bears wide receivers have caught a grand total of seven passes in two games. Equanimeous St. Brown leads the group with three catches for 57 yards. Mooney has two receptions, and Byron Pringle and Dante Pettis have one apiece.
If you're wondering who has the lone remaining reception, it's tight end Ryan Griffin.
As I said, things can only get better.
Luke Getsy was hired to lead Chicago's offense into the current century and so far he's set them back five or six decades. Chicago's running game has been strong but one-dimensional offenses don't go to the playoffs, especially if said dimension is the equivalent of three yards and a cloud of dust. Chicago's passing attack needs to step it up, and here's how they can do that.
Get the Offensive Line Right
Lucas Patrick took some snaps at center on Wednesday and Thursday and that's great news. Once Patrick shifts to center, Teven Jenkins will get the bulk of the right guard snaps. That puts Sam Mustipher on the bench as a swing guard, and that's where he's best suited. Jenkins needs to work on pass blocking, but he's been a destructive force when Chicago runs the ball. He'll progress in the passing game once he establishes game continuity. It's doubtful that Patrick will be 100% by Sunday, but the Bears are much better with Mustipher on the bench.
Upgrade the Receivers Room
The first step is getting N'Keal Harry and Velus Jones Jr. back. I'm also surprised we've yet to see Ihmir Smith-Marsette. But let's face it, none of those three are going to dynamically upgrade Chicago's passing attack. Cole Beasley would have been a nice addition but he just signed with the Buccaneers practice squad. The Bucs plan to elevate Beasley to their active roster soon, according to NFL Network, which first reported the signing Tuesday.
What about Odell Beckham Jr.? I've avoided talking about the All-Pro receiver because he's been injured. That said, the time for OBJ to be medically cleared to play is rapidly approaching, and that means that the NFL Rumors linking OBJ to NFL teams are heating up just as quickly. According to Spotrac, the Bears have slightly more than $7.96 million in available cap space. Will that be enough to sign Beckham?
Tom Brady has been recruiting the veteran wideout and the Giants have previously shown interest, too. The latest rumors have also linked OBJ to the Chiefs and Saints. If the Bears can find a way to add him, teams won't be able to key on Mooney. There's one big problem, however, and that's that Beckham probably wants to play for a Super Bowl contender. That eliminates the Bears and Giants unless either offers Beckham a three-year deal.
Get a Tight End Who Can Catch the Ball
Three of the most important jobs as an NFL TE? Block in space, block in line, and catch the ball. #Bears TE Cole Kmet hasn't shown the ability to do any of those things on a consistent basis, and it's hurting this team pic.twitter.com/1pqe6eGRcw

— DBNB (@DaBadNewsBears) September 20, 2022
Is it Kmet? He looked awful dropping an easy target on Sunday night. Griffin isn't a starter, not even on a team as bad as the Bears. There isn't anybody available in free agency except Ricky Seals-Jones, but to be honest, he's not the answer. Don't expect a trade, either. The Bears aren't in a position to give up draft picks to win an extra game or two this season.
That means Kmet has to be the answer. Somebody needs to help get the young man a little more focused, even if it means temporarily benching him in favor of Griffin.
Keep Pounding the Rock
Nobody wants to see Fields continue to do nothing more than hand the ball off to Montgomery and Herbert. But, if defenses are going to allow the pair to run roughshod, take advantage of it. If the running game continues to be elite, it could open up the passing lanes for Fields. Montgomery is averaging 4.6 yards-per-carry, and Herbert (4.4) has been just as successful.
"It's our job each week as we evaluate the opponent, what gives us the best chance to succeed and where are our matchups favorable to us," Getsy said during Thursday's presser. "Obviously, last week we felt like…there were parts of the run game where we felt like we had a pretty good matchup. When [you] get seven explosives, that's a lot of explosives in the run game."
The Texans are Sunday's opponent, and their run defense is ranked No. 30 in the NFL. Houston allows 4.7 yards per rushing attempt and leads the league in missed tackles. Expect Chicago's running backs to pound the ball until Texans head coach Lovie Smith forces Fields to take to the air.
Look in the Mirror
This is strictly for Getsy, Fields, Mooney, and Kmet. It's an honest assessment to say that each has been woefully subpar through two games. Getsy shouldn't be afraid to take chances, and Fields needs to take a deep breath, relax, and see the field better. Getsy will open up the offense once he feels his quarterback is comfortable, and Fields has yet to show that he is. But Getsy needs to finds his comfort zone, too.
Getting Patrick back to center is going to help a great deal. But the Bears have to throw more on first down and they have to run plays that offer a higher completion percentage. In 2021, NFL offenses averaged 7.4 YPA passing on first down compared to 4.2 YPA rushing. Stats also indicate that 30.4% of pass attempts on first down have ended up moving the chains.
It looks like teams are running a lot of two-high coverage against the Bears, leaving the middle of the field open. Announcers tend to call it a "bend-but-don't-break" defense. Byron Pringle was on the field for 14 snaps Sunday night and didn't get a single target. Fields has to recognize the zones that defenses will sacrifice while trying to stop Chicago's offense. Getsy has to call the right plays to take advantage of those openings. But none of it works unless Fields, Mooney, Kmet, and Pringle execute, particularly in the middle of the field.
The key to beating two-high coverage? Intermediate completions and running the ball.
Pringle has caught one pass for 22 yards. Pettis has one catch for 51 yards. Two of St. Brown's three catches have accounted for 48 yards. Only one of those five catches came between the hash marks. Kmet hasn't caught a thing. Defenses are giving Chicago the middle of the field, and the Bears aren't taking advantage. Getsy and Fields need to rectify that starting Sunday because Smith runs almost nothing but two-high coverage.