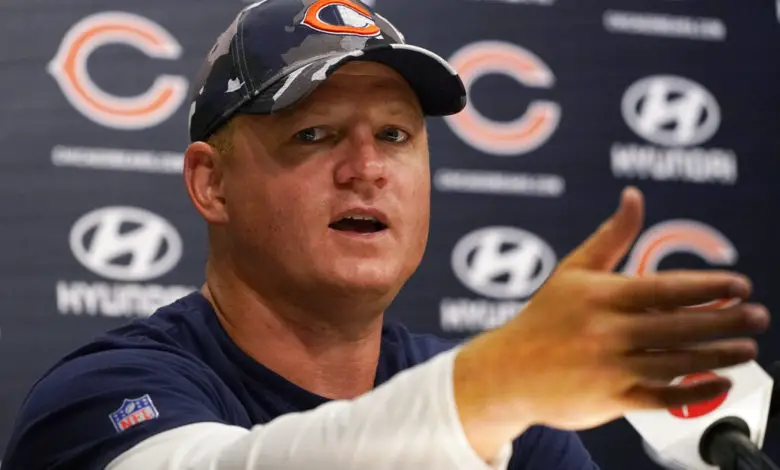 Luke Getsy Discusses Offensive Game Plan vs. Packers
Bears offensive coordinator Luke Getsy spoke to the media for the first time since Sunday's loss to the Packers. Getsy believes Chicago attacked Green Bay with a solid plan, and that the outcome of a couple of plays was the difference between winning and losing. The first-year offensive coordinator said fans shouldn't be too worried about the state of the passing game.
If you're interested, you can watch his entire presser here.
"It's our job each week as we evaluate the opponent, what gives us the best chance to succeed and where are our matchups favorable to us," Getsy said. "Obviously, last week we felt like…there were parts of the run game where we felt like we had a pretty good matchup. When [you] get seven explosives, that's a lot of explosives in the run game."
Why do people underestimate David Montgomery? #dabears

— Adam Rank (@adamrank) September 20, 2022
Most of Chicago's production on Sunday came by running the football. David Montgomery finished with 122 yards on 15 carries while Khalil Herbert added 38 yards on four attempts. It's almost worth wondering why Getsy didn't run the ball more. Then again, the Bears were limited to 42 offensive plays by the Packers, who held the ball for nearly two-thirds of the game (37:15 to 22:45). The Bears were able to navigate into the red zone just twice.
Justin Fields had a subpar game, completing seven of 11 attempts for 70 yards, and 30 of those came on a gadget play completion to Equanineous St. Brown. Darnell Monney had two targets, catching one pass for minus four yards. But, Getsy said that 19 of Chicago's 42 plays were supposed to be pass attempts.
"We only had 42 plays. Called 19 or 20 passes," Getsy said. "So, that was pretty spot on to how we wanted to play that game. What [were] the total attempts? 11 or 12 total attempts? His touchdown was a pass play that he took and made something happen. The play right before the fourth-and-1 was a pass play that he took and ran. I think it's part of it. I know that it's the NFL, [and] everyone [else] is throwing it 30, 40 times a game.
"But we only had 42 snaps and when you run the ball the way that we did, I think you have to make sure you're running the ball too. That's part of it and it's our job each week as we evaluate the opponent, what gives us the best chance to succeed and where are our matchups favorable to us."
.@justnfields dives in for 6 🙌

📺: #CHIvsGB on NBC pic.twitter.com/fDxGFjAFrK

— Chicago Bears (@ChicagoBears) September 19, 2022
On Wednesday, Fields said that he didn't view the low number of pass attempts as a sign that the coaches don't have confidence in him.
"I have a say into what pass plays I like, what concepts I like," Fields said. "But in terms of when we're going to call a play, how many passes, how many runs we're going to call, that's Luke's job and everybody in the building knows that Luke knows what he's doing. We put full trust in him knowing that he's going to put us in the best position to win."
As far as running quarterback power from the shotgun on 4th-and-goal at the Packers' one-yard line, that was all Getsy, and head coach Matt Eberflus liked the play call, too.
"We love that play," Getsy said. "But, we didn't execute it properly. For whatever reason, we kind of saw something, we were seeing little ghosts a little bit upfront. They were able to get penetration where we should have had two linemen on one to stop that penetration which kind of got Lucas Patrick off a little bit instead of cleaning that gap. And then it would have just been Lucas with 59 in the hole, and then Justin still would have had to run through some contact.
"But, no, we knew. That was our plan. We talked about it all week. And we went over every front that they present and we had plenty of time. There was a stoppage in play for the replay, right? We knew what was coming. That was exactly what we wanted, we just didn't execute it well enough."
Eberflus talked about the call on Monday. He also said he would make the same call if he had to do it over again. In fact, the head coach believed it was exactly the right call.
"We thought that was the best play we had right there," Eberflus said. "I like it … [Our] coaches liked it…you outnumber the box. The quarterback is a runner and you like your numbers in the box there. If we score there, it's a different ball game."
Getsy said running that specific play was the Bears' plan all along. During last week's preparations, the coaches went over every front Green Bay's defense would potentially present. They determined that play would give them the best opportunity to score.
At any rate, it's best to just put the game in the rearview mirror and focus on the Texans. Fields, Mooney, and the rest of the Bears' offense have a chance to break out against Houston. Though the Bears rank dead last in nearly every passing category, the Texans have allowed the seventh most passing yards and the 10th most yards after the catch. Additionally, their run defense ranks 30th and they're allowing 4.7 yards per rushing attempt. Houston also leads the league in missed tackles. In essence, Getsy and Fields will have no defense if they lay another egg on Sunday.