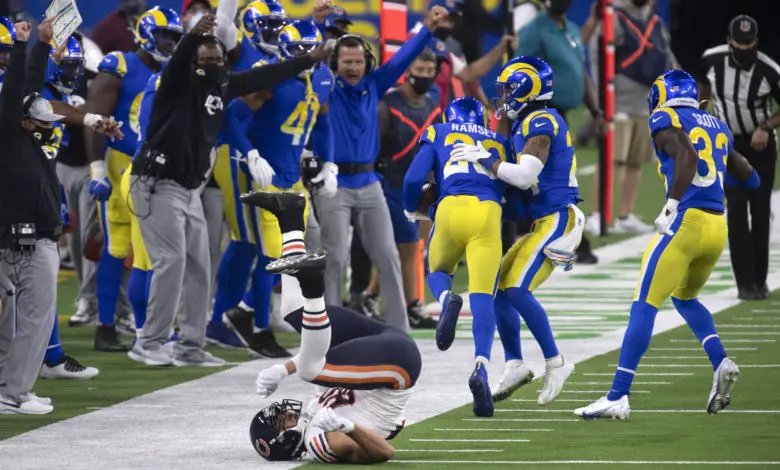 First & Long: Bears Struggle in Loss to Rams, Rift May Be Building Between Nagy and Foles, Remembering Ditka's Final Season as Head Coach
The Bears may hold the NFL patent on winning ugly, but last night they showed they could look pretty ugly while losing, too. They lumbered and slogged against one of the NFL's best defenses in losing 24-10 to the Rams, falling to 5-2 on the season. The defeat cost them the lead in the NFC North.
Not our night.#CHIvsLAR | #DaBears pic.twitter.com/3c2Owz9rOy

— Chicago Bears (@ChicagoBears) October 27, 2020
There are a few common traits that underscore Chicago's dark and ugly side: a shaky offensive line, continued penalty problems, lack of a running game, and questionable play calling by head coach Matt Nagy.
It doesn't get any easier next week. Chicago hosts Drew Brees and the Saints for a 3:25pm CT game at Soldier Field. Brees has a 105.8 QB rating through six games and the Bears were slight underdogs at post time.
Bears News & Notes
Foles and Nagy have some issues they apparently need to work out, at least according to ESPN announcer Brian Griese.
The Bears have scored on just 48% of their red zone possessions – tied for fourth worst in the NFL, according to ESPN Stats & Information.
Eddie Jackson scored on a fumble recovery off a jet sweep in the 4th quarter. Naturally, there was a flag on the play and Jackson, who has had two touchdowns on interceptions overturned already this year, wasn't quite sure if he should celebrate. This one counted, however, and it was the sixth career TD for the ball-hawking safety.
Rookie TE Cole Kmet caught two passes for 45 yards on consecutive plays near the end of the 1st quarter, the first good for 38 yards, and looked like he was on his way to a breakout game, but was never targeted by Foles again.
Kmet is primed to be a bigger part of the team's offense. He'll need to earn the trust of his head coach and quarterback, I guess.
The Bears (-2), Bills (-4), and Browns (-21) are all 5-2 this season with negative point differentials.
WR Darnell Mooney is someone to keep an eye on. He has great speed and could be the deep threat the Bears sorely need. He's confident he can be that player.
There's a Flag…On the Play
In 1992, the Bears were 4-3 after beating the Packers 30-10 on October 25, when Mike Ditka, concerned that his team was playing a lot worse than their record indicated, went into a post-game tirade aimed at reporters and at one of his players. Ditka had been at odds with QB Jim Harbaugh after a loss to the Vikings two weeks earlier and, though his team had just played its best stretch of games, Da Coach carried that anger into subsequent press conferences and onto his weekly radio show.
"I'll just say this: 'If it happens again, there will be changes made, and they will be definite and they will be permanent," Ditka said. "I'm not going to put 47 players' futures in the hands of one player who thinks he knows more than I do."
After a 31-14 win over the Buccaneers in Week 6, Ditka ripped into Phil Theobald of the Peoria Journal Star. The reporter walked out, stating he felt disrespected.
After beating Green Bay for their second straight win, the head coach continued to passively rip Harbaugh for changing plays at the line of scrimmage. He lost his team at that point and the Bears lost eight of their final nine games, which led to him being fired at the end of the season.
Ditka had one of his more memorable moments with Neal from Northlake on his radio show during the week after a 38-10 loss to Minnesota on November 2.
"Instead of getting mad at the way his team [played], why did it appear that Ditka was holding back [at the post-game press conference] – trying not to cry like the baby he is?" Neil asked the coach.
"What you are, I can't say on the air. I'm 52 years old, and my office is at 250 N. Washington in Lake Forest.  I tell you what, you come up to my office, and I'll whip your ass."
Pick Six
Breaking down the best individual performances of Week 7.
Fumblerooski
Whatever you do, don't peruse the NFC East standings. You may turn into a pillar of salt. Plays like this are the rule rather than the exception in the NFL's laughingstock division. Watch. The. Whole. Play.
DJ'S GOT TURBO SPEED

Watch Live: https://t.co/y8glCzPbFy pic.twitter.com/AYHl51kypH

— New York Giants (@Giants) October 23, 2020
Third & Long
I don't understand Nagy's fascination with Cordarrelle Patterson. With the Bears devoid of an experienced number two running back since the season-ending injury to Tarik Cohen (torn ACL) in Week 3, Patterson had registered 11 rushing attempts for 26 yards, usually in key situations. He was no better in last night's tilt against the Rams.
When Patterson enters the backfield it's almost a given he's going to take the handoff, so Nagy isn't doing him any favors. Last night he rushed three times for one yard. It's probably a good time to end that experiment and sign or trade for a backup running back.
Backfield in Motion
Kyler Murray flashed a Michael Jordan-like smile when he saw DeAndre Hopkins streaking down the sideline in one-on-one coverage. Murray caught the Arizona defense napping, and it paid off.
Kyler Murray @K1 for real smiling DURING THE THROW when he saw the matchup for @DeAndreHopkins on the outside. #SEAvsAZ pic.twitter.com/YTL6FXI0Wh

— Randy Scott (@RandyScottESPN) October 26, 2020
Ben Roethlisberger gets an honorable mention for this play.
At The Podium
"We were talking to Nick Foles yesterday. He said, 'You know, sometimes play calls come in and I know that I don't have time to execute that play call. You know, I'm the one out here getting hit. Sometimes the guy calling the plays, Matt Nagy, he doesn't know how much time there is back here.'" – Brian Griese
"Nick and I have a pretty good relationship, and he hasn't said that [to me]. "I'm sure he'll explain what he meant by that." – Matt Nagy
"With Brian [Griese], it was a miscommunication of words. That's not what I was trying to bring across in that conversation." – Nick Foles
Half-Time Entertainment
Monster Mash by Bobby "Boris" Pickett – The Rams sure did a number on the Monsters of the Midway last night. By the way, I love the way Pickett sells this song during this American Bandstand performance. It's a lost art. Have a Happy Halloween, everybody.