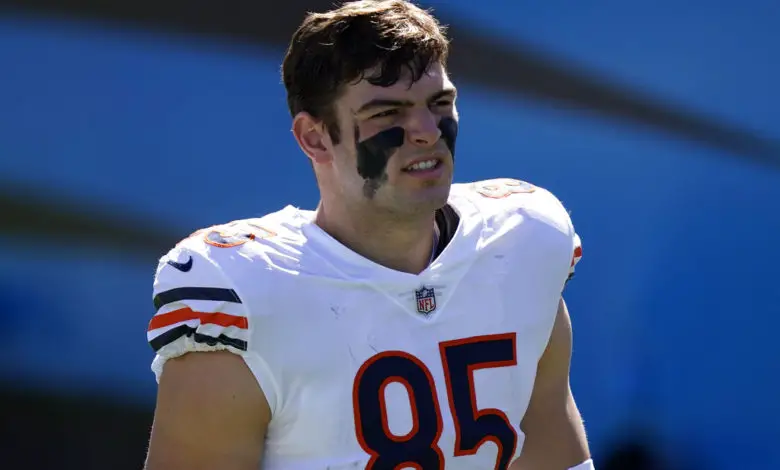 Chicago Bears Tight End Cole Kmet Primed to Play Bigger Role in Offense
The Bears took Cole Kmet in the second round of the 2020 draft, just a little over a month after signing veteran Jimmy Graham to a two-year, $16 million deal. Why would a team give a huge contract to one tight end only to then spend a very high draft pick on another?
That is a question many have been asking and it's no surprise that a lot of those same people were wondering why the Bears have been so slow to integrate Kmet into their offense.
Going into last Sunday's game in Carolina, Kmet had only three targets with one reception for 12 yards while playing on 31% of offensive snaps. His playing time increased slightly as he was in there for 35% of the snaps against the Panthers and was targeted two times with two receptions, including the first touchdown of his NFL career.
In contrast, Graham has played 70% of the offensive snaps this season and has been targeted 36 times with 22 receptions and four touchdowns. Fellow tight end Demetrius Harris has five receptions on 11 targets while playing on 42% of offensive snaps. Against Carolina, however, Harris was in on a season-low of just 36% of the Bears' offensive snaps.
At first blush, it would appear as though Kmet's playing time is slowly increasing while Harris is getting fewer snaps. We should get a better idea of whether that is a legitimate trend after Monday's game against the Rams.
You can see from last week's film that Kmet is clearly playing well in all aspects when he is on the field, albeit on limited plays.
I agree with @olin_kreutz — #Bears TE Cole Kmet put together a nice game in a limited role against the #Panthers and seems to be ready for more.

His tape shows effective run-blocking, stout pass-blocking, and a major contested catch. Excited to watch his development from here. pic.twitter.com/NtJFmVjtBo

— Robert Schmitz (@robertkschmitz) October 22, 2020
If he continues to build on his performance against Carolina, we should expect to see Kmet establish himself as the clear No. 2 TE behind Graham. His career at Notre Dame proved he can be a receiving threat, so the real key to his emergence at the NFL level will be his development as a blocker. Giving Nick Foles a few extra fractions of a second won't just net Kmet more snaps, it might even help the Bears offense to look a little less ugly.