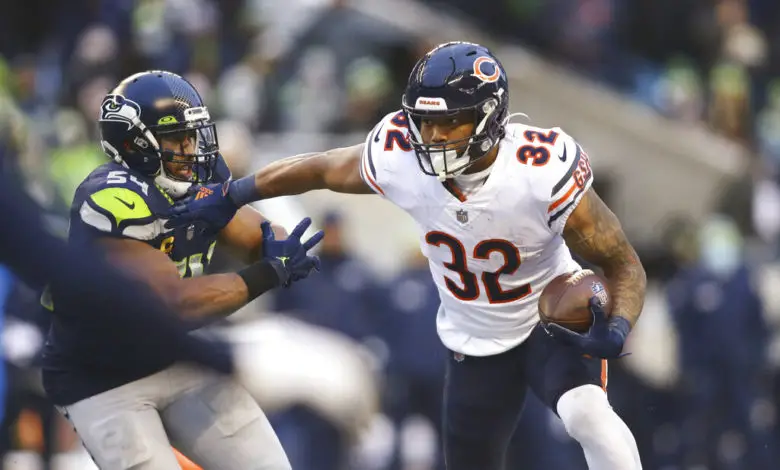 First & Long: Bears Could Extend Montgomery, Poles Eyes Bills Offensive Lineman, Jags Toxic Under Meyer, Falcons Trade Ryan
The Bears have two extension candidates in linebacker Roquan Smith and running back David Montgomery, and though it seems like a slam dunk that Smith will be retained, there is chatter in some NFL circles that Montgomery could be traded to add to Chicago's stockpile of draft picks, or allowed to play out the final year of his rookie contract and walk next after next season.
We mentioned the possibility right after GM Ryan Poles was hired. Though nobody doubts his talent or desire, Montgomery (3.8 yards per carry) is coming off of his worst season as a full-time starter, though he did miss four games due to injury. He was used poorly by head coach Matt Nagy, too, often to the bewilderment of Bears fans and Montgomery himself, especially on short-yardage 3rd and 4th downs.
Still, the three-year veteran was named Chicago's offensive player of the year and had he been used more often and efficiently, Nagy might still have a job with the Bears. Okay, that's probably an unwarranted stretch and completely unfair to the team's new coaching staff. The point is, the Bears are better offensively when Montgomery gets more touches.
Adding fuel to the fire is that Montgomery's understudy Khalil Herbert may actually be better suited for Luke Getsy's offense. Herbert filled in admirably last year while the starter was on the injury list for four games. The rookie running back rushed for 344 yards on 78 carries (4.41 yards per attempt) in Weeks 5-8, all against playoff teams.  A sixth-round pick of the Bears last year, the 23-year-old Hebert could be used as more than a complementary piece in Getsy's offense.
DAVID MONTGOMERY HOUSE CALLpic.twitter.com/hMBwkkaRNG

— PFF (@PFF) December 13, 2020
Salary cap expert Brad Spielberger of Pro Football Focus spoke to Bill Zimmerman of SB Nation's Bears Banter Podcast at the end of February and indicated an extension for Montgomery is likely.
"We know Montgomery is a great locker room guy," Spielberger said. "He would eat glass if Ryan Poles asked him to eat glass," Spielberger said. "All those things, when you are trying to establish a culture, and trying to get a locker room to buy in, those reasons and rationales aren't always smart, but I really do, I think he's going to get extended. I think it'll fall in the $10 to $12 million per year range, maybe even more frankly. How [does] it age? Probably won't be great but I do think that [an extension] a strong possibility."
There's no doubt Montgomery is a valuable asset on and off the field, but an extension is no guarantee with a new front office, head coach, and offensive coordinator. That Chicago cut Tarik Cohen and probably can't afford to draft a running back this year without acquiring more picks bodes well for Montgomery, at least for this season.
The most likely scenario is that Poles will let Montgomery play out his current contract and enter free agency next year, but a trade can't be ruled out, especially if Getsy and Eberflus want to run their offense with Herbert as the primary running back. That said, it wouldn't make very much sense for the front office to trade its star running back for draft picks and then burn one to acquire his replacement given the team's current deficiencies.
Bears News & Notes
There's a Flag…On the Play
Browns QB Baker Mayfield can't catch a break this week.
Baker Mayfield talking to his agent after the Colts trade for Matt Ryan pic.twitter.com/ncAYFQFcDV

— Anthony Amico (@amicsta) March 21, 2022
Northern Exposure
Any hope that the Packers might trade backup QB Jordan Love seems dead after Monday's quarterback carousel kicked into high gear.
The Vikings are pulling out all the stops to sign free-agent linebacker Za'Darius Smith.
New Lions wide receiver DJ Chark described a very toxic environment under former Jacksonville head coach Urban Meyer. More on that story in the next section.
NFL News & Notes
You'll need a subscription to The Athletic to access the full story, but Jayson Jenks and Mike Sando dropped a nuclear bomb on Mayer with a report that revealed a disastrous 2021 season that cost Mayer his job after 13 games included one of the "most toxic environments ever" according to an unnamed source. Among some of the sourced material are quotes that Mayer told his players they weren't worth $15/hour, used threats and dysfunction as motivational tools, and had no clue who three-time defensive player of the year Aaron Donald was.
While speaking about veteran WR John Brown, who went to school in Florida and ran an incorrect route in practice, Mayer said to QB Trevor Lawrence (according to sources) "Hey, Trevor, you've got to slow it down for him. These boys from the South, their transcripts ain't right."
In a very expensive trade for the Falcons, 14-year veteran QB Matt Ryan was dealt to the Colts for a 3rd round pick in this year's draft. Ryan had spent his entire career with Atlanta.
After trading Ryan, the Falcons signed Marcus Mariota to a two-year deal worth $18.75 million.
Based on reports, Mayfield's goodbye letter to Cleveland fans was more than just a hint at a trade request. The veteran quarterback allegedly intended to skip OTAs, mini-camp, training camp, and might have threatened to hold out once the season started.
The Browns reportedly asked for a 1st round pick for Mayfield after acquiring Deshaun Watson.
Tom Brady retired and then unretired, and now some reports are saying he will continue to play after the 2022 season.
Rapper Kid Cudi wrote Bengals signal-caller Joe Burrow a "love song" in exchange for his game-worn AFC Championship jersey.
Three Yards and a Cloud of Dust
Per Field Yates, 29 QBs were picked in the 1st round from 2006 to 2016, and none of them are now with their original teams.
Since 2010, Ryan has missed 1 NFL game. Average stats per year since 2010: 4,448 yards, 66.2 completion percentage, and 28 TDs.
Ryan's trade will incur a dead cap hit of $40.525 million for the Falcons, the largest dead cap hit in NFL history.
From the Podium
"I said it [at the Combine], really two things: Do guys love football? They'll show that on tape. And are they willing to work hard? And are they willing to stretch themselves to a new boundary they haven't taken themselves to before? And if you have that, it will all work out. Certainly, there will be guys that don't buy into it. That's OK. It's not for everybody. Maybe you need to go to a different team." – Eberflus
"I mean, [Justin Fields' has got it. He can sling it, he can run it, he can do everything. But what I would say from our games, specifically the game that was here [in Chicago], he's tough. He stood in there and he's tough. And he looked like he dealt with a lot this year not only coming in with that pressure he had but also physically dealing with some of the shots he took and some other things." – Patrick
Running Out the Clock
Hall of Fame by The Script featuring will.i.am – I love the attitude and toughness that Poles and Eberflus bring to this team.