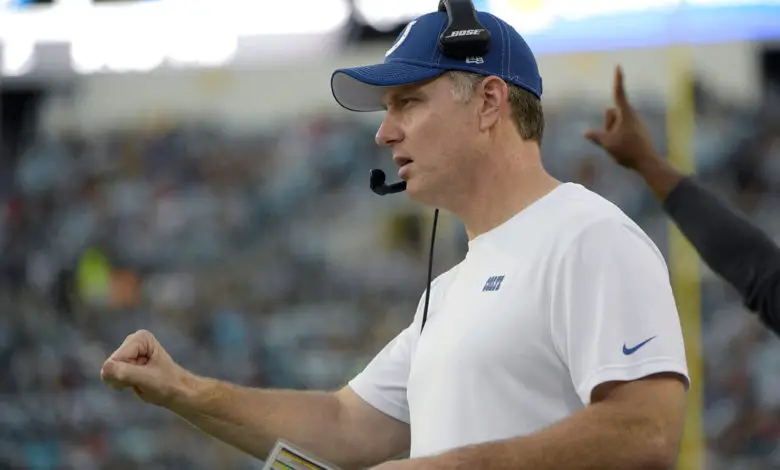 Coach Eberflus Level Sets Expectations for Bears Players
"And when the bad folks all get together late at night you know they all call big Jim boss, just because." – Jim Croce, You Don't Mess Around With Jim
Apparently, Matt Eberflus won't be messing around once he gets his players on the field. The Bears' new head coach inferred that when he was introduced earlier this year.
"We will play at a high tempo, a high effort, attacking, physical style, built upon speed, quickness, and explosive athletic ability," Eberflus said last month. "We will carry ourselves with an attitude of energy, passion, and intensity. We will play with maximum effort on every play. My next piece of advice for the players is to get [their] track shoes on because we're running.
"What we want to do is build the foundation," Ebeflus continued. "This first year we want to build this foundation of what we're going to look like, of what Chicago fans, alumni, can be proud of. And the foundational pieces are hustle, [and] effort. We're going to be an effort-based team. That's the No. 1 piece. And we're going to have measurable ways for standards of performance that are going to be detailed. Every single rep. Every single practice. Every single game. It's going to be an effort-based team."
Eberflus lowered the gauntlet when speaking with Adam Hoge of CHGO Sports last week. He's aware his methods might be a little tough on players new to his system and admitted there will be some initial pushback. He's witnessed it everywhere he's coached, most recently as the defensive coordinator of the Colts. The new head coach had a strong message for anybody unfamiliar with his concepts who may not take him seriously.
"We've done this now three times [at different stops as an assistant coach] so it's not like we haven't done it before. This is the first time doing it with [the offense and defense together], but we know it works. We know what the standards are. We have the coaches that have already bought into it that are going to implement the system player by player. And certainly, it's not for everybody. It just isn't.
"I said it [at the Combine], really two things: Do guys love football? They'll show that on tape. And are they willing to work hard? And are they willing to stretch themselves to a new boundary they haven't taken themselves to before? And if you have that, it will all work out. Certainly, there will be guys that don't buy into it. That's OK. It's not for everybody. Maybe you need to go to a different team."
Setting and managing expectations is an important part of the job, especially when conversations with his players have been limited while the league transitioned from the 2021 season to this year. If deploying a 4-3 defense is a big project, changing a team's identity and culture should be considered monumental. The Bears played decent at times during the last two seasons under Matt Nagy but often looked lazy and undisciplined, as evidenced by a high number of penalties and on-field shenanigans.
The Bears were the 12th-most penalized team in the NFL last year and that's going to change immediately. Turnovers and lack of success on third and fourth downs are consistent with undisciplined play as well. Lack of preparation, execution and accountability hurt the Bears as much as anything in 2020 and '21. GM Ryan Poles noticed it, too. A failure by the team's offensive line to properly support Justin Fields didn't sit well with him.
"You always have to take the side of your quarterback," Poles told Jason Lieser of the Chicago Sun-Times earlier this month. "That tells me a lot. So when it doesn't happen — and there are definitely clips that [prove] it didn't — it bothers me. We'll fix that."
Eberflus believes open communication among the players and coaches is key to getting max-effort from his squad. That type of trust between the players and coaching staff will improve accountability and eliminate any malaise leftover from the previous regime.
"That's one of the most important things that [Poles] and I are doing. And how you do that is you enable guys to have a voice, and [when they speak on behalf of their peers] you listen," Eberfus said at the NFL Combine. "We want the [players and coaches] to be able to voice their opinions, feel like their voice is being heard, and it will be. We value their opinions."
Al-Quadin Muhammad is a Matt Eberflus guy. He had 6 sacks, 32 solo tackles, 7 TFL and 13 QB hits last year under Flus. Not a big name but a solid player. 2 year deal 10 mil…He's almost 27 years old. Thoughts? #Bears pic.twitter.com/phemQFIhzw

— Jarrett Payton (@paytonsun) March 18, 2022
If anyone knows how the new head coach operates, it's recently-signed defensive lineman Al-Quadin Muhhamad, who played for the head coach in Indianapolis. Muhammad's experience in Eberflus' defense should help smooth his transition to the Bears.
"I had to figure out the scheme, you know…and I had to figure out the message he was giving," Muhammad said when introduced after his signing. "I had to figure out how to do it on a consistent basis, I had to figure out how to do it every day.
"I had to change my perspective…I had to buy in," the defensive end continued. "If you're not playing at a fast pace, if you're not running for the ball, or punching at the ball, stripping the ball…you're not gonna play."
Muhammad respects Eberflus and said so during a Zoom conference call on Sunday. He talked about "family" and "culture," words that may be unfamiliar to holdovers from last year's squad.
"[Coach] is going to give you his all. I mean, who wouldn't want to play for a guy that brings the juice, that wants to win, that's the same guy every day? A great person. Very family-oriented. He's all about family. He's all about winning. But not only that, he does it in a way so he's teaching you a lot of things along the way that a lot of us as young men will carry with us for the rest of our life. So, it's just an honor to be a part of this culture, the family, Chicago Bears. We're looking to do great things here. It's an honor."
A good football team plays complementary football. As Muhammad iterated, it's 11 guys on the field with a single goal on every snap. That creates rhythm, enforces a strong work ethic, and eliminates the repetitive mistakes associated with an undisciplined team. Nothing has changed for Eberflus in the 30 years since he started as a student coach at Toldeo University in 1992. For Chicago's players, a much-needed paradigm shift is about to take place.