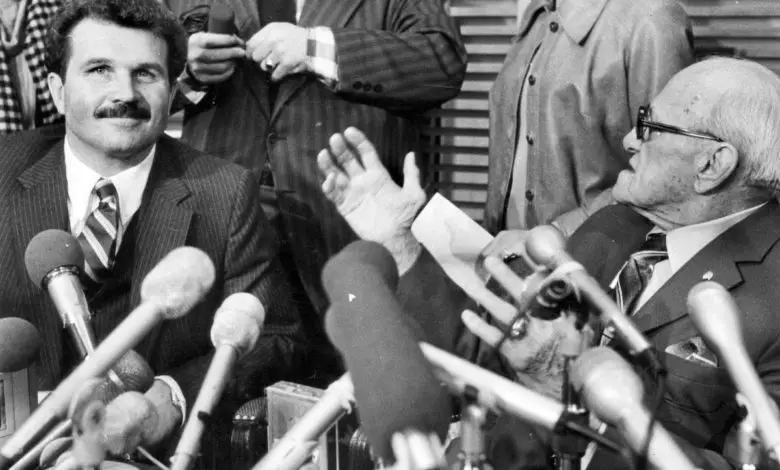 First & Long: 40-Year Anniversary of Da Coach, Hackett Could Be Ditka-Like Hire, Playoffs Continue This Weekend
George McCaskey knows only one way to fill his GM and head coach openings, and that's by counting on the expertise of others. He relied on Ernie Accorsi to help him select Ryan Pace seven years ago, and this year he's leaning on 79-year-old Bill Polian to guide Chicago's search. It's one thing to be experienced, but it's another to wonder if the game has passed Polian by.
So far, the Bears have interviewed all of the high-profile candidates that are available, but they've yet to say or do anything that inspires greatness. For some reason, McCaskey thinks a conservative approach best suits his franchise, but in reality, it's exactly the opposite of what George Halas might do were he alive to turn his team around.
Halas had four stints leading the Monsters of the Midway over five decades and made the bold and unexpected decision to hire Mike Ditka in 1982. In doing so, he saddled his new head coach with longtime defensive coordinator Buddy Ryan. In fact, Ditka was hired 40 years ago today. Four years and one week later, Ditka and the Bears were Super Bowl champions.
𝐉𝐚𝐧𝐮𝐚𝐫𝐲 𝟐𝟎, 𝟏𝟗𝟖𝟐

The Bears hire "Da Coach" Mike Ditka. He would go onto lead the Bears to their one and only Super Bowl victory. pic.twitter.com/v47QZagU2u

— This Day in Chicago Sports (@ChiSportsDay) January 20, 2022
In their storied 101-year history, the Bears have won 783 games, and Halas and Ditka combined for 516 of those victories. They also own all of Chicago's NFL championships.
Because Ditka had no previous head coaching experience, the McCaskeys, who took over the team when Halas died in 1983, have continued to go to the same well. In the 30 years since Michael McCaskey fired the former Bears tight end, Chicago has hired just one head coach with previous NFL experience, and that was John Fox.
What made the Ditka hire so progressive was the fact that he wasn't a candidate for any of the openings that season. Halas chose Ditka despite pressure from close associates to give the job to George Allen, who had made a one-hour telephone pitch to Halas applying for the position. Ted Marchibroda, Chicago's offensive coordinator at the time, was also a candidate, as was Ryan. Halas loved Ryan but didn't think he was ready to be a head coach.
Ditka penned a personal letter to Halas, one that moved the Bears founder enough to hire him. His coaching experience up to that time was as special teams coordinator under Tom Landry with the Cowboys. Ryan seemed aware he would be bypassed for the job.
"For two months I have assumed Ditka would be the head coach," Ryan said at the time. "He has been with a winning organization. He has a reputation as a disciplinarian."
The bulk of the candidates Chicago has interviewed this year come from the Bills and Colts, but one under-the-radar assistant might be a perfect fit to replace Matt Nagy, and that's Nathaniel Hackett. The Packers' offensive coordinator was interviewed last weekend and has spent the rest of this week preparing Green Bay for their Saturday Night divisional playoff against the 49ers. The Vikings and Broncos have also interviewed Hackett.
The coordinator lacks experience and doesn't call his own plays. Those duties are handled by Matt Lafleur. True, Hackett owes a lot of his success to Aaron Rodgers, but he once made Jeff Garcia and Blake Bortles look like next-level quarterbacks. That said, Hackett's work in Green Bay cannot be ignored, either. This season, the Packers rank 10th in both total offense and scoring offense. That's actually a step back from last season when Green Bay had the NFL's highest-scoring offense and the No. 1 red zone offense.
Per Rodgers, Hackett has one quality we've yet to hear about any of the other candidates, and that's the ability to command a locker room, which may have been Ditka's greatest strength. That could make the Green Bay assistant an inspired and progressive choice, and one that doesn't have that "good ol' boy" feel, much like the Halas hire in 1982.
Do you want bold and progressive? The Bears would be poaching Hackett from their most hated rival.
"In terms of him being a head coach, we were talking to Rodgers the other day," said Matt Schneidman of The Athletic. "He said he thinks the most important qualities of a head coach are not so much the X's and O's — that's important — but the ability to command a room, relate to your players, earn the respect of everyone in the building and get people to buy-in. Talk to any player at Lambeau Field or any coach, and nobody does that better than Hackett."
Bears News & Notes
There's a Flag…On the Play
He didn't hold back, that's for sure.
Cowboys QB Dak Prescott fined $25K for comments directed at refs following Wild Card Round loss to 49ers (via @RapSheet + @TomPelissero)https://t.co/tZFDhBuP8Y pic.twitter.com/DHnvrAsP2Q

— Around The NFL (@AroundTheNFL) January 21, 2022
Northern Exposure
Saturday represents the ninth playoff meeting between the Packers and 49ers.
Last week's dismissals of Vikings head coach Mike Zimmer and GM Rick Spielman may have come a year too late.
Jim Costa, a Detroit sports radio host for 97.1 The Ticket said that the Lions "wasted" quarterback Matthew Stafford and that fans unfairly made him the scapegoat of the franchise.
NFL News & Notes
Jon Gruden is suing the NFL for leaking e-mails that forced the Raiders to fire him, and his case will be heard on February 23.
Raiders players would like the team to retain interim head coach Rich Bisaccia.
Bills quarterback Josh Allen has nothing but the utmost respect for Belichick.
A Tik Tok influencer crashed the Dak Prescott end-of-season press conference and actually asked some decent questions.
According to a new report from CBS Sports' Jason La Canfora, there is a "strong expectation" the Giants will be offering their GM position tomorrow. The finalists are said to include Joe Schoen, Ryan Poles, and Adam Peters.
Ex-Buccaneers wide receiver Antonio Brown denies having mental health issues.
Former San Francisco running back Frank Gore won $65,000 on a bet he placed last week on the 49ers, and he's going to let it ride on Saturday's game against Green Bay.
Tom Brady may be considering retirement once his season ends.
The 44-year-old Buccaneers QB believes he gets away with far too many unsportsmanlike conduct calls.
Skip Bayless of FOX Sports believes the Cowboys should fire head coach Mike McCarthy.
Kirk Cousins may be a top-10 quarterback, but he has one of the most bloated contracts in the NFL, making a potential trade to the Steelers difficult.
This Weekend's Playoff Schedule
Bengals at Titans, Saturday 3:30 PM CT
49ers at Packers, Saturday 7:15 PM CT
Rams at Buccaneers, Sunday 2:00 PM CT
Bills at Chiefs, Sunday 5:30 PM CT
Three Yards and a Cloud of Dust
Rodgers and Joe Burrow have the longest active streak of games (5) with a 100.0+ passer rating.
Only two Jaguars quarterbacks have passed for 400 or more yards in one game: Bortles and Mark Brunell.
Ditka still holds the TE receiving record for rookies with 56 catches for 1076 yards and 12 touchdowns in 1961, playing a 14-game season.
From the Podium
"Yes, we are not exactly spring chickens but Bill [Polian] has been around the game a long time, he knows the game very well. I recall, George Halas was in his 80's when he made a then very controversial but ultimately successful selection for a head coach and Bill is much younger than that." – McCaskey