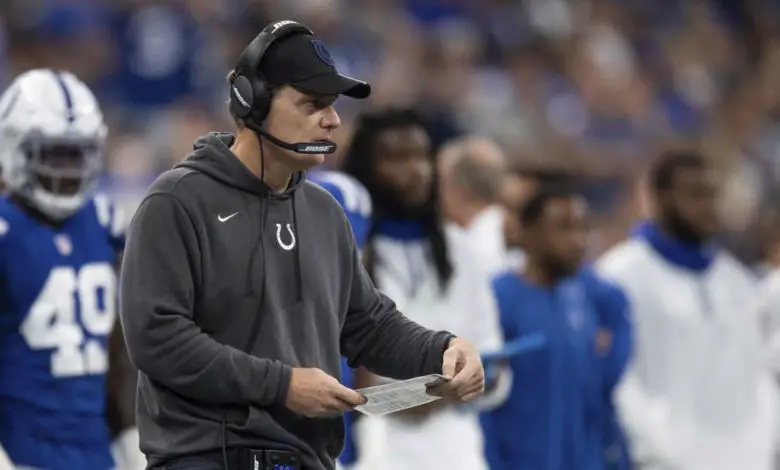 Bears Schedule Second Interview With Colts Defensive Coordinator Matt Eberflus
The wide net that the Bears have cast in their head coaching search is perhaps getting a little smaller. The team has scheduled a second interview with Colts defensive coordinator Matt Ebeflus. He originally interviewed to replace Matt Nagy on Monday, and it's now obvious he made a favorable impression.
The #Bears are scheduling a second interview with #Colts DC Matt Eberflus next week, per source.

So Eberflus is now a finalist for two jobs: Jacksonville and Chicago. His Indy defense has been top-10 in many categories the past four years.

— Tom Pelissero (@TomPelissero) January 19, 2022
Matt Eberflus is a guy I'm higher than consensus on.

My guess is they would plan on pairing him with a GM candidate they're already high on. Ed Dodds is my guess since they work together.

If they got Dodds + Eberflus, I'm for that. Depends on who the OC is though too. #Bears pic.twitter.com/XhUZFjkKx8

— Joseph Herff (@JosephHerffNFL) January 19, 2022
Team chairman George McCaskey indicated he wanted to have a GM in place before the Bears named a new head coach. Since Eberflus is now a finalist with the Jaguars, their timeline may have been altered. Then again, Chicago is said to be very high on Ed Dodds as a potential replacement for GM Ryan Pace. Dodds also interviewed Monday and may have indicated his preference to bring Eberflus with him if the Bears hire him.
Dodds boasts 19 seasons of NFL experience. He's spent the last five years with Indianapolis, including the past four as assistant general manager under general manager Chris Ballard. Eberflus has 13 years of NFL experience, including the past four seasons as the Colts defensive coordinator.
Eberflus began his NFL career with the Browns as a linebackers coach (2009-10). He then spent seven seasons with the Cowboys as their linebackers coach (2011-17) and added passing game coordinator to his duties in 2016-17 before accepting a position with Indianapolis. With the Colts, he inherited a defense that ranked 30th in the NFL in both scoring and total yards in 2017. Eberflus helped the unit improve to 10th in scoring and 11th in yards in his first year in 2018.
In NFL circles, a second interview typically means a candidate is a finalist for the position, and that's how the NFL Network characterized Eberflus' candidacy in both cities. That Bill Polian, who is helping the Bears in their search for a new GM and head coach, has extensive experience with the Colts organization bodes well for both Indianapolis candidates.
Eberflus, who is widely respected around the NFL, has drawn a lot of interest in the coaching market over the past couple of seasons and has made it no secret he covets a chance to run his own team. Jacksonville targeted Eberflus early in its search after firing former Florida and Ohio State head coach Urban Meyer 13 games into this season following a string of highly publicized scandals.
Indianapolis has finished in the top 10 in scoring defense three times four seasons under Eberflus, and in the top half of the NFL in total yards allowed all four years, though it would be a stretch to call his defenses elite.
Since beginning their search last Wednesday, Chicago has interviewed seven candidates for the general manager position and six head coach candidates. Eberflus is the first and only to be granted a callback. Jacksonville has also requested a second interview with the defensive coordinator, which has been scheduled for tomorrow.
"People are noticing the work he's doing," said Ballard last week.
Players laud Eberflus for his communication skills and leadership style. He is known as a detail-oriented coach with a knack for connecting with players and fellow coaches. Eberflus has earned a reputation for being able to blend his strategic insight with the personnel he has to work with, loading his defense with only as much as players can handle. He gets high praise from Colts' head coach Frank Reich.
"I would fully endorse and support anyone who ever called and asked me about [Eberflus] as a man, as a leader, and as a coach.," said Reich. "He is a worthy candidate. Obviously, I don't want to lose him. But I'm happy for him and support him."