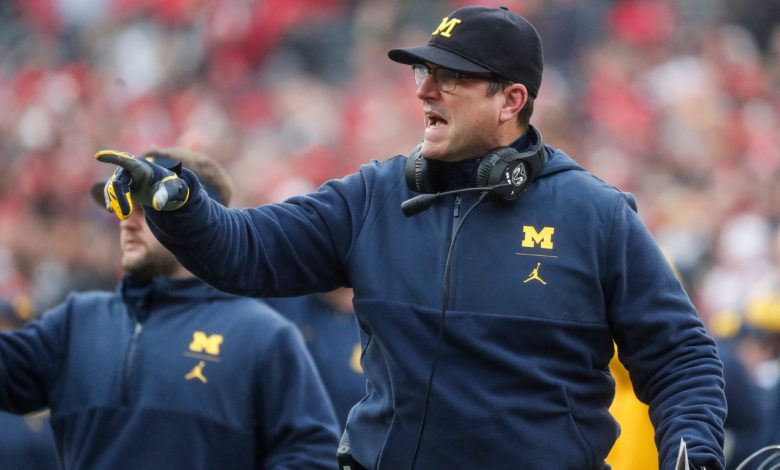 Jim Harbaugh Could Still Be in Head Coaching Mix For Chicago Bears
The Bears have cast a wide net in their search for a new head coach, and as many as 27 candidates may be under consideration, including Jim Harbaugh. Here's the latest on Harbaugh:
Blessed to receive an offer from The University of Michigan❗️❗️❗️ Go Big Blue🔵🟡Thank you @UMichFootball @JayHarbaugh @CoachJim4UM @CoachBanta pic.twitter.com/W0CsAJxylS

— James Kavouklis (@JamesKavouklis) January 20, 2022
Bruce Feldman of The Athletic reported that sources inside Michigan's football program told the outlet this week that if Harbaugh is offered the Raiders head coaching job, he'd take it (subscription required).
The former Bears quarterback is underpaid by Big 10 standards and woefully underpaid in comparison to coaches at other nationally-recognized programs. Because of that, it stands to reason Harbaugh could be leveraging NFL interest to get a pay raise from the University of Michigan.
In fact, earlier this week, NBC Sports Chicago reported that Harbaugh and his alma mater were having discussions about a new contract.
Contract talks between Harbaugh and the school are not new. He signed a contract extension with the university last January that runs through the end of the 2025 season. That deal pays him a little over $4 million annually with $100,000-plus increases each year and bonuses for Big Ten titles, College Football Playoff appearances, and national titles.
"Michigan, per sources, has had productive conversations with Harbaugh, who does have parties negotiating on his behalf with Michigan athletic director Warde Manuel, about another new deal," The Athletic's Nick Baumgardner and Austin Meek wrote ($).
The 58-year-is acting as if he will continue to coach Michigan in 2022. He recently filled the defensive line coaching vacancy on his staff, was on hand for a big recruiting visit day last Saturday in Ann Arbor, and is currently on the road recruiting.
The thinking is, Harbaugh wouldn't ask a coach to uproot his family and his life or visit with and sign incoming commitments if he was seriously considering a move to the NFL.
However, Harbaugh has told at least one recruit and his family that he is entertaining a return to the NFL.
Harbaugh coached previously for the 49ers and assuming he'd want to return to the NFL, one would expect he'd want to be one of the game's highest-paid coaches. The top five are Bill Belichick, Pete Carroll, Sean Payton, John Harbaugh, and Sean McVay. Yes, all of those coaches make more than Andy Reid.
The average salary of an NFL coach is roughly $6-7 million.
Harbaugh was 44-19-1 as head coach of the NFL's San Francisco franchise, taking the 49ers to three NFC championship games and one Super Bowl appearance.
If Harbaugh doesn't reach an agreement with his current employer, one would think the Bears would have some degree of interest in hiring him.
Harbaugh has said previously that "coaching the Bears would be a dream come true," though that was in 2016.
A report from Hub Arkush on NBC Sports Chicago's "The Rush," indicated that the Bears have touched base with Harbaugh. "I've had some contact with Jim," Arkush said. "I didn't ask him and he didn't tell me. But one other source who is usually pretty good told me that there was just a brief phone conversation."
"I'm not going to say it's between Jim and somebody in the organization," Arkush added. "I think may have just been trying to say, 'Hi,' may have been trying to read the tea leaves without asking the questions. I don't know. I can't confirm that for certain, but it's a pretty good source. I think that there was a phone call and I think where that phone call ended is Jim's got decisions to make and again, he just hasn't made them."
It is not known what the Bears paid Matt Nagy, but it's safe to assume it was at the lower echelon of NFL head coaching salaries due to his lack of previous experience.
Most of the negotiations over the last week have been with similarly inexperienced candidates, which may indicate that the McCaskeys would prefer to limit how much they will pay their next head coach.
Of course, neither the Raiders nor the Bears have expressed any official interest in Harbaugh as of yet.
It's important to remember that no negotiations have taken place with the Bears and Harbaugh and that so far, only Matt Eberflus has been asked to return for a second interview.
Also, though Leslie Frazier won't interview until tomorrow, rumors indicate he's the leading candidate to get an offer if he, George McCaskey, and Ted Phillips find the synergy the organization is looking for.