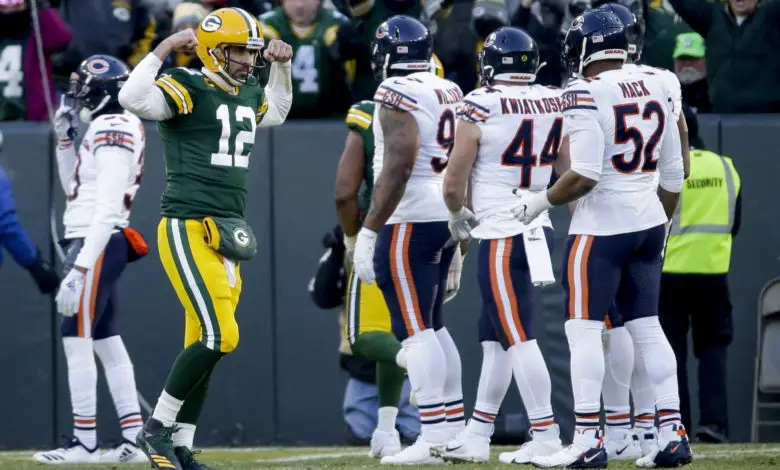 First and Long: Trubisky Slides Back into Starting Role, Kmet and Mooney Need More Targets, Sunday's Game a 'Must Win'
"There is nothing quite so much like God on Earth as a General on the battlefield" – Joshua Chamberlain, as played by Jeff Daniels in the movie Gettysburg.
Mitchell Trubisky is back and he'll need some weapons to help him succeed. After the Bears were waxed by the Rams on October 26, head coach Matt Nagy promised that rookie tight end Cole Kmet would play a bigger role in the team's offense. Kmet has indeed played more, but was targeted just four times with two catches for nine yards in the three games since
Rookie wide receiver Darnell Mooney, who could be the most talented pass-catcher the Bears have in terms of pure athleticism, has had 56 targets with 33 catches. That's fourth on the team behind Allen Robinson (63 catches), Jimmy Graham (35), and Anthony Miller (34). Now that Trubisky has been named the starter for Sunday night's game against the Packers, it may behoove him to get the two rookies more involved in the offense.
https://twitter.com/BearsFilmRoom/status/1321478467976908801
"Nothing wrong with Cole; it's wrong with us," offensive coordinator Bill Lazor said a few weeks ago when asked about the inability to get Kmet more touches. "The problem is us."
The question came up again after Kmet had just one reception for seven yards on three targets against the Vikings, with the lone catch coming when he cut in front of Robinson. He collided with the No. 1 receiver on another target that fell incomplete. In the meantime, it seems Graham is not as invested in the offense as he should be, especially when it looks like he occasionally neglects to complete his routes.
Bears QB Mitch Trubisky said he embraced scout team and "tested throws" in practice he normally wouldn't try if he was taking starter's reps.

"I feel like I was progressing as a player. I was in a space where I wanted to push myself and continue to get better."

— Kevin Fishbain (@kfishbain) November 27, 2020
At this point, it may be delusional to hope the Bears will make the playoffs. By no means should a 5-5 team give up, but fans should be hoping for a higher draft slot come spring, especially if the Packers defeat Chicago on Sunday night. It may be the more prudent option for Nagy to see if Trubisky has finally matured enough to be a regular starter while getting Kmet and Mooney more involved in the offense. It seems more and more unlikely that Robinson and Graham will be back next season, so why not?
Bears News & Notes
There's a Flag…On the Play
The Bears really need to win on Sunday night, something that is far from a guarantee at Lambeau Field based on recent history.
#DaBears have struggled at Lambeau Field, losing 10 of their last 12. The last Bears win at Lambeau was on Thanksgiving Day in 2015. Jay Cutler threw for 200 yards and led the Bears to a 17-13 win.

More from @sean_hammond:https://t.co/lTyvrVe7Tb

— Hub Arkush (@Hub_Arkush) November 27, 2020
Northern Exposure
Green Bay is hoping to escape Sunday night with a win and a three-game lead over the Bears in the NFC North.
Despite a commanding lead in the division and the second-best record in the conference (tied with the Rams and Seahawks) the 7-3 Packers feel more like pretenders than contenders.
The Lions have played so poorly on Thanksgiving Day in recent years that it's worth wondering if the NFL should continue the tradition that started in 1934.
College head coaches Nick Saban (Alabama), Jim Harbaugh (Michigan) and Dan Mullen (Florida) could be on Detroit's short list if the team decides to replace Matt Patricia.
Vikings WR Adam Thielen was placed on the Reserve/COVID-19 list earlier this week and is reportedly expected to miss Sunday's game against the Panthers, per ESPN's Jeremy Fowler.
Panthers QB Teddy Bridgewater, who used to play for the Vikings, is fondly remembered by members of the Minnesota organization for his grace and positivity while recovering from a gruesome knee injury in 2016.
NFL News & Notes
Due to rising COVID-19 cases across the country, the NFL is banning in-person activities for all teams on Monday and Tuesday. The league informed clubs of the decision, which doesn't apply to teams playing games on those days, in a memo obtained by Tom Pelissero of the NFL Network.
The NFL has now moved the Steelers-Ravens game to Tuesday. Baltimore's scheduled game against the Cowboys on Thursday night will now be played on Monday, December 7.
Wisconsin Badgers cornerback Rachad Wildgoose has declared for the NFL draft and is not expected to play in any of his team's remaining games this season.
Chargers QB Justin Herbert has been announced as the NFL Rookie of the Week for Week 11, his seventh such honor of the season.
A large number of questionable pass interference calls are taking a heavy toll on NFL defenses this year.
Because of the coronavirus pandemic, the league is limiting the number of fans that will be able to attend Super Bowl LV at Raymond James Stadium in Tampa Bay, and what will go on once fans are admitted to the venue. The game is currently scheduled for February 7, 2021.
Just in time for the holidays, a server at Miller's Ale House in Jacksonville, FL received a $963 tip from former NFL wide receiver Chad "Ochocinco" Johnson. Johnson's tab was $41.80.
Fumblerooski
Green Bay will have to be wary of Trubisky's ability to escape the pocket and gain positive yardage when his receivers are covered.
The #Packers coordinators & defensive assistant coaches met with the media about Week 12's primetime game against Chicago.

Key comments + full press conferences 🗣️ https://t.co/rcG9wVTzxX

— Green Bay Packers (@packers) November 27, 2020
At the Podium
"More than anything, I was caught off guard (about being benched). I think at the beginning of the season I was just starting to build some momentum and then it kinda felt like a blindside, and then I had to embrace a new role. The first couple days, it sucked being in that role, but I was trying to just continue to keep perspective and think long term. I want to play in this league a long time, and if I want to do that, there's things that I just need to continue to get better at, [so] at that point, I just changed my mindset to embrace practice. " – Mitch Trubisky
Halftime Entertainment
Back in Black by AC/DC – Mitch the Kid is back, and he sounds like he's ready to take no prisoners.