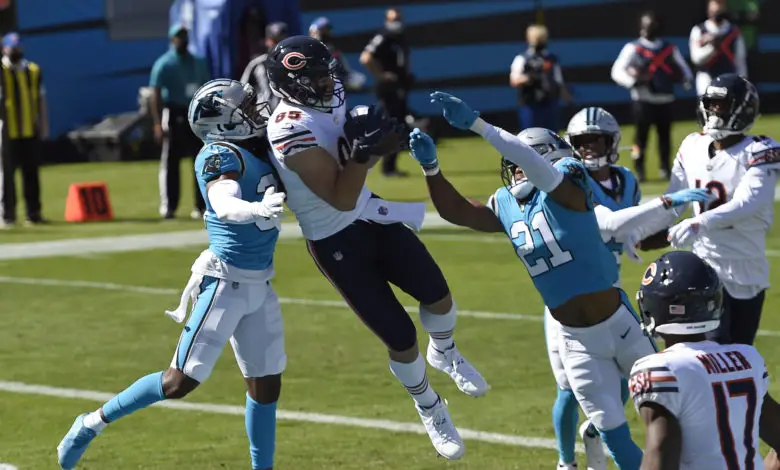 Cole Kmet Getting More Playing Time, Now He Needs More Targets (Video)
The acquisitions of both Jimmy Graham, the Bears' biggest free-agent signing this offseason and Cole Kmet, their first draft pick in 2020, left many people scratching their collective heads. Even more confusion arose when Kmet was barely involved in the offense through the team's first five games, appearing on just 31% of their offensive snaps.
Then came the game against the Carolina Panthers, when Kmet caught his first career NFL touchdown. He made two catches on two targets in the next game against the Los Angeles Rams, including one spectacular grab for 38 yards in the 1st quarter. It felt like Kmet's usage was finally trending in the right direction for a team that desperately needed another offensive weapon.
The problem is that, while he is seeing more playing time, he may as well be standing on the sidelines with as little involvement as he's had. Kmet played on 43% and 47% of the Bears'offensive snaps against New Orleans and Tennessee, but was targeted just once total and gained two yards on his lone catch. For the sake of comparison, Graham was targeted 13 times and has eight receptions for 78 yards in those games.
"You want to be able to get Cole going as a tight end in this offense, for sure," Matt Nagy said when asked about the disparity in his tight ends' usage.
I guess it's commendable that he at least acknowledges it, but this isn't the first time we've heard him wonder aloud about why the underutilization is occurring. As the head coach and play-caller, Nagy has a direct impact on how his skill players are being deployed and he's got no one to answer to in that regard.
Maybe this will be the week when the coach finally takes full responsibility for what's been happening on the field and what needs to be done to correct it. We'll have to wait until Monday night to find out.
Here's the full Nagy interview from Monday's media availiability: