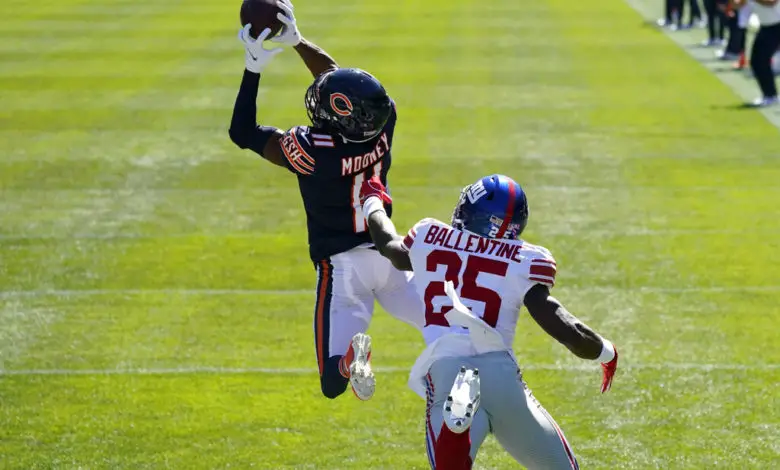 Time Has Come to Get Cole Kmet, Darnell Mooney More Involved in Bears Offense
A lot can be said about Matt Nagy's play-calling, like whether he should be calling plays at all. Simply put, the Chicago Bears' offense is bad. There are myriad articles and stats that point out the complete ineptitude of this team's ability to do anything — run, pass, protect the QB — on the offensive side of the ball.
Going into this weekend's matchup against the New Orleans Saints, only Allen Robinson has been a consistent contributor. He has 544 yards on 44 receptions, accounting for 32% of the team's total receiving yards on 25% of their total receptions. His 70 targets are easily the most on the team and are nearly double that of the next-highest receiver.
Those numbers show a big reliance on one player who, as of this writing, is in the NFL's concussion protocol and may end up missing Sunday's game. If he's held out, it's not clear where the Bears will find offensive production. Or is it?
For weeks now, questions have been swirling about Cole Kmet's limited usage. He's played on just 32% of total offensive snaps this season despite Nagy's insistence that Kmet is getting better every day and needs to play more. Last week against the Rams, the rookie tight end made a beautiful 38-yard catch on a highly contested ball and followed that up with a 7-yard grab, then was never targeted again.
Kmet has shown the ability to block, run routes, and catch the ball. That seems like a skill set in high demand for an offense in desperate need of a consistent play-maker.
If ARob can't play on Sunday, will the #Bears get Kmet more involved in the offense?

— Bears Insider (@Bearslnsider) October 28, 2020
Then there's Darnell Mooney, who has 236 yards on 21 receptions, a mere three receptions on 5.2 targets per game. Mooney has consistently shown the ability to get wide open downfield and his work ethic is off the charts. The only problem is that he and his quarterback don't seem to be on the same page and consistently miss on big plays downfield as a result.
It's pretty easy to understand why Nagy would be slow to completely immerse rookies into the flow of the game, especially with a new quarterback and no preseason games to tune up. But both Kmet and Mooney have shown the ability to get open and make great catches for an offense that has only one big-time playmaker.
If Robinson sits out, Nagy will have to look elsewhere for big plays or risk losing his second straight game in a crucial stretch. Let's hope he finally decides to get both Kmet and Mooney more involved.