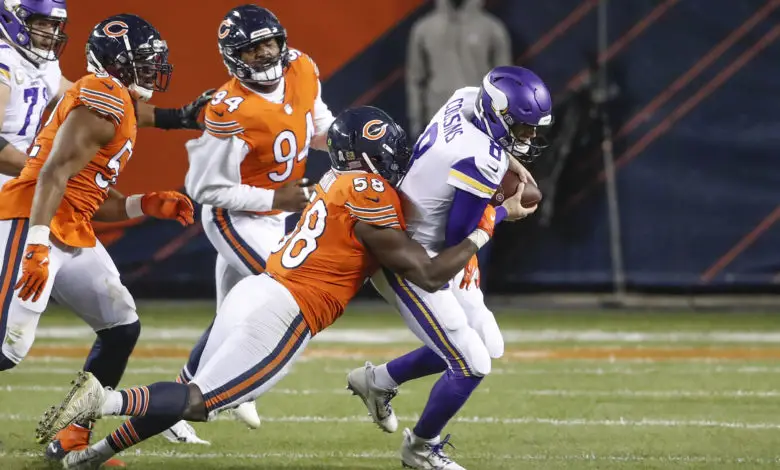 Roquan Smith Leads NFL in Solo Tackles, Still Has Plenty of Room to Improve
The Bears haven't given fans much to be thankful for this season, but Roquan Smith's resurgence as part of a defense that continues to perform at a championship level has been a bright spot. The third-year linebacker suffered through a sophomore slump in 2019 that saw him ranked 123rd out of 175 NFL linebackers according to Pro Football Focus. Stats aside, he just seemed lethargic and lacked the lateral quickness that made him a top draft pick.
One thing that remained solid in Smith's game, however, was his tackling. He graded out at PFF with an 81.9 that ranked 16th in the NFL among linebackers, so it was just his run defense, pass rush, and coverage that dragged him down. In other words, he was fine as long as an offensive player ran right into him.
A more aggressive and explosive Smith has emerged this season to lead the league with 78 solo tackles through 10 games. For the sake of context, PFF has him with 78 solos and 16 assists while NFL.com has 68 solos and 26 assists. He's in the top spot either way and the good news is he's still got a lot of room to get better.
Smith's overall grade has jumped to 65.1, nearly 13 points higher than last year to rank him 45th among LBs. Improvements to his pass rush and coverage are spurring those results, though his tackling is actually a little worse and his run defense appears to be way down. A lot of that is the result of that increased aggressiveness, which means he's simply in on more plays and may end up with more missed tackles as a result.
To wit, his 7 misses this year top last year's total of 6 over 25 fewer snaps, but he's recorded more solo tackles and stops in that same time. The next step in his evolution will be to elevate his attack against the run and to become more sure-handed bringing down runners when he's going full-speed. If that happens, we're going to see an even more disruptive force in the future.