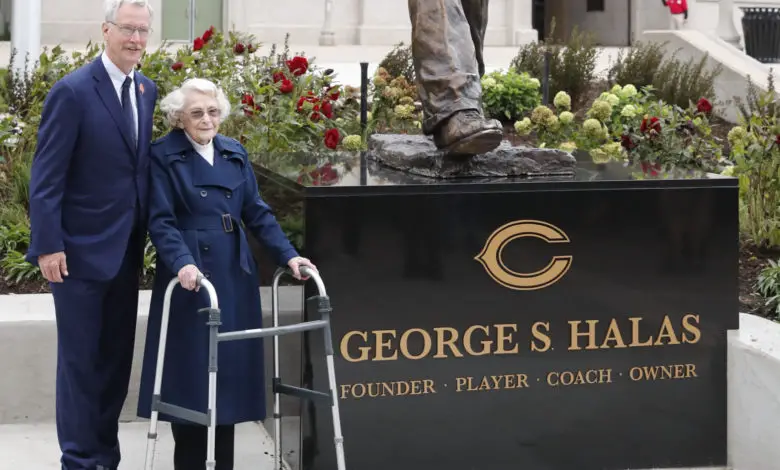 First and Long: Franchise Faces Tough Decisions After Playoff Exit, Robinson Frustrated With Lack of Extension Offer, Bears Saddled With No. 20 Draft Pick
"Life starts all over again when it gets crisp in the fall." – F. Scott Fitzgerald
The end of the football season doesn't seem to carry as much of a heavy load as the end of a baseball season, and I suppose it's because the NFL season comes and goes so quickly, especially if your favorite team is dumped in the first round of the playoffs. Chicago's 21-9 loss to the Saints on Sunday leaves the Bears at the unenviable intersection of mediocre and woebegone, and the late run that pushed them into the Wild Card game now leaves them with the 20th overall selection in April's draft.
.@BradBiggs column: Coming off a second consecutive 8-8 season and without a quarterback, the Chicago Bears are in a tough spot.

What will Chairman George McCaskey do to fix things? https://t.co/ImRDGWktkv

— Chicago Tribune Sports (@ChicagoSports) January 12, 2021
There are 12 lead football executives in the NFL who have been in their positions since 2015 or longer. Of that group, six have overseen Super Bowl championships.

Only two of that group have never won a playoff game: Bears' Ryan Pace and Bengals' Mike Brown, who owns the team.

— Chris Emma (@CEmma670) January 11, 2021
The Bears are realistically in need of an overhaul, but 8-8 teams rarely take the drastic measure that 5-11 teams do. If you've followed the exploits of Chicago's most beloved sports franchise, then you know they often played more like .375 football team than one that managed to secure victories in half their games. The lifeless offense that was the team's undoing during a six-game losing streak resurfaced in their Wild Card matchup against New Orleans. And though I'm not sure Matt Nagy was calling the plays, if he was he certainly has a lot less confidence than offensive coordinator Bill Lazor does in Mitchell Trubisky.
That's part of the conundrum that the storied franchise faces after another middling season. The Bears are going to have to decide if it's worth investing in Mitch the Kid (it's not), handing the reins back to Nick Foles (please no), or finding another QB in free agency or the draft. Before any of that is decided, I'd venture to say that it's time to send GM Ryan Pace packing. Giving Pace an opportunity to right the earlier wrong of trading up to take Trubisky tastes too much like unbuttered, burnt toast.
Trusting Nagy to further develop Trubisky seems like a bad move, too. While under the direction of Lazor, Trubisky showed marked improvement, relying on play action and motion schemes that opened up the offense a bit more. On Sunday, the play calling was much less robust, an indicator that Nagy was more involved. It was difficult to watch, and cost the Bears dearly in time of possession. The Saints ran 75 plays, compared to 49 for Chicago, and held the ball for nearly 40 minutes.
"For us to get better and to be the team that we need to be, something we'll do in the offseason is make sure wherever there is a weakness, we make it a strength," Nagy said after Sunday's game. "That's going to take everybody."
Unfortunately, the team's biggest weaknesses are its front office and head coach, and I don't know if it's possible to make either a strength. Don't forget, the Bears only made the playoffs this year because the NFL expanded the number of postseason slots in each conference from six to seven.
It's clear to everyone outside the organization that Trubisky is not a franchise quarterback, and anyone who thinks otherwise is blinded by the fact that his best games came against the NFL's worst defenses. In games against the league's elite, like the Packers and Saints, the fourth-year signal caller was exposed as a one-dimensional player. Trubisky will be the first to tell you he's gotten "a little better" as the season progressed, but that's less than optimal for a veteran with 50 regular season and two playoff starts under his belt.
It's a little surprising that no announcements were made yesterday regarding the future of the organization, and, based on earlier speculation, it looks like Pace and Nagy could be relatively safe. The buzz surrounding the team is that they will make an attempt to sign Trubisky, too. Perhaps .500 football and quick playoff exits are the new norms for the Monsters of the Midway.
"Can't repeat the past?…Why of course you can!" – Fitzgerald
Bears News and Notes
There's a Flag…On the Play
I'm not sure why the Bears have made no attempt to extend Allen Robinson, and based on his comments it seems doubtful he will return next year. That may be a big mistake, especially if the organization decides to stick with Trubisky. Wims and Miller have likely played their last games with the Bears, too, meaning Chicago will be looking for a handful of receivers to compliment Darnell Mooney next season.
Bears WR Allen Robinson (free agent) said repeatedly this morning that everything is on the table in terms of his future but added in regards to the Bears, "I personally feel like we had an opportunity to be able to get something done over the past 365 days."

— Jeff Dickerson (@DickersonESPN) January 11, 2021
Three Yards and a Cloud of Dust
The Bears were 1-6 against playoff teams in the regular season and won their eight games against opponents with a combined 32-80 record.
Including Sunday's tilt with the Saints, Chicago won just 3 of its final 11 games this season
If Trubisky's final numbers (19-for-29, 199 yards, one touchdown) were hurt by Wims' costly drop, they also were padded by a final drive that included 10 completions for 99 yards.
Northern Exposure
Veteran OT Jared Veldheer, who was cut after the Colts playoff loss to the Bills, has signed with the Packers and could be the first player in NFL history to play in a postseason game with two different franchises during the same season.
Every couple of years it seems like the Lions are starting from scratch and this offseason is no different.
The Vikings may be looking to draft a quarterback due to the inevitability that Kirk Cousins will probably not return after the 2021 season.
League News & Notes
Patriots coach Bill Belichick indicated he will decline his Presidential Medal of Freedom.
Because the Bills have been so successful this season, there's a good chance their coaching staff may be gutted because of head coaching opportunities.
The Cowboys have hired former Falcons head coach Dan Quinn to be their new defensive coordinator.
The Eagles fired head coach Doug Pederson yesterday, and team owner Jeffrey Lurie offered all kinds of mixed messages during his presser to discuss Pederson's dismissal.
Fumblerooski
There's no use dancing around the inevitable. If one goes they all should go, Conversely if one stays…I don't want to think about that.
For Bears coach Matt Nagy and G.M. Ryan Pace, the only viable options are to fire both or fire neither — and if both are fired, team president Ted Phillips should be fired, too https://t.co/teZC822NLZ

— ProFootballTalk (@ProFootballTalk) January 11, 2021
At the Podium
"We know this isn't good enough. What we need to do is do everything we can to be able to win a Super Bowl. That's the goal. The goal is not to make the playoffs. [We've] just gotta sit down and evaluate all that stuff, and we obviously know there's a lot of big decisions [to make]." – Matt Nagy
"[The pass to Wims] was a touchdown. You don't get a lot of opportunities like that where you get your guy pretty wide open behind the safety. (It was) a play we've been practicing for the last few weeks. I was excited Coach got it called." – Mitchell Trubisky
Today's Halftime Entertainment
The Show Must Go On by Three Dog Night – That circus music on the intro and bridge is a perfectly good epilogue to Chicago's season.