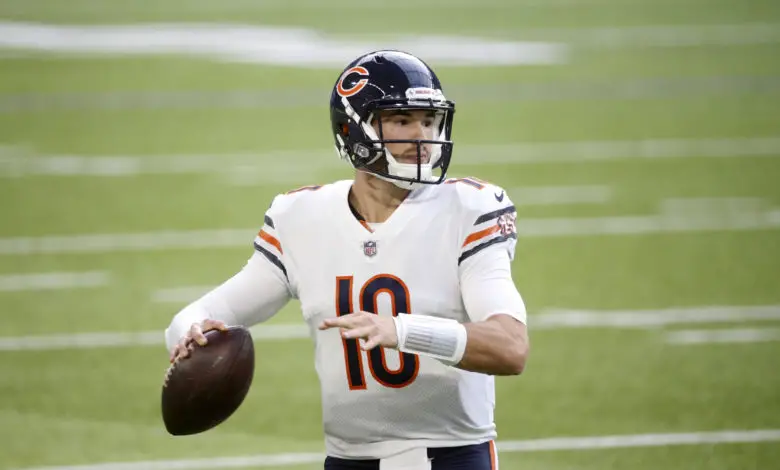 Mitch Trubisky May Need Playoff Run to Convince Bears to Re-Sign Him
If there's one thing the Bears have been consistently good at over the last 30 or so years of organizational futility, it's maintaining the status quo. Poor decisions tend to nullify good ones, so the general trend has been toward active mediocrity with the occasional splashes of excellence and putrescence. For the most part, though, the Bears are just a big ol' ball of inertia.
In keeping with that notion, there's a growing sense that they're going to do as much as they can to run it back in 2021-22. That means retaining Matt Nagy despite chronically late decisions on various personal choices and, worst of all, play-calling duties. Speaking of which, he may have actually taken back the reins in that regard prior to the Week 17 loss to the Packers in which the Bears' offense looked worse than it had in the previous four weeks.
It's pretty much a certainty that Nagy will return next season and Ryan Pace is likely to be back as well, even if the Bears are finally able to replace Ted Phillips with a real head of football operations. Of course, that would likely only come if Phillips steps away voluntarily because we know how much the McCaskey family hates paying people not to work.
Even if Phillips does mercifully move on, it'll be difficult to lure a top-flight exec who doesn't have the power to make their own determinations about the GM and head coach. Speaking of which, Nagy and Pace are going to have to make some decisions about their personnel for next season. The salary cap is expected to drop significantly and they won't have much space to add a legit QB in free agency.
That reality, plus improved performance over the final few games of the season, has led many to believe the best option might be to re-sign Mitchell Trubisky. The Bears probably won't draft high enough to get a surefire starter, they flubbed badly the last time they traded up to get a QB, and the market isn't exactly replete with elite passers.
So is Trubisky the best bet, assuming they can ink him to a reasonable deal? Probably not, says Ian Rapoport.
"Let's talk about the future of Mitch Trubisky," Rapoport told NFL Network's Rich Eisen Sunday morning. "At one point, the Bears were certain he was their future, their franchise quarterback. Now, from what I understand, he still has a lot to prove to get there. And obviously, a big stage now to do it. Here are the things working against Mitch Trubisky as he tries to remain the franchise quarterback for the Bears: He had his fifth-year option declined; he's been benched; obviously he struggled last week.
"He's had his moments, but from what I understand, there's nothing certain. The Bears are not set right now on bringing him back. Perhaps, Rich, if he wins and keeps winning, he will change their minds, but still a lot of work to do for Trubisky."
.@RapSheet says Mitch Trubisky is only coming back with a long playoff run to prove himself pic.twitter.com/KRahju9CfG

— Michael Allardyce (@mikedyce) January 10, 2021
Winning Sunday is going to be difficult enough without Darnell Mooney and Roquan Smith on the field, then the Bears would have to win in Green Bay against a rival that has embarrassed them routinely over the last few years. Things have gotten so bad that the Packers might now have a more rightful ownership claim than the descendants of George Halas.
The Bears once led the series 80-57-6, but have since gone on a 15-44 skid that includes a 5-21 mark against Aaron Rodgers and 0-6 in Week 17. Yikes. I don't know about you, but part of me hopes they lose in NOLA just to avoid the inevitable in Green Bay. Or maybe the Bears surprise everyone and put together an incredible run.
It could happen, though that would likely solidify Trubisky's return and yet another year of hoping they've finally figured things out. What's wild is that such an option might not be the worst for a team that continues to put itself in low-leverage situations.
So knowing that a playoff run all but ensures maintenance of the status quo, are you still willing to wish on that monkey's paw?