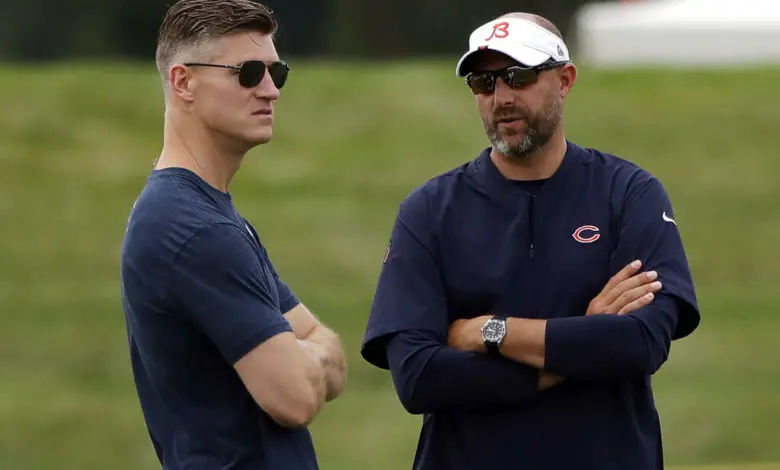 There's Growing Suspicion Bears Will Give Matt Nagy, Ryan Pace Another Shot Under New Prez
Rumors are just that until they're substantiated, but they're hard to dismiss when everything's pointing in the same direction and follows existing logic. Before we delve into the specifics, let's establish some context for what may happen at Halas Hall following another disappointing season.
First, the McCaskeys don't fire coaches or GMs during the season. Second, they don't like paying people to do nothing. That means Matt Nagy and Ryan Pace essentially have a chance to pull out a back-door cover if the Bears play really well down the stretch. Someone avoiding a losing season allows the team to tout improvement and potential, never mind a troubling future that will see the cap drop by about $25 million next season.
---
---
It's also fair to criticize ownership's desire to win. No matter how many times we're told that Virginia McCaskey is upset about losing, the last 30 years of general ineptitude strongly contradicts any reports of anger with the way the storied franchise has been run. Ted Phillips being allowed to remain in his position as team president tells you all you need to know.
But what if Phillips finally decided to walk away after 36 years with the Bears? David Kaplan shared sourced information during his show on ESPN 1000 last week indicating that was a distinct possibility, though "don't be shocked if Ted Phillips announces he's retiring at the end of the season" is far from definitive. If such a decision does come to pass, the Bears could go out and hire an actual president of football operations without having to fire anyone.
Maybe Phillips would even stay around to oversee the business side only, but that doesn't seem as likely given how loath ownership is to spend additional money. Speaking of which, bringing in a new executive might mean limiting other changes.
I'm talking specifically about Matt Nagy and Ryan Pace, both of whom might be brought for at least one more go at it. That rumor initially surfaced in October and was brought up more recently by Bill Zimmerman of Windy City Gridiron, who tweeted Monday that "Pace received an unannounced 1-year contract extension to line up his contract with Nagy [who's signed through '22]" and that a new president would then get a season to get the lay of the land and make decisions after 2021.
Zimmerman later deleted the tweet after he was unable to verify the information, but he only said he wasn't 100% on it. There's reason to believe he's at least partially right, though.
After continuing to dig, I'm not 100% on this. It may or may not be true, but I'm going to delete the tweet so misinformation doesn't potentially spread. Apologies on being premature.

— Bill Zimmerman (@BillTZimmerman) December 14, 2020
Any other team probably would have fired both coach and GM after that joke against the Lions in order to get a head start on the searches for their replacements. The Bears, however, might have allowed themselves a little extra leeway to believe Nagy can get things together with just a little more time to settle in.
They looked good with Bill Lazor calling the plays again Sunday afternoon, even if it was against a putrid Texans team that was mailing it in while missing its top pass-catchers. Perhaps the justification is that the Bears offense is finally hitting its stride after injuries and changes in decision-making. Besides, Nagy's still got two more years on his deal and there's no need to pay two head coaches.
And if Nagy is still around, there's more credence to the idea that Pace will be as well. It's hard to lure a new GM, at least one of any repute, if they're not able to hand-pick their own coach as well. Keeping Nagy as a little more than a lame duck means the Bears aren't really serious about bringing in a big-time GM anyway, which would be a grievous error given all the decisions the team will need to make under the decreased cap.
This all seems very odd, but the Bears have not been run competently from the time for several decades and I have little faith in them to start figuring things out now. While replacing an accountant with a football-first exec would be a great move, it would just be so Bears to handcuff the new hire by keeping the coach and GM in place and stunting greater organizational change.