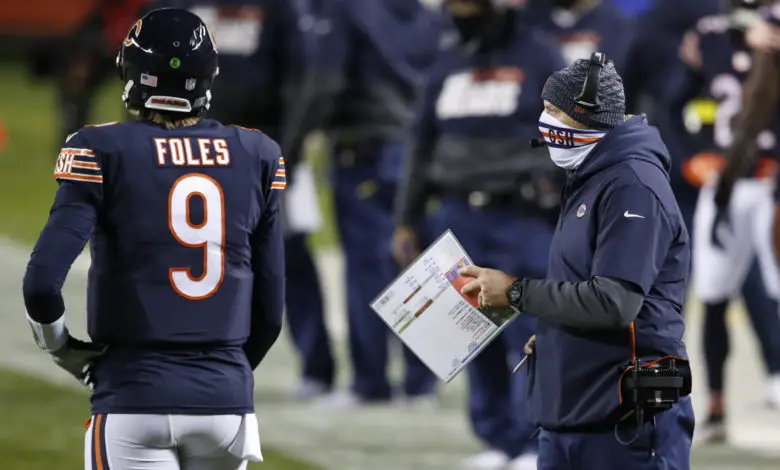 First and Long: Bears O-Line Getting Frightfully Thin, Halas Hall to Reopen Today After COVID-19 Concerns, Rodgers Leads Pack Over 49ers
There's no doubt playing college and professional sports amidst a global pandemic is a challenging affair. That goes double for contact sports like football, where players are in close proximity to one another for the entirety of a game. When you consider MLB banned players from the celebratory high-five, or from spitting seeds on the ground, it's downright scary that football players spend the better part of three hours each day — in practice and in games — face-to-face while constantly pounding the bejeezus out of each other. It's easy to see how that conflicts with generally accepted pandemic protocols.
This week, the Bears were added to a growing list of eight NFL franchises that are dealing with valid COVID-19 concerns. When the organization shut down Halas Hall yesterday, Chicago joined the 49ers, Packers, Lions, Broncos, Ravens, Cowboys, Texans, and Colts as teams that have players who have tested positive or have been in "high-risk close contact" with individuals who test positive for COVID-19. The league mandates that those players must isolate for five days. That could make center Cody Whitehair and tackle Jason Spriggs — both of whom tested positive — ineligible for Sunday's game against the Titans. Right guard Germain Ifedi still has a chance to play provided he continues to test negative.
The Bears did announce that their facilities will reopen today.
We have been cleared to resume football activities at Halas Hall.

Updated story ⤵️ https://t.co/vEYwMMYBx8

— Chicago Bears (@ChicagoBears) November 6, 2020
More players could be placed into league-required quarantine, too, depending on tests and/or contact tracing, and Nick Foles might not have anybody left to block for him if any of them are on the O-Line. Maybe Tennessee will be required to use the "one one thousand, two one thousand, three one thousand rule" before rushing the already-beleaguered Bears quarterback.
In truth, the Bears could be using practice squad players in Sunday's game. Perhaps you may want to familiarize yourself with linemen Lachavious Simmons, Aaron Neary, Sam Mustipher, and Alex Bars. Their most experienced blocker this weekend could be Rashaad Coward.
None of that is going to make things any easier for Foles and head coach Matt Nagy against the Titans. The two have already shown a great deal of difficulty in getting plays from the sideline to the huddle with time enough left to snap the ball. Worse, the Bears have already allowed 20 sacks on the year, ranking in the bottom third of the league, and they're 31st in rushing.
Bears News & Notes
There's a Flag…On the Play
I can neither confirm nor deny that the head coach was also sent to his room without any supper, but forfeiting a draft pick is a pretty big penalty for Jon Gruden and the Raiders.
NFL is fining the Raiders $500K and Jon Gruden $150K and taking a sixth-round draft pick for violating the COVID-19 protocols, per @CharlesRobinson pic.twitter.com/oNCwXuvBW9

— Bleacher Report (@BleacherReport) November 6, 2020
Sibling Rivalries
Packers QB Aaron Rodgers was flat-out dealing last night against the 49ers. The 36-year-old signal-caller was 25-of-31 for 305 yards and four dimes in leading Green Bay to a 34-17 win over San Francisco. Rodgers finished the game with a 147.2 QBR.
WR Davante Adams caught 10-of-12 targets for 173 yards, including a 36-yard TD pass to put the Packers on the board just three minutes into the game. Green Bay is now 6-2 and leads the NFC North.
The Vikings may be forced to use wide receiver Adam Thielen at cornerback in their nickel package on Sunday because of a shortage of healthy defensive backs.
Despite having Kirk Cousins and his $96 million contract at QB, Minnesota head coach Mike Zimmer would prefer to run his offense on the strengths of running back Dalvin Cook. Since 2017, the Vikings are 14-4 when Cook has at least 100 scrimmage yards in a game and 6-12-1 when he has fewer than 100.
While the signs paint a clear path for Lions quarterback Matthew Stafford to clear COVID-19 protocol ahead of Sunday's matchup against the Vikings, Detroit head coach Matt Patricia refuses to offer any hints regarding Stafford's game status in an effort to protect his player's medical status.
Detroit DE Everson Griffen took offense to Zimmer calling him a "good player." Griffen played 10 seasons with the Vikings from 2010-19. He was with Dallas this season before the Lions acquired him in a trade last week with the Cowboys.
League News & Notes
Saints QB Drew Brees has been limited in practice this week due to a bum shoulder coming out of last week's game against the Bears, but he has been downplaying the injury.
Chiefs QB Patrick Mahomes received write-in votes for POTUS in Clay County, Missouri this week, Fox 4 KC's Harold Kuntz reports. How many is not clear, and there's no word if Donald Trump wants to investigate any potential voter fraud.
Jets head coach Adam Gase is pulling out all the stops to look cool, including playing up his relationship with Patriots head coach Bill Belichick.
The Falcons are fining DT Takk McKinley because he has been tweeting that the team should have traded him this week.
Though it continues to be a work in progress, the league updated its rules late last month for those in contact with a person who has tested positive for C-19.
Fumblerooski
Am I the only one who thinks that the Bengals uniforms look a lot like pajamas?
ICY ❄️ @JoeyB

📺: #TENvsCIN | 1pm ET on CBS
📱: NFL app // Yahoo Sports app pic.twitter.com/MvlLiJhjDE

— NFL (@NFL) November 1, 2020
At The Podium
"You have somebody test positive and then you go through the process of the steps of actually confirming it. There's a process to it, and that's kind of where [the league] is at right now. We just wanted to let them do that, and while they're doing that, we wanted to make sure that, hey, with that being done, let's go ahead and let's just right now get everybody home, make sure everybody's good, get a deep cleanse of the building, and be able to just continue with where we're at until we get more answers as to where we stand." – Matt Nagy
Halftime Entertainment
Pressure by Billy Joel – It could be a very long afternoon for Foles on Sunday. I bet you will actually hear that ominous and frenzied polka-like riff by Joel playing in your head while watching the QB scramble for his life.