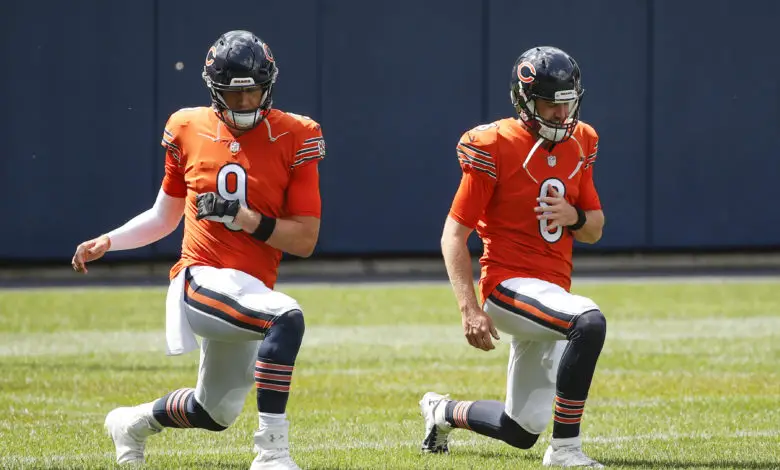 Report: Tyler Bray May Be Unavailable as Backup QB Sunday
Mitchell Trubisky injured his shoulder on his lone play last Sunday and may have serious structural damage, so the Bears were going to be forced to activate Tyler Bray from the practice squad to serve as Nick Foles' backup when they head to Tennessee. They even brought in Kyle Sloter and Jake Rudock for workouts to add more depth at the position, but now it looks like one of those inexperienced practice squad vets might have to suit up.
Per Dan Widerer of the Chicago Tribune, multiple league sources have indicated that the Bears may be forced to place Bray on the reserve/COVID-19 list as a high-risk close contact of one of the players who has recently tested positive. Offensive linemen Jason Spriggs and Cody Whitehair are both out due to positives and Germain Ifedi has also been placed on the list as a close contact.
Multiple league sources indicate there are questions as to whether Bears QB Tyler Bray will be available for Sunday's game.

Bray may have been identified as a high-risk close contact during the Bears' current COVID-19 situation.

— Dan Wiederer (@danwiederer) November 5, 2020
There has been a rash of positive tests across the league over the past few days, with the 49ers being forced to play shorthanded on offense Thursday night against the Packers. The twist there, however, is that it was discovered Thursday that receiver Kendrick Bourne's result from Wednesday was a false positive. He and three teammates who live with him have since tested negative, but it's too late for them to be activated from the reserve list.
It is looking as if #49ers WR Kendrick Bourne's test from yesterday was a false positive, according to source close to him. He and three others who live with him have all tested negative. Still, he, Brandon Aiyuk, Deebo Samuel, Trent Williams must remain on COVID-19 list today.

— Matt Maiocco (@MaioccoNBCS) November 5, 2020
The Bears are looking at a tricky situation of their own after shutting down Halas Hall in the wake of Whitehair's result. They're now down several offensive linemen and will likely have to depend on some help from the practice squad, plus there's little chance to be saved by a postponement because the Titans have already had their bye. The NFL is a damn juggernaut that cares little for the players in its inexorable march through the season.
More on this developing situation as it becomes available.