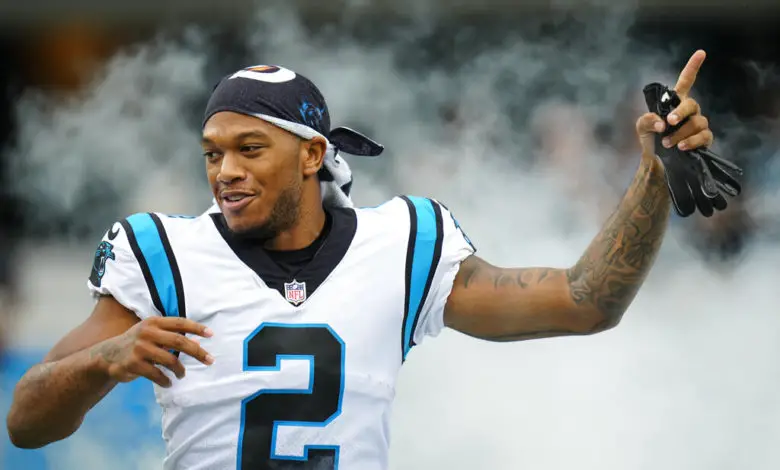 Justin Fields Finally Has His No. 1 Wide Receiver
The Bears haven't had a true No. 1 wide receiver since Allen Robinson walked away from a 6-11 team in 2021 to play for the Rams. Robinson only had 38 catches that season, was more of an enigma than an offensive threat, and at times it looked like he was phoning it in. He and Justin Fields never found the type of chemistry that the quarterback has with Darnell Mooney and Cole Kmet. Fields finally got his WR1 on Friday when GM Ryan Poles acquired D.J. Moore in a blockbuster trade.
Chicago got some Moore.@idjmoore | @ChicagoBears pic.twitter.com/bJLWMA0IvE

— NFL (@NFL) March 10, 2023
Poles sent the No. 1 pick in this year's draft to the Panthers for Moore, the Nos. 9 and 61 picks this year, plus a first-round pick in 2024 and a second-round selection in '25. The acquisition of the 25-year-old immediately improves the Bears' receiver room and gives Fields a long-desired top wideout. That room now includes Moore, Mooney, Chase Claypool, Equanimeous St. Brown, and Velus Jones.
Moore joins the Bears after spending his first five NFL seasons with the Panthers. Selected by Carolina with the 24th overall pick in the first round of the 2018 draft out of Maryland, he has appeared in 80 games with 73 starts and has caught 364 passes for 5,201 yards and 21 touchdowns. Moore comes to town after a down year in which he registered a career low in catch percentage (53.4%) despite a career-high seven scores. The Panthers had three quarterbacks that started at least five games in 2022: Baker Mayfield, Sam Darnold, and P.J. Walker. The acquisition of Moore positions the Bears to significantly close the gap on their NFC North rivals.
The Bears showed great improvement on offense last year despite not having a wide receiver surpass 500 yards. Chicago led the NFL in rushing and had a midseason stretch where they averaged 29.6 points per game over five tilts before Fields was hurt. The Bears lost four of those games due to a poor defense that was decimated by the trades of Robert Quinn and Roquan Smith.
Poles is likely to continue to be active in the trade market up to and during the draft. The No. 9 pick could be available, too. Though the second-year GM uses a proprietary grading system, the draft-eligible players from No. 6 to 16 are equally talented. Poles might like OT Paris Johnson or WR Jaxon Smith-Njigba, for instance. He could trade his pick to the Falcons for No. 12 and still get either. He'd be able to add an additional third-round pick in that scenario.
Poles could also trade up from his rounds 2-4 surplus if he doesn't want to lose a player he is targeting.
According to DrafTek, the Bears now control 10 picks in this year's draft having picked up three in the last two days. Picks in the 2nd through 7th rounds are adjusted upward by one because the Dolphins forfeited the No. 21 pick. Chicago also has two first-round picks in 2024 and two second-round selections in '25.
Round 1, No. 9 (from the Panthers)
Round 2, No. 53 (from the Ravens for Smith)
Round 2, No. 61 (from the Panthers)
Round 3, No. 64
Round 4, No. 103
Round 4, No. 133 (from the Eagles for Quinn)
Round 5, No. 136
Round 5, No. 148 (from the Ravens for Smith)
Round 7, No. 218
Round 7, No. 258 (compensatory for losing punter Pat O'Donnell)
Da Bears' new 1-2 punch 😤 pic.twitter.com/bqdV1Hfa7H

— SportsCenter (@SportsCenter) March 10, 2023
Some fans are upset that Poles couldn't get a 2023 second-round pick from Carolina in the trade. Moore easily makes up for that. If he was a free agent, he'd be the top wide receiver available. He's locked up for three seasons, and his cap hit for this year is $20.2 million following a season where the best receivers were getting $20 million AAV or more. Moore's cap hit in 2024 and '25 is $16.1 million.
Put another way, A.J. Brown was traded by the Titans to the Eagles for the Nos. 18 and 101 picks last year. Moore and Brown have had similar careers, so it's fair to assume the inclusion of Moore is worth more than a second-round pick. In fact, the Panthers wanted to give Poles a third No. 1 pick (2025) but Poles held out for Moore instead. That means Moore is the equivalent of the 15th overall pick this year.
Most importantly, Poles' deal declares his faith in Fields as his franchise quarterback. The second-year starter enjoyed an excellent campaign that included a career-high 17 touchdown passes. Fields also rushed for a near-NFL record 1,143 yards with another eight scores. The Bears now possess an abundance of assets in the form of draft picks and cap room, the majority of which will be used to upgrade the entire roster.