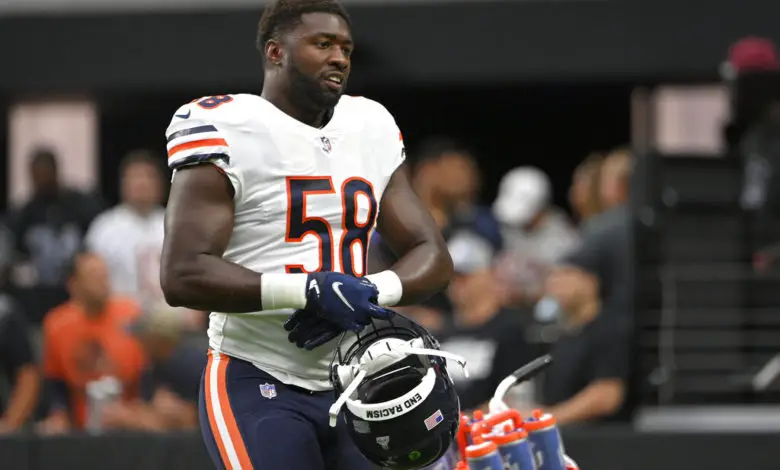 Camp Notes: NFL Insider Sheds Light on Smith Contract Talks, Eberflus Makes Coaching Debut Saturday, Jenkins Primed for Big Game
The weekend is here and that means preseason football returns for Bears fans. We get to see the debut of Luke Getsy's offense and the much-anticipated return of the Tampa-2 defense. The starters are will see 15-20 plays, and the microscope is clearly on head coach Matt Eberflus and GM Ryan Poles. Here are your Friday morning Camp Notes.
Ian Rapaport offered some insight regarding the extension offer that Roquan Smith received from the Bears. According to the NFL Insider, the Bears have made their fair share of offers to Smith. But, in his note, he admitted the front office has not "negotiated in good faith" and their manner of negotiation has been the "take it or leave it" type style. "It's like way back loaded," Rapoport said. "The last year has a high number and it makes the average high, but it's not real. There [are] a couple of things they'd asked him to do in the deal that he does not want to do."
The Bears are very close to having another Leonard Floyd-type situation on their hands. One would think that's something a first-year GM would want to avoid. Nevertheless, Poles is going to have to commit one way or the other soon. Either extend Smith or trade him.
The veterans are probably anxious to see how the whole situation plays out. It will give them and their agents a glimpse into how the executive handles business in-house. For that matter, Chicago's rookies are probably keeping one eye on negotiations, too. Smith is entering the final year of his rookie deal.
To Smith's credit, he's already mentioned that his policy is to take care of his own. "In terms of our philosophy in the front office, I've always believed and always will that we take care of our homegrown talent. We pay them, we take care of them and we take everyone for what they've done and what they can become in the future. And with this situation, we've shown respect from a very early timeframe, and with that said, there are record-setting pieces of this contract that I thought [was] going to show him the respect that he deserves, and obviously, that hasn't been the case."
If the contract is as heavily backloaded as Rapaport suggests, Poles is going to have to compromise with guaranteed money. He may want to do his best to take care of Smith, but it's apparent the cap ramifications play a big role, too. Poles is very protective of the cap, and rightfully so. But, if you have a generational talent, you have to pay him. There's no hiding behind $100 million contracts. Either offer it, or find a trade for Smith.
Eberflus will be under the microscope this weekend, and he's making his head coaching debut against one of the best coaches in the league, Andy Reid. The first-year Bears coach may say he's going to manage this game with a long-view perspective, but make no mistake, he wants that first win. Eberflus has been preparing for this moment for his entire working life.
Running back David Montgomery and tight end Cole Kmet, both of whom missed Thursday's practice with undisclosed injuries, remain day-to-day but likely won't play Saturday. Top draft pick Kyler Gordon, a second-round cornerback from Washington, also remained out of practice Thursday. "When players miss time on the grass, the actual playing of the game, working on the fundamentals and techniques, that hurts," Eberflus said. "That hurts our football team and hurts their development. We just try to get those guys back as soon as possible, and I tell the players: 'Your body will tell you when you're ready. When you're ready to go, let's get back out there, and let's go.' They're doing everything they can to get back."
Keep an eye on Khalil Herbert and Trestan Ebner on Saturday. I still have doubts that Montgomery will be re-signed, and I have said since Getsy was hired that Herbert will be a star in this offense. Ebner will get a lot of reps and reports indicate Justin Fields has made great strides in his short passing game. If that's true, Herbert and Ebner should have big games.
One of the bright spots of camp has been the consistent and solid play of left tackle Braxton Jones. He'll draw Frank Clark as his assignment on Saturday and that should be a great test for the rookie.
Speaking of tackles, expect Teven Jenkins to have a great game. He wants to prove to the coaching staff that he deserves to start and I suspect we will see just how bad Jenkins wants it.
Gesty said his only goal for Fields is that he be "process-oriented," and not much else. "It's going up and making sure you have a process when you break the huddle," Getsy said. "You've got to go through that process to be disciplined to that process. Train your eyes. And then each play tells you to do something. Your eyes are supposed to go somewhere with each play. And so we're getting better every single day, and I want to see him go execute that. We start everything with taking care of the football, and that's got to be the priority."
The Bears are down so many receivers that Darnell Mooney, Equanimeous St. Brown, and Tajae Sharpe may see more playing time than any other player that is considered a lock for the 53-man roster. While those three will get the bulk of the snaps with Fields under center, Isaiah Coulter, Dazz Newsome, Dante Pettis, and Kevin Shaa will work more with Trevor Siemian. N'Keal Harry (ankle), Byron Pringle (quad), and David Moore (lower leg) will be on the sidelines, and Velus Jones Jr. will probably sit out, too.
Saturday's game starts at noon CT.
Five Things
With the exhibition schedule starting, we're down to brass taxes here. Poles is going to have to make a decision on Smith soon. It's a delicate situation, and if not handled right, the repercussions will be severe. If Poles truly intends to take care of Chicago's homegrown talent, the Smith extension will be the benchmark for future negotiations. In a like manner, if he trades his All-Pro linebacker, he'll have to show that Smith's demands are impossible to meet. The Bears aren't likely to compete this year, but Poles refuses to acknowledge that. That said, he'll have to determine if the Smith will be an integral asset when the Bears are ready to challenge for a division championship. Considering the current state of the roster, Smith might be more valuable in trade. What that signals to the current roster and future free agents remains to be seen.
Though Fields isn't a rookie, he's essentially starting from scratch. Getsy has built his offense based on the strengths of his starting quarterback, but Fields hasn't shown any signs that he's under pressure to immediately perform. By all accounts, the second-year quarterback is improving every day. Fields is growing more confident, too. We all know he possesses the physical tools to be an elite NFL quarterback. If he gets 20-25 plays on Saturday, expect him to flash his big arm a time or two. Fields has arguably the prettiest deep ball among all starting quarterbacks. If he can become a more complete player, the Bears are going to surprise a lot of people.
I love Getsy's coach-speak. He doesn't have the same personality, but he sure reminds me a lot of Jon Gruden.
One of the highlights of Thursday's practice was Fields' touchdown pass to Sharpe in the corner of the end zone. Sharpe, will get more opportunities to prove himself Saturday in the race for a roster spot.
I'm excited as the next fan about Saturday's game, but in full disclosure, I am so over all the talk about Matt Nagy returning to Soldier Field. Why anybody cares is beyond me. Frankly, I'd be shocked if ever gets another chance to be a head coach again. Love Smith coached circles around Nagy, and he had two nondescript seasons with the Buccaneers after the Bears fired him, and couldn't get another head coaching gig until this year. One of the best things about Eberflus is that he's nothing like Nagy.
Camp Quotes
"I'm just focusing on having good game-day operations, working on the scheme, evaluating the personnel for this first game. That's the way you function best. You've got to be in the moment. You've got to be right here, right now." – Eberflus
"We're doing everything we can to get this done. I'll double down on what I've said before. My feelings for Roquan haven't changed at all. I think he's a very good football player. I love the kid. I thought we'd be in a better situation, to be completely honest with you." – Poles
"I'd change a lot of what happened, wishing we'd won more and could have done more. But I learned a lot, and that part I wouldn't change. I have to be able to self-reflect on where I went wrong and how I could have been better." – Nagy