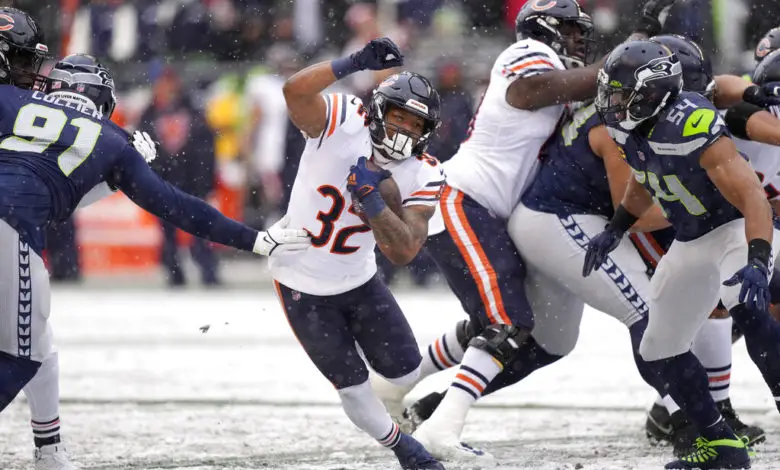 Extending David Montgomery Complicated
The Bears have two players who are up for contract extensions in RB David Montgomery and LB Roquan Smith, and though extending Smith seems like a no-brainer, it's a little more complicated when it comes to Montgomery. That's not to say the fourth-year back and team leader hasn't earned an extension, but intangibles may work against him.
The ironic thing about that statement is that Montgomery's primary strength lies in the intangibles he brings to the team. He's a leader, a great locker room guy, never makes excuses, and plays hurt unless he absolutely can't answer the call. He also embodies all the things Bears fans love in their running backs: he breaks tackles, can level a defensive lineman or linebacker while blocking, and he's a legitimate threat as a receiver in the passing game. Nobody can question his talent.
The Bears offense needs significant work, but David Montgomery is a true bright spot. pic.twitter.com/1sEpD2A5BK

— Field Yates (@FieldYates) December 7, 2021
Based on all of that he should be a Bear for life, so why hasn't Poles extended him already? The easy answer is that the game has changed and running backs aren't as valuable to modern offensive schemes as they used to be, at least not the type of back that Montgomery is. When it comes to Luke Getsy's scheme, Khalil Herbert may even be a better option. That's something that's difficult to digest for Bears fans.
According to Sportrac, Montgomery is worth about $12.9 million per year. The Bears are flush with cap space next year and have a large number of players on one-year contracts. The issue facing Chicago is whether that type of expenditure is wise considering the current marketplace for running backs. The bottom fell out of the market years ago, and it doesn't look like that will change any time soon.
Dalvin Cook, Derrick Henry, Joe Mixon, Aaron Jones, and Nick Chubb are all being paid in the $12-$13 million range. Of those five, Montgomery is a close match to Jones and Henry statistically, but Henry played eight games last season. Based on yards-per-carry, Saquon Barkley is a better comp, and he's earning about $7.8 million per year.
In fact, if the Bears offered Montgomery a contract similar to Barkley's, he should accept, but the pending free agent would probably decide to test the market instead. That might be okay with Poles, Getsy, and head coach Matt Eberflus. Herbert is almost a clone of Jones, who played for Getsy in Green Bay. They're built about the same with similar physical tools. It's a little easier to envision Herbert in Chicago's new offense based on what Getsy ran in Green Bay.
That said, Montgomery plays the kind of physical, violent football that Poles loves. There may not be a better back in the league when it comes to breaking tackles. As far as yards after the catch, the veteran Bear is among the best in the game, too. As I said, extending Montgomery is kind of complicated.
It's unfortunate that a running back is no longer a priority in the NFL. Injuries, the growth of high-powered passing offenses, and the success with multiple backs instead of a load back all apply downward pressure on salaries. That's going to hurt Montgomery at the negotiating table, and give the front office a lot of leverage.
If Poles and Eberflus see the type of synergy that portends a long-term deal, Montgomery should be extended by training camp. If they intend to go in another direction in 2023, that will be abundantly clear if they let him play out his option.