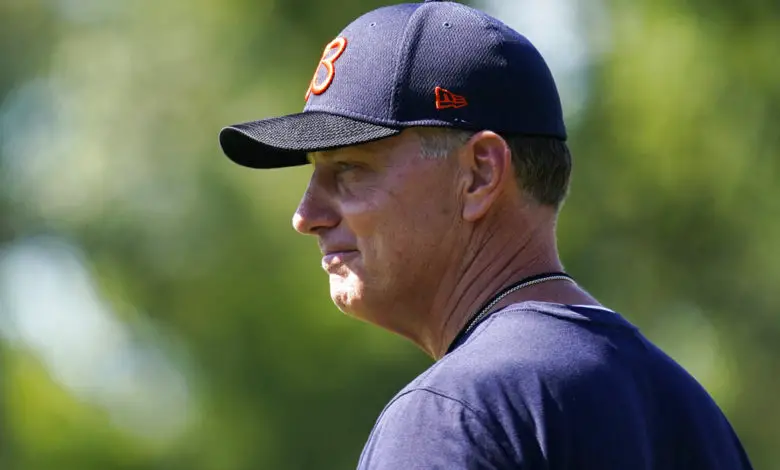 Camp Notes: Jenkins Moving Up, A Short Week Makes Camp Tough, Roster Far From Complete
Tuesday's practice wrapped up with the starters getting the heavy workload. The short week continues to affect the way the Bears approach practices. However, Matt Eberflus is set on making sure that every obstacle is a learning experience he can use to his advantage. A short week ended yesterday with Teven Jenkins and Larry Borom moving into the starting lineup, Cole Kmet finding a new mentor, roster cuts, and more. Next stop Seattle and preseason game two.  These are your Wednesday morning Camp Notes. 
Eberflus addressed the media on Tuesday and spoke about how difficult a short week like this can be. It takes away from the ability to ramp up practices as he prefers to do. He also has to be very focused and conscious around rep counts and the conditioning of each player's body.

 

Eberflus has decided to put a lot on the starters in camp to try to maximize rep count but protect his players but will limit most to just a series or two in Seattle on Thursday.

 

The head coach said that if they're able to play, they're going to play. "You want to see the guys, like I said we're going to play them because we need to see them because we have a young roster. We need to see how they work with each other. How they work and perform under the lights and how they do during game day operations."

 

Some of the starters are going to get a lot of reps after the first two series are completed. Eberflus sat the younger guys about mid-way on Tuesday to give them fresh legs going into Thursday when they are expected to get a lot of reps. We should see plenty of Jaquan Brisker, Kyler Gordon, Velus Jones, and Braxton Jones as each needs to be better evaluated. Gordon will be returning to Washington where he expects a warm welcome. 

We should also see plenty of Jenkins. The 2020 2

nd

-round pick was running with the starters for a second consecutive day exclusively at right guard. The coaching staff may be looking at him as a long-term solution here. The movement up to the fir

st

string shows, if nothing else, that the right guard is far from belonging to Michael Schofield.

 

Larry Borom joined Jenkins on the first-team offense despite Riley Reiff and Schofield suiting up to practice. This should be closely monitored as Schofield was brought in with high expectations, and fans were expecting Reiff to slide right in at the right tackle. It may be a rust issue that resolves itself, but for now, I expect Borom and Jenkins to go out and seize the opportunity presented to them.

 

Several other players will need to step up to make sure we the Beras get their offensive line ready. The depth took a big hit with Doug Kramer going down. It may be a Lisfranc injury, and Kramer was placed on IR Tuesday. Perhaps Zach Thomas can step up.

 

With Kramer being placed on IR, the Bears needed to cut only four players to get down to 85. Before making those cuts, they brought back DB Jon Alexander and added Corey Dublin. Dublin may be able to fill in at center and he has experience at guard as well.

Dublin joins a team that makes big names out of guys from his alma mater, Tulane. Fan favorite Matt Forte, and current roster players, Cairo Santos, Bopete Keyes, and Darnell Mooney all attended Tulane.

 

In response to the Alexander and Dublin signings, the Bears waived tight end Rysen John and linebacker Noah Dawkins. Neither has been overly impressive.

 

In order to get to the 85-man roster, the Bears cut undrafted rookie Carson Taylor after a very quiet camp. Then, unsurprisingly, they cut several people battling injury. That includes Michael Joseph, Jayson Stanley, and recent addition Javin White, who suffered a lower-body injury against the Chiefs.

 

Trenton Gill is legit, and will be a big weapon for the defense. Nicholas Morrow spoke today about the importance of controlling field position and how crucial having a weapon like Gill will be for the defense. Gill had three of his seven punts downed inside the 20 on Saturday against the Chiefs. He nearly had a fourth but, Jack Sanborn couldn't quite pull it in after it bounced off of the toe of his cleat.

 

Kmet has seemingly attached himself to another mentor. He talked highly of Ryan Griffen and his experience. He realizes there's a lot he can learn from him. Look to find Griffen as Kmet's replacement on the sideline this year, a role filled by Jimmy Graham last season.

 
FIVE THINGS 
Getting a roster down to 53 is never an easy task. The key thing to remember is that these are human beings chasing a dream and working very hard for weeks and even months. Eberflus recognizes this. He has committed, and spoken publicly about the importance, to sit down face-to-face and cut these players. Matt Nagy ducked out of end-of-the-season meetings with former players Allen Robinson and Mitchell Trubisky, so it's good to see the leadership willing to have tough conversations and approach potential adversity head on.

 

Jenkins being traded continues to get farther and farther out of reach. Eberflus and fellow lineman Cody Whitehair both spoke of Jenkins's intelligence Tuesday.

It's looking like they want Jenkins to be there. Expect him to continue taking strides forward in Thursday's game against the Seahawks. I expect him to start the season at right guard with the way things are trending for him and how they are trending for Schofield. As a seco

nd

-year player with little experience due to injury, there's just no way Ryan Poles can get similar talent in a trade. The only way to get the most out of Jenkins is to coach him up, and let him control his future.

 

The movement on the offensive line is an example of naming starters, but it seems like Eberflus and his staff aren't entirely sold on the cornerback or wide receiver positions either as players continue to substitute in and out at all levels. Eberflus is taking his time with putting players solidly in a depth position. He wants to take every chance to observe his players before solidifying the roster. I'm just not sure if this is a good thing or a bad thing. Hopefully, Chicago comes out the other side with the strongest potential roster we can have. On the other hand, Justin Fields spoke about his chemistry with Darnell Mooney. It wouldn't hurt Eberflus to determine his 22 starters as quickly as possible to give team chemistry a boost.

A short week is really straining the Bears and Eberflus' ability to get a good look at his young roster. There are only five days between preseason games one and two. With only two practices between games, the Bears must cut another five players on August 23

rd. L

imiting reps to preserve health may really hurt the process. Getting as ready as possible for week one is the purpose of this time of year, and the schedule has really handicapped the Bears in this aspect. Practice and exhibition game reps are invaluable right now. If the Bears are going to go into the season opener as strongly as possible, they need to get the lineups solidified and keep getting projected starters game time reps. Eberflus will do this with Brisker, Gordon, and Jones. 

Eberflus seems to be a hotter attraction than originally thought. Al-Quadin Muhammad and Matthew Adams came to Chicago to play for Eberflus. Tuesday, Morrow confirmed that Eberflus and the scheme he runs is a big reason he joined the Bears this year. He said he's been watching the first-year head coach for a while now.

 
Camp Quotes 
"I think the biggest reason I wanted to come here was one; opportunity, and I've been following coach Eberflus for a while. I enjoy the scheme and I want to be a part of it."  – Morrow
"He's been the guy I've been catching balls from since the end of the year last year. So, that's the longest stretch I've been with one guy really. We're continuing to grow every day, getting work after practice, things like that, and just continue to grow that feel for one another… Just the discussions we have after practice, or in between reps. How he wants to go about routes and how he visualizes me running it and how I visualize it versus a certain coverage. We're just continuing to grow in that every day. You're seeing so many different looks; from our defense and the defense we're going against. Those are good conversations to have." – Kmet

 

"Braxton's going to be a good player. The way he studies, the way he understands stuff, he's very athletic, he's got great length, and he uses his hands well. I really like where Braxton's at right now. He's only going to continue to grow and I'm really excited to see that growth… Obviously he's a young player so he's still learning but I guess the way he cares, the way he works; you can tell the kid really wants to be a good player." – Whitehair

 

"Tevin's smart, he's a very smart, very athletic player. You know, one of my mentors said this and I believe this, and he ingrained it into my mind; is that you never put a ceiling on a player. You always have to watch out for that, as a coach. You never put a ceiling on him. Let him grow. Let him do his thing because some people mature and grow at different times and all of a sudden, they just grow into a player. They grow into a really good NFL player. And that's for any position. We're never going to put ceilings on guys, we're always going to think the best for every player. The sky's the limit for you and we're coaching every single player on the roster that way." – Eberflus